Dramatic images taken from the International Space Station show the true scale and power of a super typhoon blamed for the deaths of four people on islands in the western Pacific.
Warnings of possible landslides and storm surges have been issued in the Philippines, as Typhoon Maysak was set to hit eastern coastal areas over the weekend.
Officials have said the typhoon has weakened since reaching Philippine waters – and was expected to further lose strength as it approached the coast.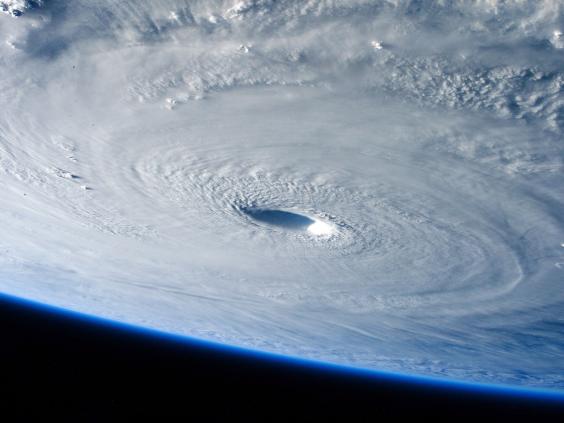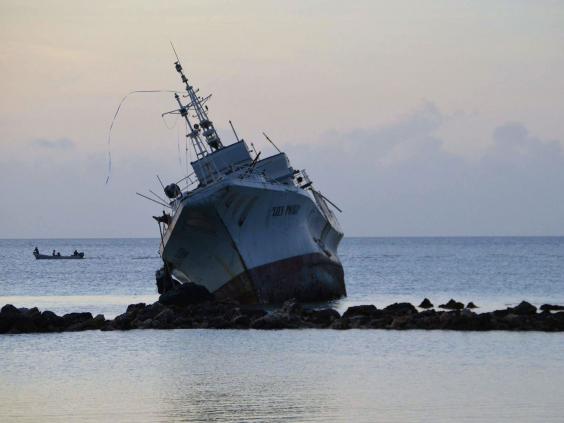 As of Thursday morning, the typhoon, situated about 569 miles north east of Borongan city, was carrying winds of 109mph and gusts of up to 124mph as it moved at about a rate of 12mph, Esperanza Cayanan, an officer of the government's weather bureau, said.
Forecasters have said storm surges of up to 10ft were possible on the eastern coast, with moderate to heavy rains expected within a 124 mile radius of the eye of the typhoon.
Rescue teams and relief goods have been prepared for when the typhoon makes landfall, which was expected on Saturday evening or early Sunday, according to an Associated Press report.
A low-level storm warning was expected to be issued today for the country's eastern provinces.
Cayanan said it was possible it could be downgraded to a storm or tropical depression as it weakened while crossing the land.
About 20 major typhoons pass through the Philippines each year, with the storms becoming increasingly fierce more recently, Reuters has reported.
In December last year it was reported that at least 21 people died after Typhoon Hagupit swept across the area.
In Pictures: Typhoon Hagupit
In Pictures: Typhoon Hagupit
1/20 Typhoon Hagupit

Filipino fishermen carry water supplies after securing fishing boats qas they make their way to an evacuation center at a fishing village in Cavite, south of Manila. Typhoon Hagupit weakened as it moved towards the Philippine capital after killing at least ten people and displacing more than 1 million people in the eastern and central provinces. Hagupit slammed into the country's eastern coast, bringing heavy rains and gale-force winds that flattened homes, ripped off roofs, and knocked out power and communications

2/20 Typhoon Hagupit

Destroyed houses and trees with a slogan calling for help are seen along a road in the village of Mantang

3/20 Typhoon Hagupit

Children play on top of a fallen coconut tree blocking a highway in San Julian town

4/20 Typhoon Hagupit

Children play atop sacks of donated clothes at an evacuation centre for the coastal community to take shelter from Typhoon Hagupit

5/20 Typhoon Hagupit

Military personnel along with public works employees clear a fallen tree blocking a section of national highway in Taft town

6/20 Typhoon Hagupit

A typhoon victim stands near clothes hung out for drying in Dolores, Samar

7/20 Typhoon Hagupit

A general view of damaged houses swept by Typhoon Hagupit in Eastern Samar

8/20 Typhoon Hagupit

A man pushes his motorcycle along floodwaters bought by Typhoon Hagupit in Camarines Sur province

9/20 Typhoon Hagupit

A man searches for recyclable plastic items along the coast, after strong winds and heavy rain brought by typhoon Hagupit battered Atimonan town, Quezon province, south of Manila

10/20 Typhoon Hagupit

A Filipino man negotiates a flooded rice field in Albay province

11/20 Typhoon Hagupit

Strong winds and rain pound the seawall hours before Typhoon Hagupit passes near the city of Legazpi

AFP

12/20 Typhoon Hagupit

Strong waves crash into coastal houses as Typhoon Hagupit pounds Legazpi, Albay province

AP

13/20 Typhoon Hagupit

Filipino typhoon victim children beg for help in the town of San Julian, Samar island

EPA

14/20 Typhoon Hagupit

A Filipino typhoon victim is seen inside a damaged house in the town of Taft, Samar island

EPA

15/20 Typhoon Hagupit

Children play on a boat in a shanty town at the port area in Manila on December 7, 2014 ahead of the arrival of typhoon Hagupit

AFP/Getty

16/20 Typhoon Hagupit

A mother watches her baby inside a mosquito net at an evacuation centre in Manila

AFP

17/20 Typhoon Hagupit

Volunteers repack relief goods for victims of Typhoon Hagupit at the Department of Social Welfare and Development

AFP

18/20 Typhoon Hagupit

A Filipino family prepare food while waiting for evacuation at a coastal area in Paranaque city, south of Manila

EPA

19/20 Typhoon Hagupit

Filipino children sleep as families seek refuge at a school used as an evacuation center as they prepare for Typhoon Hagupit in Legazpi, Albay province

AP

20/20 Typhoon Hagupit

Residents flee to Marabot

AFP
Fearful of a repeat of the Super Typhoon Haiyan in November the previous year, which saw 7,300 people killed, the Philippine government evacuated thousands ahead of the storm.
They also placed the army on alert and distributed food and medical supplies to remote areas.
Additional reporting by AP and Reuters
Reuse content