Japan is bracing itself for potential flooding and landslides with high winds and extreme amounts of rainfall expected this weekend as a 300-mile-wide storm makes its way towards the country.
Typhoon Phanfone is currently travelling north-westwards towards the eastern coast of southern Japan and is expected to make landfall by early next week.
The storm is expected to see winds reach up to 150mph with 180mph gusts at their peak by tomorrow.
The winds will mainly be felt offshore from Japan, although the country is braced for large amounts of rainfall.
The storm is expected to be roughly 300-miles-wide when it arrives at the southern Japanese islands on Sunday, but it is then predicted to weaken, according to Sky News Weather Producer Rebecca Yussuf.
According to the Meteogroup, models are currently suggesting another area of high potential tropical storm is to follow behind the typhoon.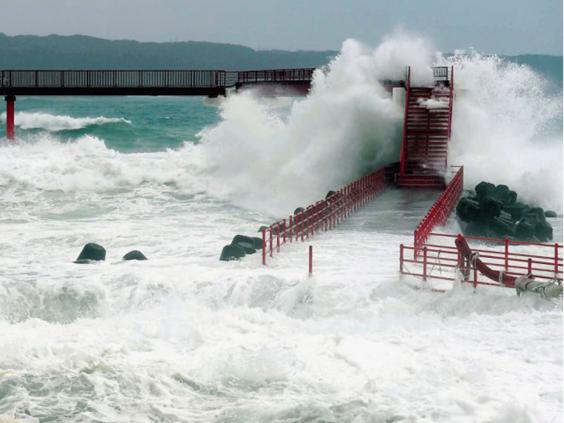 The storm is threatening this weekend's Japanese Grand Prix, which is due to take place on Sunday, with drivers expressing serious concerns about the forecast.
While the storm is not due to hit the location of the Suzuka track until Monday, rain had been predicted to fall for today's practice session.
At least ten people were killed and a million more were evacuated from their homes after Typhoon Halong hit Japan in August.
The storm caused swollen rivers and landslides as it lashed Japan's coast and headed in towards the country's interior.
Later that same month, at least 42 people were killed in a landslide after a month's rain fell in 24 hours in Hiroshima, burying homes and washing streets away.