The first shark to be killed under a controversial culling policy was shot dead off Australia's western coast on Sunday, despite fierce opposition from environmental activists.
The three-metre (10ft) animal, believed to be a female tiger shark, was caught on bait lines near Dunsborough, south of Perth, and shot in the head four times at close range by a government-contracted commercial fisherman.
Its carcass was dumped at sea, Simon Beaumont, a government spokesperson said.
Controversial barriers used to catch and kill sharks which come too close to popular beaches of Western Australia were laid down by fishermen at the weekend.
The State Government say the shark cull policy has been introduced to reduce the incidence of shark attacks, of which there have been seven fatal attacks in the last three years.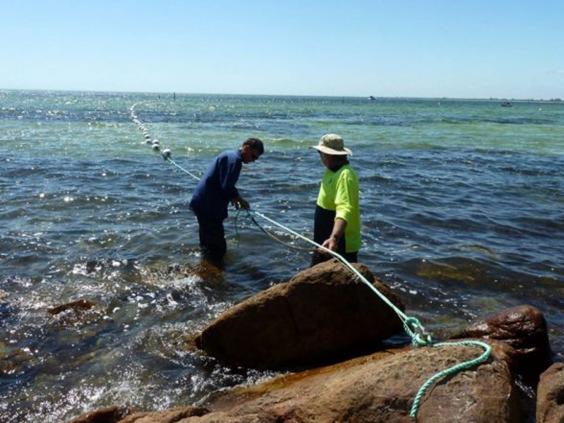 The first 'kill zones' were set down around Old Dunsborough beach yesterday, with the drum lines holding huge hooks covered with bait being laid down by a private contractor.
The barriers are to be set one km of the coast in Perth and the south West and are used to catch great white, tiger and bull sharks bigger than 3m in length. They were approved by Australia's national government last week and can remain in place until the end of April.
They will then move to Gracetown where last year a surfer became the seventh person to be killed by a shark in Western Australian waters since August 2010, prompting the government action.
The federal government last week also gave state authorities a special exemption from environmental laws to kill white sharks, a protected species. 
The policy has been condemned by environmental groups, with the Humane Society labelling it "a complete disgrace".
Various celebrities have also spoken out over the cull, with Sir Richard Branson tweeting that the policy "should be condemned across the world".  Comedian Ricky Gervais also urged the Australian Government to protect the sharks, "who were there first".
I love everything about Australia. The people, the attitude & especially the wildlife. Please protect your sharks. They were there first :)

— Ricky Gervais (@rickygervais) January 27, 2014


Premier Colin Barnett defended the first killing, arguing that sharks are becoming increasingly aggressive, and said the programme would continue until safety concerns for beach goers have been resolved.
"I respect and acknowledge and people have different points of view and there are protesters, but my responsibility as Premier is the safety of beachgoers,"  Mr Barnett said.
"I get no pleasure at seeing sharks killed but I have an overriding responsibility to protect the people of Western Australia and that's what I'm doing."
People for the Ethical Treatment of Animals (PETA) criticised the cull in light of the government's own White Shark Recovery Plan.
A spokesperson said: "There is also no scientific evidence to support slaughtering sharks as a solution to shark attacks, which is why most marine experts disapprove of this plan. More than 100 species of sharks are known to inhabit Western Australia waters, and they play an essential role in our oceans."