It's a tale of power, ambition and betrayal, with all the skulduggery and intrigue of a high-stakes political thriller. It's not House of Cards that has transfixed Australians in recent weeks, however, but a real-life drama: the story behind a poisonous political feud that saw two Prime Ministers knife each other.
The Killing Season is a three-part television documentary about the tumultuous recent era when Australia was governed by Kevin Rudd, then Julia Gillard, then Mr Rudd again – and when the Australian Labor Party tore itself to pieces as relations between the once-close colleagues disintegrated into mutual loathing.
As well as throwing fresh light on a bizarre period when "people went to bed with one Prime Minister and woke up with another," as one key player puts it, the series has reopened wounds that had barely healed and revived festering animosities. 
It has also, to the glee of Tony Abbott's conservative government, raised questions about the integrity of the man who is now the Labor leader, Bill Shorten.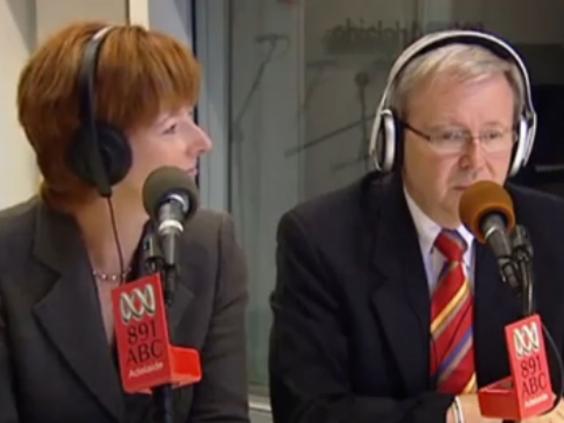 It is almost exactly five years since Mr Rudd was deposed by his "loyal deputy" in a late-night coup, and almost exactly two years since he seized the office of Prime Minister back from Ms Gillard. In Canberra, they call it the "killing season" – the final fortnight before federal parliament disbands for the long winter break. 
In the series, made by an award-winning television journalist, Sarah Ferguson, both former Prime Ministers open up to an unprecedented degree as they vie to have their rival – and often wildly diverging – versions of events written into history.
Mr Rudd recalls how his Welsh-born deputy strode into his office in June 2010 "ice cold, with absolute determination in her eyes", and informed him she planned to challenge him for the Labor leadership. Only minutes before, according to him, they had shaken hands on a deal to give him more time to improve the party's poll ratings.
It was "pretty gut-wrenching... something which tears open your heart," he says, adding: "To recall those difficult times is just painful. And the thing that is most painful through it all is just the active sense of betrayal – betrayal by people who were very close to you... people who you thought you could trust."
Soon afterwards, as Ms Gillard began campaigning for the 2010 election, damaging leaks spread the claim that in Cabinet meetings she had opposed Labor-friendly policies such as pension increases. "Nothing," she tells Ms Ferguson, "could lead you to expect... bastardry of that magnitude." (Mr Rudd has denied being the leaker.)
Although she is the more composed of the pair, it is clear that both are still seething with anger and thirsting to settle scores. "Julia always had a bit of a problem with the truth," Mr Rudd declares at one point. Ms Gillard speaks of Mr Rudd's "psychological problems" and his need for "applause and approval".
Crazy things Tony Abbott's said (mainly about women)
Crazy things Tony Abbott's said (mainly about women)
1/16 1979

"I think it would be folly to expect that women will ever dominate or even approach equal representation in a large number of areas simply because their aptitudes, abilities and interests are different for physiological reasons."

Rex

2/16 March 17th, 2004

"Abortion is the easy way out. It's hardly surprising that people should choose the most convenient exit from awkward situations."

Getty

3/16 March 17th, 2004

"Why isn't the fact that 100,000 women choose to end their pregnancies regarded as a national tragedy approaching the scale, say, of Aboriginal life expectancy being 20 years less than that of the general community?"

Getty

4/16 November 9th, 2006

"I won't be rushing out to get my daughters vaccinated [for cervical cancer], maybe that's because I'm a cruel, callow, callous, heartless bastard but, look, I won't be."

Rex

5/16 February 2nd, 2010

"The climate change argument is absolute crap, however the politics are tough for us because 80 per cent of people believe climate change is a real and present danger."

Getty

6/16 February 11th, 2010

"We just can't stop people from being homeless if that's their choice."

Getty

7/16 2010

"While I think men and women are equal, they are also different and I think it's inevitable and I don't think it's a bad thing at all that we always have, say, more women doing things like physiotherapy and an enormous number of women simply doing housework."

Getty

8/16 2010

"I'd probably say I feel a bit threatened… as so many people." On homosexuality.

Rex

9/16 April 5th, 2010

"Jesus knew that there was a place for everything and it's not necessarily everyone's place to come to Australia."

Getty

10/16 2010

On indigenous Australians "There may not be a great job for them but whatever there is, they just have to do it, and if it's picking up rubbish around the community, it just has to be done."

Getty

11/16 2013

"If you want to know who to vote for, I'm the guy with the not bad looking daughters".

Getty

12/16 January 27th 2014

"I would say to my daughters if they were to ask me this question... [their virginity] is the greatest gift that you can give someone, the ultimate gift of giving and don't give it to someone lightly, that's what I would say."

Rex

13/16 May 2014

"I shouldn't have done it... I should've been more focused on the caller and less focused on the interviewer." After winking at a radio show presenter while taking a call from a listener.

Getty

14/16 October 2014

"I am going to shirtfront Mr Putin – you bet I am – I am going to be saying to Mr Putin Australians were murdered, they were murdered by Russian backed rebels."

Getty

15/16 November 2014

"A good economy is good for the environment…As the world's largest producer of coal, I'd like to stand up for coal." At G20 summit

16/16 May 2015

'Nope, nope, nope': Tony Abbott makes it very clear that Australia will not accept any Rohingya Muslims fleeing systematic persecution in their home country of Burma

AFP
Yet it all began so promisingly – if rather brutally. Deeming Labor's then leader, Kim Beazley, incapable of ousting long-time conservative Prime Minister John Howard, Mr Rudd and Ms Gillard toppled him in 2006.
They were hailed as Labor's "dream team" – he a bookish, Mandarin-speaking former diplomat and devout Christian, she an atheist and former trade-union lawyer. He had the support of the right of the party, she the left. If not a love match, it was a "marriage of convenience", as one senior Labor figure called it.
A brilliant election campaign swept Labor to power in 2007. Mr Rudd won plaudits for apologising to the "stolen generations" of Aboriginal children forcibly removed from their families. He was widely praised for his handling of the global economic crisis of 2008, which enabled Australia – alone among developed nations – to avoid recession.
At the same time, though, character flaws were emerging. Mr Rudd had a foul temper. He was, reportedly, rude to senior bureaucrats and made his staff work punishing hours. He reduced an air stewardess to tears because his favoured in-flight meal was not available, and he had a tantrum, allegedly, while visiting Australian troops in Afghanistan because they could not find a hairdryer for him before a photo-shoot.
At home, there were whispers that his government was "dysfunctional". Abroad, Mr Rudd's diplomatic experience was not always evident. Frustrated by the lack of headway at the 2009 climate change conference in Copenhagen, he described Chinese officials as "ratfuckers".
Amid policy missteps and indifferent polls, Ms Gillard – backed by key Labor power brokers – made her move. Once in power, however, Australia's first female Prime Minister faced almost perpetual internal dissent – fanned, she believes, by Mr Rudd. In June 2013, Mr Rudd regained the leadership; that September, he lost the election.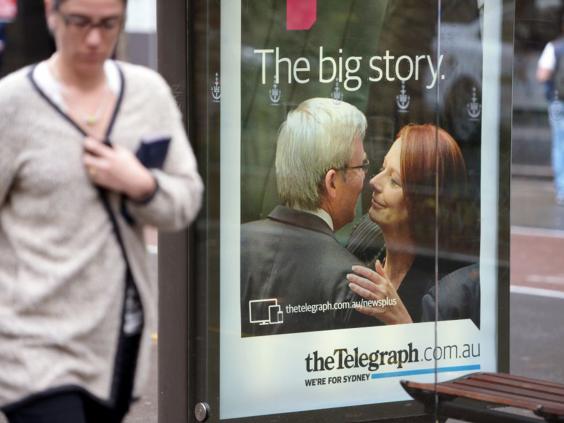 Now both are out of politics, and Labor is trying hard to portray those unedifying events as "ancient history". One person, however, was influential in both unseatings: Mr Shorten. Although he declined to be interviewed for the series, an unflattering picture of him emerged.
Ms Ferguson, whose gripping series achieved record ratings for the Australian Broadcasting Corporation, sees "echoes of great tragedy from cinema and theatre" in the story. Shakespeare, she believes, would have loved it. "He'd have sucked on his pipe and slapped his thigh," she says.
Tragedy or soap opera? Whichever, it horrified and enthralled the nation, and it also changed politics in Australia. Elected Prime Ministers are now fair game. Barely a year after his convincing election victory, Mr Abbott only narrowly saw off an attempt by his own party to replace him.
Despite his failure to wow voters, Mr Shorten's position appears secure, at least for now – but possibly only because of a change of rules (instigated by Prime Minister Rudd, second iteration) that gave grassroots Labor members equal say to politicians in leadership contests.
Were it not for that rule change, some believe, Mr Shorten, too, could have become a victim of the "killing season" – the one that has just ended.
Reuse content