"I had never seen in my life so much destruction and death on such a massive scale. I remember going to a place called Lambaro, just outside Banda Aceh, and that was my first interaction – seeing hundreds of corpses being laid out outside the shops."
Tomi Soetjipto worked as a journalist when he arrived in Aceh and came face to face with the aftermath of the tsunami that wreaked havoc on Boxing Day in 2004, which laid waste to large swathes of the Indonesian coast and the coastlines of a number of other countries, including India, Sri Lanka and Thailand. More than 200,000 people died that day, a decade ago this week, with some estimates putting the total nearer a quarter of a million.
It took Mr Soetjipto, an Indonesian citizen, time to grasp the magnitude of what had happened, with the 10m (32ft) wave having washed away families, homes and livelihoods. In Aceh province, the area hardest hit by the disaster, about 170,000 were said to have died. He said that there was "a sea of debris, a sea of destruction and bodies everywhere". In the first week, "it was very common to see bodies on the street".
Over the course of the year that followed, Mr Soetjipto, 37, made trips every few months to Aceh to see the situation for himself, witnessing first hand the slow, painful rebuilding of Indonesia's stricken coastline.
"It wasn't until last week that I actually consciously thought about how much the place has vastly changed," said Mr Soetjipto, who, having visited the same areas he saw 10 years ago, now works for the United Nations.
"It's about integrating and living with disaster," he said. To walk around the city of Banda Aceh, capital of Aceh province, he said, it is evident that this is the case. There are now evacuation points and escape routes in densely populated areas. "In kindergarten they learn how to make evacuation maps."
Like many in the UK, Andy Bastable saw on television the impact of the tsunami while visiting his parents in Bristol. Three days later, the team leader of public health engineering at Oxfam was scrambling to order sanitation equipment on his bus to Heathrow airport.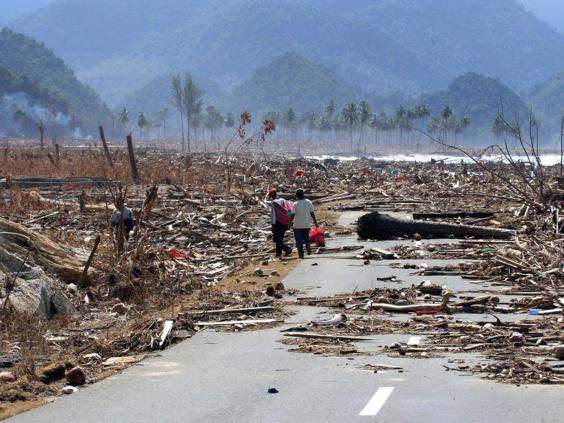 "I was losing my voice and trying to explain to people that we have got our staff and it's not about sending English people who want to do a good thing," said Mr Bastable, 51. "It was unprecedented, the level of public support."
As a water engineer, Mr Bastable was responsible for co-ordinating the efforts to fix and re-establish water supplies and sanitation. Over a three-year period they began to put in place systems to solve the crisis, but they also worked closely with the Indonesian authorities to create good practices for the future.
"We worked with the local authorities to get good revenue collection systems," Mr Bastable said. "Around Indonesia there are quite a few water plants that cease to work because they can't collect the revenue and get enough money to repair the systems.
"We were well aware that we had to leave behind us a legacy of sustainable inputs. Whatever we did, we had to make it sustainable."
Not only did the engineers have to deal with the destruction in plain view, but they also experienced problems resulting from "tectonic weirdness".
"Bore-holes water would come out hot. It had arsenic in it and high fluorides," said Mr Bastable.
Beate Trankmann, country director of the United Nations Development Programme Indonesia, said that it is "hard to believe" that Banda Aceh is the same place that it was. The buildings have been built taller, with places to seek shelter in case of another disaster. Roads have been widened so people can move through the city and get to higher ground.
Ms Trankmann said that despite obvious challenges, the future for Indonesia was bright, with plenty of economic opportunities – although Indonesia needs to ensure this potential can be realised.
"We've seen human development slowing down after 2008, compared with the 2004 to 2008 period," she said. "As of 2008, all the aid and money that came in through the tsunami effort began to dry up." Billions of pounds were poured into the economy of the province, but some has trickled in slowly.
"They [the province of Aceh] benefit from oil and gas resources … also in terms of coffee and cocoa," she added, "but they [Indonesia's government] also need to make sure they create economic and employment opportunities."
Such progress is a reality for Salawati, who lives in Merduati in Aceh. "We are focused on improving our business and helping other families in our community," she told Reuters, referring to her work of making dried fish, an Indonesian delicacy. She was speaking in her small house built with aid money on the spot her old house stood before it was destroyed, taking her home, her business and two of her children.
"The memory of the tsunami still exists," Salawati said. "But for the future we want to move on so that we can continue our only son's education and help achieve his goals."
Mr Soetjipto saw destruction that took away homes, roads and businesses, but lives have slowly been rebuilt. "What you see now in Aceh is everything being rebuilt," he said.
Reuse content