The wisdom and morality of Australia's decision to set up a detention camp in Papua New Guinea (PNG) is under harsh scrutiny after one asylum-seeker died and 77 were injured during a night of violence allegedly involving PNG locals and police.
Precisely what happened on PNG's remote Manus Island on Monday night is not yet clear, but asylum-seekers said that armed gangs of police and villagers stormed the centre, wielding guns, knives and machetes, and "hunted them down", attacking them systematically.
The Australian government – and the British security company G4S, which runs the facility – rejected that version of events, saying the trouble began after a group of men escaped. But they could not explain how the injuries were caused, and the Immigration Minister, Scott Morrison, admitted that police opened fire at least twice during four hours of mayhem. 13 men – including four who were airlifted to the capital Port Moresby – remained in hospital in a serious condition.
One had gunshot wounds; another, with a fractured skull, was in a critical condition. An Iranian man died of head injuries while being transported to hospital.
Manus Island is integral to Australia's hardline "Pacific Solution", under which asylum-seekers arriving by boat are diverted to Manus or the island nation of Nauru and, if their refugee claims are upheld, resettled there.
Like his Labor predecessor, Kevin Rudd, the Prime Minister Tony Abbott has pledged that no one making the perilous journey by sea will be given a home in Australia.
The latest, shocking news from a camp already notorious for incidents of self-harm and attempted suicide sent waves of revulsion and outrage across Australia. The Refugee Council of Australia called it "an appalling tragedy". The leader of the Australian Greens, Christine Milne, demanded that "Australia's gulag" be closed.
Mr Morrison defended the government's policy, saying: "If people choose to remove themselves from that centre, then they're obviously putting themselves at much greater risk and in an environment where there is violent behaviour."
Although shots were heard, "that in no way suggests they were fired at individuals. They could have been fired in the air," Mr Morrison said.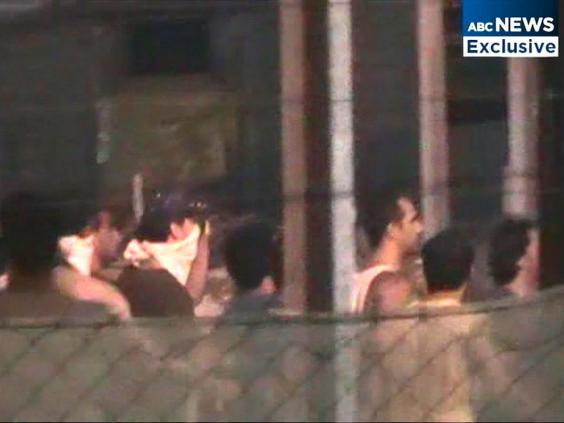 He appeared to defend the police, saying: "When there are people who are charged to maintain law and order in that situation, if you behave in a disorderly way, then you subject yourself to the response of law enforcement."
Tensions had been building for weeks at the camp, which houses 1,340 single men, and where a guard was disciplined recently for using his Facebook page to ridicule a detainee who tried to kill himself by swallowing some nail scissors.
Last November, it was condemned by the UN's refugee agency for failing to provide "safe and humane conditions".
After what Mr Morrison called "a rolling series of protests", mostly peaceful, things turned ugly on Sunday night, with detainees hurling rocks, tearing down fences and smashing bunk beds.
Nineteen people were injured, and 35 broke out of the centre, briefly.
Twenty-four hours later, violence erupted again. According to accounts given to Ian Rintoul, spokesman for the Refugee Action Coalition, "gangs of armed police and locals acting in concert in some way went from compound to compound, hunting down asylum-seekers and inflicting very serious injuries … [carrying out] systematic attacks, savage attacks".
Mr Rintoul told Australia's ABC radio that "one person  was actually thrown off the first floor of one of the buildings". If anyone was outside the perimeter fence that night, "it's because they've fled for their lives", he said, adding that Manus was "an inherently dangerous place" and that the asylum-seekers should be brought to Australia.
Ghulam Murtaza, who is living in Adelaide after fleeing Pakistan, has a brother on Manus. On Monday night his brother telephoned, weeping, terrified and, he told Mr Murtaza, bleeding from wounds.
He said that police and locals "are throwing on us stones, and they have guns  and they have sticks, and they are going to kill us", Mr Murtaza told the ABC.
The conflicting accounts of this latest and most serious incident on Manus have left key questions unanswered – in particular, regarding how the death and injuries were caused, and how the safety of detainees, now and in the future, can be guaranteed.
Mr Morrison has promised an investigation, but it seems that it will be carried out by PNG authorities – not a prospect that instils great confidence.
The Pacific Solution was initiated by Mr Abbott's conservative predecessor, John Howard, in 2001. It was dumped, then revived, by the Labor governments led by Mr Rudd and Julia Gillard.
The Human Rights Commissioner, Gillian Trigg, said the government was failing to meet its international obligations to protect asylum-seekers.