Villagers in Vanuatu buried food and fresh water as one of the strongest storms on record bore down on them.
They fled to churches, schools and even coconut drying kilns as 186mph winds and massive seas tore their flimsy houses to the ground.
Despite reports of utter devastation six days after Cyclone Pam pummelled the impoverished South Pacific island nation, Vanuatu appears to be providing something of a lesson in how to survive a category five event. The United Nations says the official death toll is 11 and Prime Minister Joe Natuman now predicts it will not rise significantly.
"The important thing is that the people survived," he said in an interview outside his office overlooking the hard-hit capital of Port Vila.
"If the people survived, we can rebuild."
Cyclone Pam hits Vanuatu island
Cyclone Pam hits Vanuatu island
1/6 Cyclone Pam

People walking along a seaside with waves splashing on land on Vanuatu island, South Pacific region

EPA

2/6 Cyclone Pam

Cyclone Pam hits Vanuatu

EPA

3/6 Cyclone Pam

People on a dock view yachts damaged in Port Vila, Vanuatu, Saturday, March 14, in the aftermath of Pam

AP

4/6 Cyclone Pam

People walk along the shore where debris is scattered in Port Vila, Vanuatu on Saturday

AP

5/6 Cyclone Pam

People scour through debris damaged and flung around in Port Vila, Vanuatu on Saturday

AP

6/6 Cyclone Pam

A satellite image of the cyclone

NOAA
Officials had feared a spike in deaths once news came in from outer islands of the scattered archipelago and the low figure amazed aid workers and those who lived through the storm. "It's absolutely unbelievable the death toll is so low," said Richard Barnes, 43, a property valuer from New Zealand who has lived on Efate island for seven years.
Two days ago, a helicopter flight over the north of Efate revealed scenes of total devastation with at least one coastal village destroyed with no signs of life. When visited a day later, dozens of villagers were back rebuilding with what materials they could find and reporting only one injury, said Mr Barnes, who was in the Cayman Islands in 2004 when Hurricane Ivan hit.
"Everyone is just getting on with it, which was different from Cayman, where everyone just sat around waiting for something to be done," Mr Barnes said.
Sebastian Rhodes Stampa, disaster co-ordinator for the UN's humanitarian affairs office, said he was impressed by the country's ability to deal with the storm.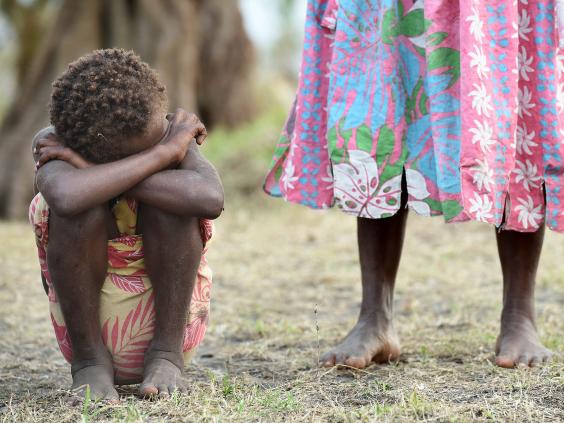 "In very few places that I have worked have I seen such a resilient population," said Mr Rhodes Stampa, who has worked in major disaster sites including the Philippines after Typhoon Haiyan.
Vanuatu, which is one of the world's poorest nations, is a sprawling cluster of more than 80 islands and 260,000 people, 1,250 miles north-east of the Australian city of Brisbane.
Perched on the geologically active "Ring of Fire", it suffers from frequent earthquakes and tsunamis and has several active volcanoes, in addition to threats from storms and rising sea levels. Ben Hemingway, a regional adviser for USAid, said organisations like his had been working with the Vanuatu government for years on disaster mitigation.
"It's a testament to the investment the international community has made," he said. "If you look at the days before the storm, the message got out on the power of the storm and what to do to protect yourself. People did heed those warnings."
Many villages are built further back from the shore to avoid storm surges and tsunamis and most have at least one sturdy building to retreat to. Even the spreading roots of banyan trees that have survived centuries of storms are sometimes used as shelter if houses are destroyed.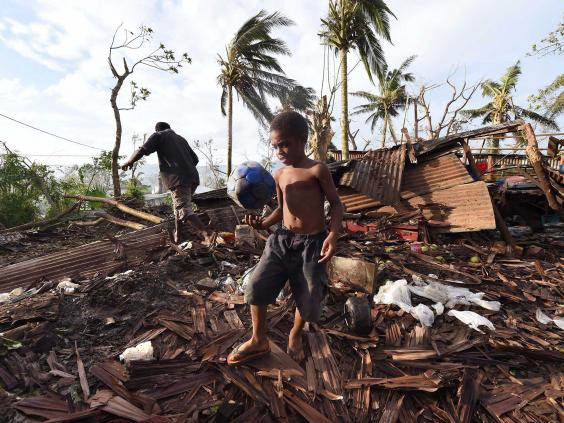 "Hurricanes or cyclones are not a new thing. Since people started living in these islands, maybe about 5,000 years ago, this type of event occurs every year," said Mr Natuman. "I think also we are now more organised in terms of our disaster management."
Some villagers survived Pam by sheltering in a kiln used to dry coconuts and make copra, one aid official said.
People in Port Vila prepared by weighing down corrugated tin roofs with cinder blocks, sandbags or logs. On small isolated islands, stockpiles of coconuts, fruit and water were buried to enable villagers to survive several days. Tanna Island in the southern part of the Vanuatu archipelago was one of the hardest hit. Patrick George and his wife Suzanne Job were also in their hut that night when a tree branch came crashing through their thatch roof. So they ran with their two-year-old daughter Sondrine and their six-month-old baby George to the school nearby. "I was very worried about my kids," Mr George told the Associated Press.
Aid workers are now trying to get to isolated islands where airstrips, ports and communications are extensively damaged. Two helicopters were onboard a French frigate leaving nearby New Caledonia today and Australia and New Zealand are also sending vessels, said Mr Natuman.
Reuters
Reuse content