Chris Brock lives and breathes surfing. His beachfront flat overlooks one of Australia's most iconic breaks, and at 66 he still plunges into the ocean most days. "But right at the moment I'm a little bit spooked," he says. "Everyone I know is a bit spooked."
In recent months, a string of idyllic surf beaches on the northern New South Wales coast has become what one local calls "the world shark hotspot". Two people have been killed, two others have been seriously injured, and over the past six weeks more than a dozen surfers have been knocked off their boards.
In every case, it is believed, the culprits were great whites – and, with the spring surfing season about to begin, helicopters have been regularly spotting seven of the feared predators, up to 6m (20ft 6in) long, lingering off the beaches loved not only by locals but holidaymakers from around Australia and beyond.
The community has had enough. At a stormy public meeting last week, 200 surfers and business people voted almost unanimously in favour of a cull. Great whites might be endangered, but "what price do you put on a human life and on our tourism industry?" asks veteran surfer Don Munro, who organised the meeting.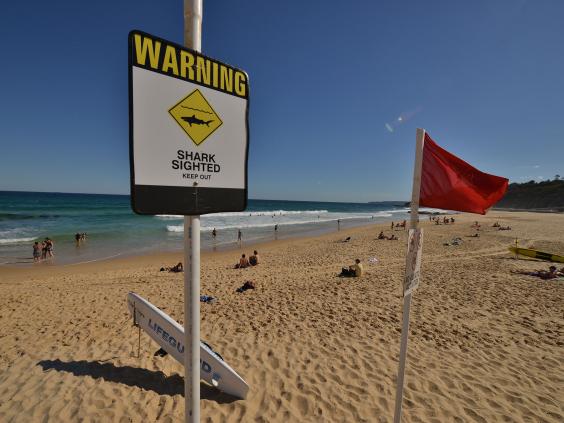 For the moment, authorities have ruled out slaughter by sharpshooters on low-flying aircraft, as one person at the meeting demanded. However, the calls for a cull jolted the state government, prompting it to pledge A$250,000 (£117,000) for a programme of surveillance, public education and tagging and tracking of "problem" sharks.
Those measures, though, will not help in the short term – and the short term includes school holidays next month and, from December, the peak summer season. Bookings have already been cancelled at the caravan park in Lennox Head, the sleepy resort where Mr Brock lives, and surf shops are reporting steep falls in business.
A surfing mecca, the New South Wales north coast has for decades been synonymous with the laid-back Aussie lifestyle. Many city people move there for a sea or tree change.
Lennox Head, Ballina and other coastal settlements – including Byron Bay, a popular back-packer destination – have all been affected by the spate of recent shark attacks, which began with the death of a 50-year-old British man, Paul Wilcox, who was bitten while swimming in shallow water at Byron Bay last September.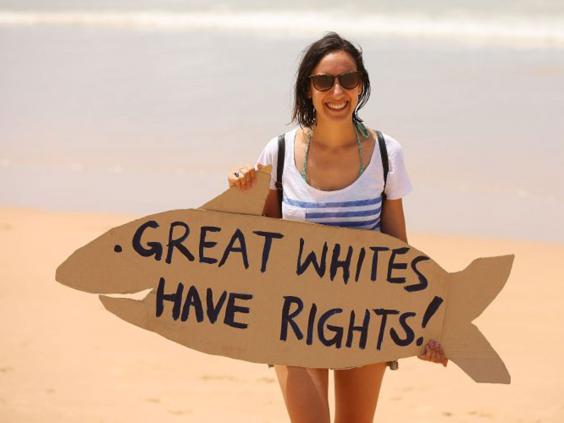 In February, the community was shocked by a second death: that of a Japanese surfer, Tadashi Nakahara, off Ballina's Shelly Beach. In July, a bodyboarder, Matthew Lee, was badly mauled at neighbouring Lighthouse Beach, and a surfer, Craig Ison, was attacked at Evans Head, further south, receiving serious injuries.
Since then, there have been near daily sightings of great whites – and numerous close shaves. A surfer was knocked off his board at Byron Bay last weekend, prompting yet another beach closure.
Mr Brock saw a surfer attacked at Lennox Point three weeks ago. "It was like a big explosion of white water. The guy was on a lifting swell and I think that must have taken him just out of the shark's reach. He got on the next wave and came straight into the rocks."
David Wright, the Mayor of Ballina Shire, looks frazzled. Earlier this year, he compared himself to the mayor in the film Jaws. "The last few weeks have been absolutely unbelievable," he says, running his hands through his halo of white hair.
Thumbing through a list of shark-related incident reports, which runs to several pages, Mr Wright counts 20 calls to emergency services in the past fortnight. The jet boat used by Ballina's surf lifesavers has burnt through more fuel in the past three weeks than in the previous six months.
Picking out days at random, the Mayor notes three shark sightings on 25 July, including of a 5m great white seen close to 20 boardriders and people learning to surf. On 31 July there were three sightings, including of a 4m shark seen heading towards 30 surfers at Lennox Point.
The government's chief shark expert, Vic Peddemors, is calling the situation on the New South Wales north coast "unprecedented". Sharks have been spotted just 10m from the beach, and the seven currently loitering offshore have grown so familiar to aerial surveillance teams that they have given them names.
"I've had people with drones and gyrocopters offering their services," says Mr Wright. "A guy with a hot air balloon rang me up today." He has made so many television appearances that nearly everyone knows his face. "I went for morning tea at pre-school last week. The teachers introduced me as Mr Mayor and the kids said 'No, it's Mr Shark'."
Although some brave souls still venture into the surf, many locals are travelling north to the Queensland Gold Coast – a round trip of nearly three hours. Lighthouse Beach, a broad expanse of golden sand pounded by breakers, was deserted on Friday. "I don't think anyone's been surfing there since Matthew was taken," says Mr Wright.
In his "man-cave" at Lennox Head – a home office with a trophy cabinet stuffed with silverware and 18 surfboards hanging on or propped up against walls – Mr Munro explains that the cull demands were driven by "sheer frustration and a need for something to be done immediately".
The world's best shark diving locations
The world's best shark diving locations
1/10 Australia

There are many shark species which can be sighted off the coast of Australia, including great white sharks, grey nurse sharks and reef sharks, but Ningaloo Reef on the western side of the country offers the chance for you to get in the water with the world's biggest fish, the whaleshark (pictured). From April to July, these massive creatures can be reliably found near the surface, gulping down huge mouthfuls of microscopic food, and this is when you can snorkel with the behemoths.

2/10 Great Britain

The good old UK has its own world-class shark encounter, and not just any shark, but the second-largest in the world - and best of all, you don't even have to be a diver to see them! In the summer months, huge basking sharks (pictured) appear off the coast of Cornwall and around the Isle of Man, feeding on plankton at the surface, offering a close encounter to snorkellers.

3/10 Mexico

Mexico has several shark-diving spots up its sleeve. Guadalupe Island, which sits 150 miles west of the Baja Peninsula in the Pacific Ocean, is considered the ultimate location to cage-dive with great white sharks (pictured), blessed as it is with clear blue waters and plentiful food sources. On the other side of the country, in the waters off Playa del Carmen in Cancun, you can dive with migrating female bull sharks between November and March.

4/10 The Bahamas

The Bahamas is known as the shark-diving capital of the world, mainly due to the fact that Caribbean reef sharks (pictured) can be regularly sighted in the deep waters off the scattered islands, but more recently two specific areas have become a Mecca for shark divers. Tiger Beach, off the west coast of Grand Bahama, is a prime site all year round for - you guessed it - tiger sharks, which cruise in the shallow waters over an immense sandbank and will come extremely close to divers, while off Bimini, a similar sandbank is home to immense great hammerhead sharks in February.

5/10 Egypt

The Egyptian Red Sea is home to several species of shark, including grey reef, scalloped hammerhead, silvertip and even the odd whaleshark or tiger, but one of its most-majestic inhabitants is the oceanic whitetip (pictured). This highly distinctive shark, with its vast, rounded pectoral fins resembling airplane wings, can often be sighted off the offshore marine park islands of The Brothers, Daedalous and Elphinstone in the winter months, though they have been seen all year round.

6/10 South Africa

Mention 'South Africa' and 'sharks' and people immediately think 'great white sharks', but this country offers far more than just the opportunity to cage-dive with the ultimate apex predator off Dyer Island and Geyser Rock near Gansbaai. You can also get in among packs of blacktip sharks (pictured) and ragged tooth sharks off the KwaZulu-Natal coast on the eastern side of the continent, and of course, from May to July, this is a prime location to sample the Sardine Run, when billions of sardines migrate northwards and attract hundreds of sharks, not to mention whales, dolphins and other predators

Getty Images

7/10 Cuba

Bull sharks (pictured) are one of the most-feared of all shark species, mainly because they prey in the shallows, around estuaries and even miles upstream in rivers, which means they are more likely to come into contact with humans. However, off Santa Lucia on Cuba's northeastern shore, between August and February, divers can view these awesome predators at close range, as a local dive centre routinely hand-feeds them with scraps of fish.

Getty Creative

8/10 Canary Islands, Spain

The Canary Islands, a sun-and-sand tourist hotspot, might seem an unlikely place for shark diving, but there is a species of shark that resides in these waters. The angel shark (pictured) is a placid, bottom-dwelling animal that closely resembles a ray at first glance. Growing up to two-and-a-half metres in length, they are hard to spot, often lying camouflaged on the seabed.

9/10 Galapagos Islands, Ecuador

The world-famous Galapagos Islands, an archipelago of volcanic islands sitting astride the Equator some 575 miles from the Ecuador coastline, have been in the top five best dive destinations on the planet ever since liveaboards started visiting here. Divers can expect up close and personal encounters with scalloped hammerhead sharks (pictured), Galapagos sharks, and even mighty whalesharks.

10/10 Cocos Islands, Costa Rica

The remote Cocos Islands - they lie some 340 miles off the coast of Costa Rica - are a magnet for divers seeking some serious shark action. Designated a UNESCO World Heritage Site in 1997, Cocos boasts various species of shark in its waters, but is most renowned for its massive shoals of scalloped hammerheads and whitetip reef sharks (pictured).
A surfer for 60 years, he has not been in the waves for more than a month. "It's just too dangerous," says Mr Munro, who is president of the Le-Ba (Lennox-Ballina) Boardriders Club. "My wife and daughter don't even like me going for a swim at the moment.
"The mood here is one of fear. We're waiting for the next attack. Can you imagine what that's like? It's horrible, and it's exacerbated by the thought that the next one could be a kid."
More than 200 "Nippers" – junior lifesavers aged as young as five – resume training at the start of September. There are plans to move them to a freshwater lagoon at Lennox Head. "They're the next generation of lifeguards," says Munro. "For them not to be able to go in the ocean is devastating, for them and for the community."
The call for sharks to be killed has created deep controversy in an area where green politics and values thrive. Daniel Bucher, a marine ecologist at the local Southern Cross University, dismisses it as unrealistic.
"These are great whites, they move over very large distances progressively feeding. If you take a few out, they'll just be replaced by another couple the next day," he says.
"Ethically, I think there's a selfish attitude, which is 'I know the sharks will have moved on in a few weeks, but I really want to go surfing now, so can you go out and kill a few endangered species'."
Great white numbers are still relatively low, says Mr Bucher, "but when conditions are just right, you get a cluster of sharks into one area, and that sometimes creates a bit of hysteria".
The more regular sightings and attacks could be the result of a combination of factors, he believes, including unusually warm and nutrient-rich water – perfect conditions for plankton to thrive, along with fish all the way up the food chain.
While surfers are calling for beaches to be protected by mesh netting and drum lines (traps with baited hooks) – measures long in place at the Gold Coast, among other spots – these are just outdated "culling devices", according to Mr Bucher.
But Mr Munro says: "We need to find a way for surfers and sharks to co-exist without culling each other, and at the moment the strike rate is all in favour of the sharks. They've taken more humans right here than we've taken of them."
Reuse content