In a survey of 17 countries, the people of Britain has ranked 15th in its concern over climate change.
The UK, US and Saudi Arabia are the three countries least concerned among the group surveyed by YouGov. Only 10.8% of Britons ranked climate change as their most important issue.
Hong Kong is the most concerned, with 20 per cent of those surveyed choosing the issue ahead of eight others.
The Scandinavians countries are also among the more concerned.
They – and the Chinese, the French, the Germans, the Indonesians and the people of the UAE, among others – all care more than the British.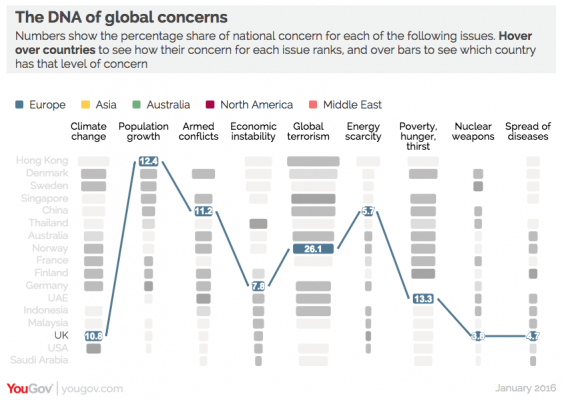 Relative to other countries, Britain cares more about terrorism, population growth, armed conflicts, economic instability and energy scarcity.
In absolute terms, climate change ranked fifth as an issue among Britons.
The country's number one concern is terrorism, with 26 per cent choosing the issue; 13 per cent highlighted poverty, and 11 per cent feared armed conflicts the most.
But population growth, the choice of 12 per cent, is the issue which Britons chose more than any other country surveyed.
The data is further evidence of Britain's outsized concern over immigration.
Terrorism is a widely shared concern, but at 26 per cent Britain's level of concern is only 'mid-table'; the French are the most concerned, with 34 per cent choosing the issue.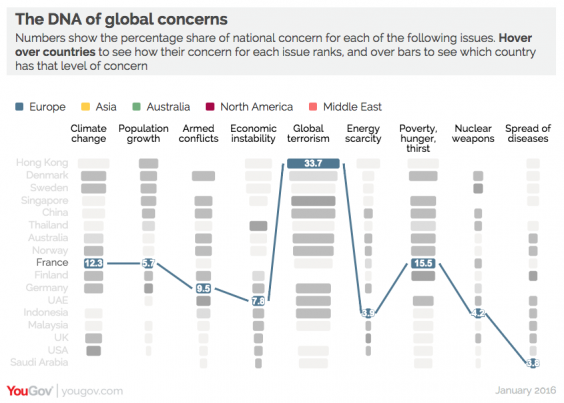 Terrorism concerns the French even more than it concerns the Americans.
The greatest relative concern of the US is nuclear weapons, although only 6 per cent of Americans chose the issue.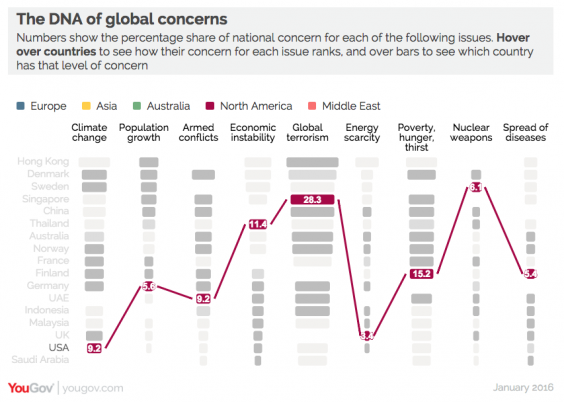 Global terrorism is nevertheless the major concern of almost all countries.
The people least concerned by terrorism - the Chinese, 19 per cent of whom choose the issue - still chose the issue above all others.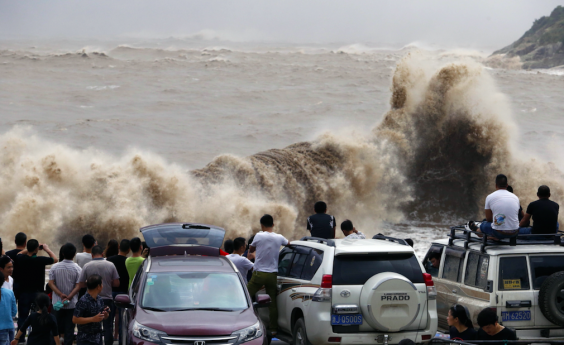 Only for the Saudis and Indonesia was it secondary, with the Saudis prioritising the related issue of armed conflict and Indonesians equally concerned by poverty and hunger. 
The data for each country can be explored in more detail on YouGov's website.
Reuse content