The 2014 Sochi Winter Olympic torch has been blasted into space on a rocket, where cosmonaut Mikhail Tyurin will take the historic flame on its first ever spacewalk.
The torch cannot be lit in space, of course, and will not burn inside the capsule or International Space Station either – both for the sake of the safety of its crew, and to avoid wasting precious oxygen.
Nevertheless, it comes as part of an extraordinary journey leading up to February's games, which includes trips to the North Pole, the bottom of the world's deepest lake and the top of Europe's tallest mountain.
The Nasa Live TV stream broadcast the launch of the rocket, marked with the pale blue Sochi 2014 logo, blasting off from the Russia's Baikonur space centre in Kazakhstan this morning.
It was manned by Russia's Tyurin alongside NASA's Rick Mastracchio and Koichi Wakata from Japan, who smiled and waved to the crowd as they carried the torch, lit, on board the Soyuz spacecraft.
It will remain off planet for five days as it is toured around the International Space Station's various modules, before embarking on the historic walk outside on Saturday, courtesy of cosmonauts Oleg Kotov and Sergei Ryazanskiy.
The Olympic torch has flown into space once before — in 1996 aboard the US space shuttle Atlantis for the Atlanta Summer Olympics — but will be taken outside the spacecraft for the first time in history.
"It's a great pleasure and responsibility getting to work with this symbol of peace," Tyurin told a press conference on Wednesday ahead of the launch.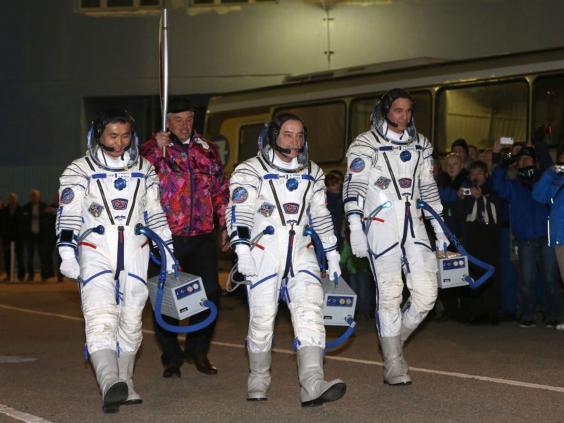 The four-month Sochi torch relay, which started in Moscow on 7 October, is the longest in the history of the Olympics. For most of the 65,000km route, the flame will travel by plane, train, car and even reindeer sleigh, but 14,000 torch bearers are taking part in the relay that stops at more than 130 cities and towns.
Last month, the flame travelled to the North Pole on a Russian nuclear-powered icebreaker. Later this month it will sink to the bottom of the world's deepest lake, Lake Baikal, and in February it will reach the peak of Mount Elbrus, at 5,642 metres (18,510 feet) the highest mountain in Russia and Europe.
The torch will be used to light the Olympic flame at Sochi's stadium on 7 Feb, marking the start of the 2014 Winter Games that run until 23 Feb.
Reuse content