An Air France flight bound for Paris has been grounded following reports that it may have been the target of a terrorist plot.
The plane was scheduled to leave Venezuela at 7.25pm on Saturday night, but was prevented from taking off after French intelligence services received a tip-off about plans to blow up a plane in mid-air.
The information was reported to be from a credible source, though it did not specify precisely which flight between Caracas and Paris would be the target – or indeed which direction it would travelling in. Air France is the only airline to serve the route between the countries' capitals.
Today the French Interior Ministry confirmed it had received word of the potential threat and acted immediately, alerting Venezuelan counterparts.
"It is obviously the principle of precaution," said Interior Ministry spokesman Pierre-Henry Brandet. "We cannot allow the least risk, run the least risk for passengers." He provided no details on the measures taken and refused to comment on the nature of the threat or its origin.
Venezuelan Interior Minister Miguel Rodriguez Torres had told state TV late Saturday that more than 60 technicians, bomb experts and a canine team would perform an exhaustive search of the aircraft before the flight could be reprogrammed.
"We don't want to speculate on the motives because the information comes directly from French intelligence services," Rodriguez Torres said.
An Air France press officer said the carrier was working "in close collaboration" with airport and government authorities.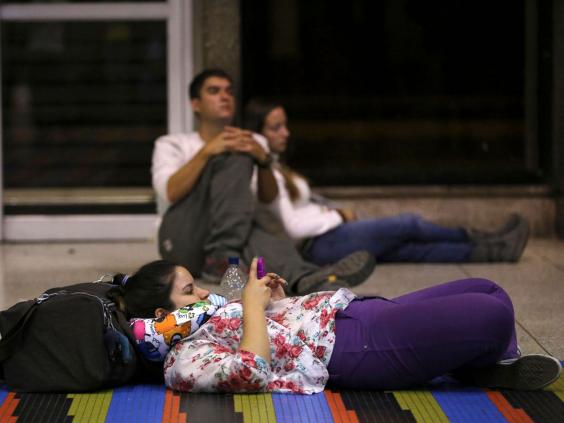 Stranded passengers said they had cleared immigration Saturday evening and were preparing to board Air France flight 385 when they were told at the last minute that it was being delayed so that the Airbus A340-300 aircraft could be checked. No reason was given.
"We only learned reading Twitter that it could've been a bomb," said Jesus Arandia, a 52-year-old university professor.
Security breaches have been detected before at Venezuela's main international airport.
In September, several Venezuelan soldiers stationed at the airport were arrested after French authorities made their biggest cocaine bust ever, seizing 1.4 tons of narcotics that were smuggled in 31 suitcases aboard another Air France flight to Paris.
Brandet, of the French Interior Ministry, said the drug bust was among several leads being investigated.
Additional reporting by AP
Reuse content