Angela Merkel has been "pictured" with a group of Nazi commanders laughing at the Acropolis as the bitter dispute over Greece's claims to war reparations continues.
The provocative image was photoshopped by Der Spiegel for its latest edition under the headline: "How Europeans see the Germans: The German Ubermacht (superior power)"
It shows the Chancellor, smiling, with a group of Nazi commanders including Field Marshal von Brauchitsch at the Acropolis of Athens during the Axis occupation of Greece.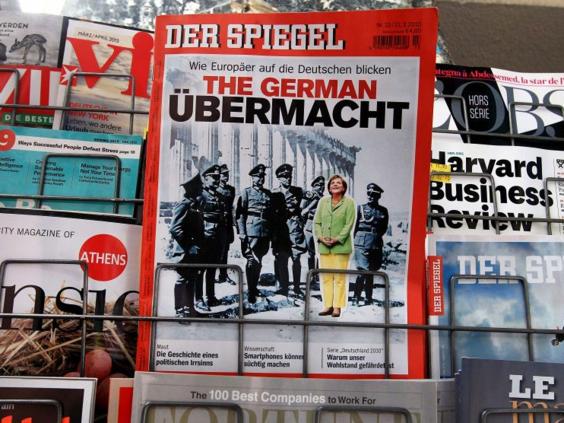 Der Spiegel, one of the most influential magazines in Europe, used the cover to introduce its story on the perception of the "Fourth Reich", named not because of any link to National Socialism but because of Germany's supposed economic "dominion" over the EU and beyond.
It also carried out an investigation on the forced loans Nazi occupiers extorted from the Greek central bank from 1941 onwards.
That money forms the part of continuing Greek claims for $11 billion (£7 billion) of Second World War reparations.
The historical dispute has fuelled discord between the two countries at a time when many Greeks perceive Germany as the head of the "troika" supervising its detested bailout deal.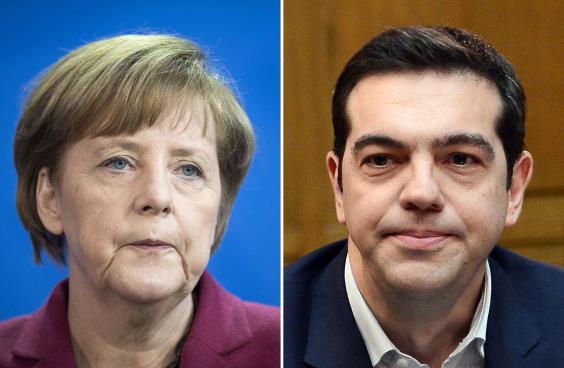 While angry protests continue in Greece, the German media has been taking a more lighthearted look at the saga, which has sparked numerous memes and parodies.
A German television host faked a video of Greece's finance minister Yanis Varoufakis sticking his middle finger up to Berlin in a clip that went viral.
Mr Varoufakis denied its authenticity and demanded an apology from satirical programme Neo Magazin Royale.
And here is the 'undoctored' by the unscrupulous media's video: https://t.co/WZ3ixfKHC5

— Yanis Varoufakis (@yanisvaroufakis) March 16, 2015
The gesture was used in a parody music video called "V for Varoufakis" showing Germany's surrender to the Greek "Minister of Awesome".
"He's the lost son of Zeus, with a heart made of stone, go take all of our savings, please leave us alone," goes an emotional bridge.
The German government does not seem to share the sentiment.
Earlier this year, the Ministry of Finance said there was "no new position" to discuss on the reparations argument, which it believes was closed by previous treaties, but the issue could be raised in talks between Greek Prime Minister Alexis Tsipras and Chancellor Merkel today.
His Syriza-led government is demanding compensation for the Axis occupation, when tens of thousands of people were killed or died of starvation, as well as the repayment of forced loans from Athens.
Mr Tsipras is visiting Germany for the first time since becoming Greece's leader, days after Mrs Merkel and other European leaders told him to come up with budget cuts and tax increases which would enable him to get urgently needed bailout money.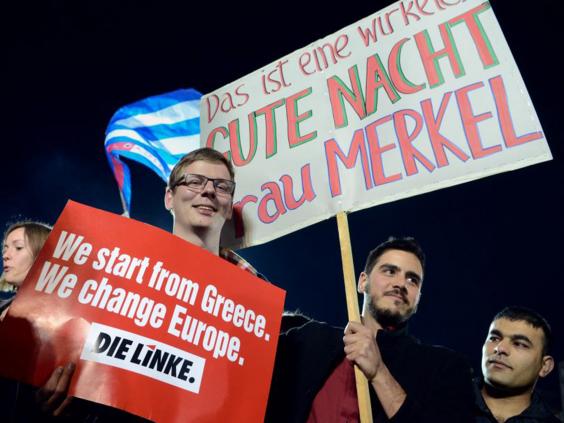 The German Chancellor has played down the chances of Mr Tsipras producing those measures when they meet, saying "it is not the place for any lists with proposed reforms to be submitted" and they must go to Greece's international debt inspectors, not to Germany.
Mrs Merkel's governing coalition insists talk of wartime reparations has no place in discussions of Greece's debt troubles.
German officials say the matter was resolved through previous payments and agreements.
"The reparations demands were another distraction from Greece to divert attention from their own failings," Michael Grosse-Broemer, the parliamentary chief whip of Mrs Merkel's conservative bloc, told Deutschlandradio.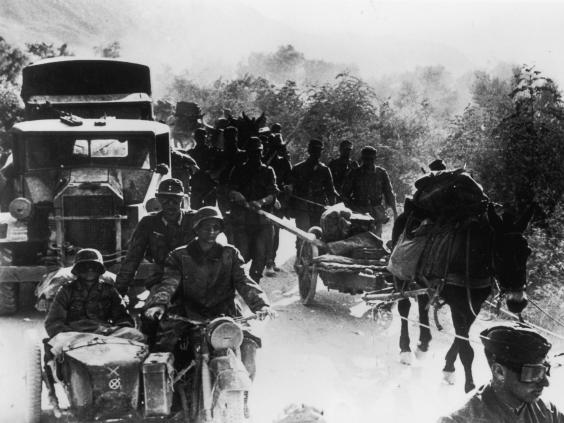 The demand for compensation was revived by a previous Greek government in 2013 but not pursued.
Germany denies owing anything more after the 115 million marks it paid in 1960 in one of 12 war compensation deals it signed with Western nations.
In pictures: Solidarity protest for Greece in London
In pictures: Solidarity protest for Greece in London
1/7 London

Campaigners hold a solidarity protest for Greece in Trafalgar Square

2/7 London

Campaigners hold a solidarity protest for Greece in Trafalgar Square

3/7 London

Campaigners hold a solidarity protest for Greece in Trafalgar Square

4/7 London

Campaigners hold a solidarity protest for Greece in Trafalgar Square

5/7 London

Supporters blow horns, chant slogans and hold various signs to show support for Greece's new anti-austerity government

6/7 London

Christos Giovanopoulos from the Greek group 'Solidarity For All' speaks against the 'regime of austerity and social barbarism' and how Greece has a chance to escape a country in crisis, now under Alexis Tsipras and the Syriza party

7/7 London

A sign reads 'Merkel Crete is here' as the Greece Solidarity Campaign, Syriza London and other organisations gathered for a mass rally in support of the people of Greece in Trafalgar Square
But Athens has said it always considered that money as an initial payment, with the rest of its claims to be discussed after German reunification.
For Berlin, the Two-Plus-Four Treaty of 1990 signed by the former West and East Germanys and the four Second World War allies just before German reunification drew a line under possible future claims for war reparations.
Under its terms, approved by Greece among other nations, the four powers renounced all rights they formerly held in Germany.
Additional reporting by agencies
Reuse content