A huge wildfire has broken out near Athens, spreading over mountainsides overlooking the Greek capital and blanketing it in thick smoke.
The blaze was moving fast this morning, fanned by strong winds and devouring parts of hillsides popular with walkers and tourists.
At least 45 firefighters with 18 engines, a water-dropping plane and two helicopters were battling the blaze, along with volunteers, the fire department said in a statement.
Residents wrote on Twitter that people were trying to fight the blaze with their own hoses and buckets of water as it threatened homes, with people already fleeing Ilioupolis, at the foot of Mount Hymettus.
The Greek energy minister, Panagiotis Lafazanis, received an angry reception on his arrival in the suburb of Karea, where residents reportedly heckled the politician, telling him to go and put the fire out instead of talking to the television cameras.
Alexis Tsipras said Greece has requested help from the army and air force, as well as the European emergency response centre.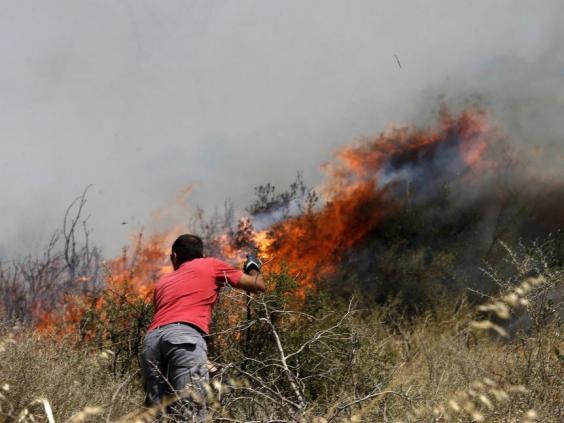 Two water-dropping planes had left the country's second largest city of Thessaloniki to assist with the Athens fire, the Prime Minister added.
"All forces are on alert," Mr Tsipras said, noting that the hot, dry and windy conditions made firefighting more difficult.
Temperatures were forecast to hit 33C in Athens today, with winds coming from the north-west. The heat is expected to rise over the coming days, with no rain expected for the next week, according to the Met Office.
In pictures: Athens fire
In pictures: Athens fire
1/10 Athens fire

An helicopter flies over a fire in the eastern suburbs of Athens

2/10 Athens fire

Smoke from the fire has been spreading over the eastern suburbs of Athens

EPA

3/10 Athens fire

v=A man tries to extinguish flames on a mountain in Athens

4/10 Athens fire

A firefighting helicopter flies over Athens on 17 July

AFP/Getty Images

5/10 Athens fire

Dense smoke over the Karea

6/10 Athens fire

The forest fire is being battled by firefighters assisted by water-dropping planes and helicopters

7/10 Athens fire

Greek firemen tries to extinguish a fire in Karea, a suburb of Athens

8/10 Athens fire

Smoke from a fire travels over the eastern suburbs of Athens

9/10 Athens fire

A man tries to extinguish a fire in Karea

10/10 Athens fire

An aircraft drops water over a fire in the eastern suburbs of Athens.
Smaller blazes had started in Koropi, near Athens, and on the island of Evia.
A major forest fire in southern Greece forced coast guard boats to rescue around 100 people trapped on a beach as residents were evacuated from three villages.
Planes and helicopters dropped water on the blaze in Lakonia as firefighters and soldiers battled it on the ground.
Wildfires are common in Greece during the country's hot, dry summers. More than 60 people died in 2007 when a series of forest fires swept through southern areas, devastating dozens of villages.
Additional reporting by agencies
Reuse content