Since the 1980s, the Italian town of Ostana had not seen the birth of a single baby.
But last week, a dream came true, as the mayor of the small town said. A baby was born. The first in 28 years.
According to La Stampa, the town has only 85 inhabitants, including newborn Pablo. Its population has continuously fallen —a fate shared by many other Italian towns and villages.
"The real decline started in 1975, with 17 babies between 1976 and 1987, when the last boy was born — until little Pablo," Mayor Giacomo Lombardo was quoted as saying. A party will be held to celebrate what he hopes will be the start of a reversal of that trend.
The 25 most romantic cities in the world
The 25 most romantic cities in the world
1/25 25. San Diego, California

San Diego projects a laidback, relaxed yet elegant vibe that lends itself well to romance. From its sunny beaches and small coffee shops, to the historic Hotel Del Coronado or the million dollar views in La Jolla, San Diego is the perfect place to get lost for a few days!

Donald Miralle/Getty Images

2/25 24. Dublin, Ireland

Castles, culture and cathedrals add to the romance factor in Ireland's capital city. The scenery is stunning, with rolling green hills and clear lakes surrounding the bustling city center. You'll never run out of date ideas here, with galleries, restaurants and concert halls at your disposal.

Chris Jackson/Getty Images

3/25 23. Melbourne, Australia

Australian Traveler Magazine voted Melbourne the "Most Romantic City" in 2013 and described it as "A little Paris by day, a little New York by night." With charming bars and restaurants to duck into, and beautiful gardens to wander through hand in hand, it's easy to see why this sophisticated city tops the list!

Darrian Traynor/Getty Images

4/25 22. Los Angeles, USA

LA has something for every type of couple. With miles of beaches, some of the best restaurants and bars in the world, a glamorous Hollywood history and sunshine nearly year round, Los Angeles is romantic simply because you'll never get bored in this sunny city!

5/25 21. Cape Town, South Africa

Cape Town has an abundance of fine dining establishments, relaxing spas and resorts Go for a romantic horseback ride on Noordhoek Beach, or take a sunset cable car up to Table Mountain where you can soak in the majestic views.

Dan Kitwood/Getty Images

6/25 20. Marrakesh, Morocco

Morocco is known as the "Red" city, which is, of course, the color of love. From the bustling markets, spices that linger in the air, colorful tapestries that adorn the city and adventurous date ideas, Morocco is a city that will definitely ignite romance. It's exotic, sexy and unique.

7/25 19. Charleston, USA

Charleston has been voted "America's Favorite City" three times, and it's nearly year round perfect weather, charming locals and rich history provide a low key backdrop to a romantic weekend away from the daily grind.

John Moore/Getty Images

8/25 18. Jaipur, India

Known as India's "Pink City," Jaipur will awaken all of your senses with it's rich culture and regal history. There are temples, luscious gardens, palaces and invigorating street bazaars to explore hand in hand with your partner.

Mark Kolbe/Getty Images

9/25 17. New York City, USA

New York is on our list simply because of the limitless possiblilities it has to offer-there truly is something for every couple in the big apple. From Central Park to Rockefeller Center, the Brooklyn Bridge and beyond, NYC is bursting with scenes that inspire romance and offers the best food, drinks, theater, nightlife on Earth, which is why it is often dubbed "The Capital of the World."

Spencer Platt/Getty Images

10/25 16. Edinburgh, Scotland

Scotland's capital city is full of mystery, intrigue and romance. With adorable tea rooms and world class pubs at every corner and the Edinburgh Castle looking down on it all, there is no shortage of fun in this bustling city. The date ideas don't end there though! If you're feeling adventurous, you can book a ghost tour or hike up Arthur's Seat.

Jeff J Mitchell/Getty Images

11/25 15. San Sebastian, Spain

San Sebastian is a popular beach tourist destination worldwide and a quick weekend break from much of Europe. It offers sunny beaches that some say are the best in Europe, old world ambiance and gourmet cuisine which make San Sebastian the perfect backdrop for a sultry romance.

RAFA RIVAS/AFP/Getty Images

12/25 14. Bath, England

Bath is known for being the UK's Most Romantic city, with good reason! This city is surrounded by lush countryside and is famous for it's hot air balloon marriage proposals! Bath is a city perfect for a couple to stroll hand in hand, stopping in shops and enjoying an afternoon tea in the historic Pump rooms.

Matt Cardy/Getty Images

13/25 13. Wellington, New Zealand

The Capital city of New Zealand boasts a stunning harbour and no shortage of fun activities for couples. Be prepared to get outside and enjoy the beaches, animal sanctuary and botanical gardens.

14/25 12. Lisbon, Portugal

Stunning views, quaint promenades and charming architecture will take you back in time when visiting Lisbon. Don't let the Old World charm fool you though; Lisbon is quickly becoming a cosmopolitan city with growing fine dining and music scenes.

Bruce Bennett/Getty Images

15/25 11. Montreal, Canada

A little bit of Paris in North America, Montreal is a stunning blend of old world charm with a sophisticated twist-the best of both worlds! With seemingly limitless parks, cafes, and a charming city center, coupled with modern and sexy nightlife options, there is something for every couple in the cultural capital of Quebec.

KAREN BLEIER/AFP/Getty Images

16/25 10. Prague, Czech Republic

Prague really comes alive at night, and the lights bouncing of the cathedrals, castles and charming Old World architecture will guide you through the cobblestone streets and dark alley ways.

Sean Gallup/Getty Images

17/25 9. Florence, Italy

The Renaissance capital of the world is known for it's stunning architecture and world renowned art. Although art lovers will no doubt never want to leave the city, Florence will win you over even if you have zero artistic bones in your body.

CLAUDIO GIOVANNINI/AFP/GettyImages

18/25 8. Dubrovnik, Croatia

Dubrovnik has risen dramatically in popularity over the last few years, mostly due to it's breathtaking views of the Adriatic sea. It's Old World charm will inspire romance as you stroll through the century old white fortress walls lining the cliffs.

AFP/Getty

19/25 7. Budapest, Hungary

Stunning 19th century architecture, a world class music scene and hundreds of adorable cafes lining the streets make Budapest one of the most charming and romantic cities in the world.

ATTILA KISBENEDEK/AFP/Getty Images

20/25 6. Buenos Aires, Argentina

The capital city of Argentina is all about one thing-nightlife! From incredible restaurants to nightclubs that stay packed until 8am, Buenos Aires is the epitome of a romantic good time. Everywhere you look, you'll see love, as it's common for couples of all ages to kiss and embrace on benches throughout the city.

Joe Raedle/Getty

21/25 5. Bruges, Belgium

You'll feel as if you're in the middle of a medieval fairytale in this picturesque city, left what appears to untouched from a different and much more charming, time. Taking a boat ride through one of the city's many canals is a must-do!

Allsport UK/Allsport/Getty Images

22/25 4. Kyoto, Japan

Kyoto is a tranquil and historic city, full of cherry blossoms in the spring. From quaint tea houses to elaborate gardens, the city is full of romantic locations.

KAZUHIRO NOGI/AFP/Getty Images

23/25 3. Venice, Italy

Steal a kiss on a gondola ride through the canals, while walking hand in hand down one of the many hidden bridges or while strolling down the piazzas...basically, anywhere in Venice is perfect for romance!

Ian Gavan/Getty Images

24/25 2. Sydney, Australia

With world class wineries, stunning beaches and bustling nightlife a stone's through away, Sydney is second on the list simply because you'll never run out of things to do in this vibrant city!

25/25 1. Paris, France

Catch a show at the Moulin Rouge, smooch under the Eiffel Tower, walk or cruise along the Seine River...at seemingly every turn, Paris aka "The City of Light" is bursting with quintessential backdrops for romance.

Mike Hewitt/Getty Images
But the population decline will be hard to stop, no matter what ideas Lombardo comes up with. Younger Italians in particular say there are few attractive job prospects in rural areas. Many have moved to cities, leaving their hometowns to the elderly. Ostana, which is in northern Italy, has only one shop, a bar and two restaurants, according to the Italian news site the Local.
Some parts of northern Italy have been hit harder than others. But the south, including the island of Sicily, has faced more dramatic demographic changes in recent decades.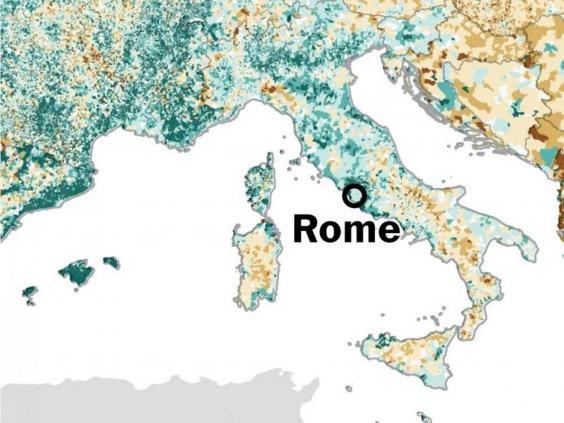 This map compares demographic trends all over Europe between 2001 and 2011. Areas colored green had an average annual increase in population over that time span, and areas colored brown experienced a decline in population. In areas colored white, no significant change occurred.
Reactions have seemed panicked at times. Another Italian town, for instance, recently made it mandatory for its inhabitants to attend a health check. The expressed goal of that initiative: slow down death rates to keep the town alive. Skeptics joked that the idea came close to "making it illegal to die."
Last year, Gangi, a town on the island of Sicily, had yet another idea: Its council decided to sell about 20 houses for less than $2. At least 50 people applied for the opportunity. There was a catch, of course: The buyers had to agree that they would renovate the properties. Although Gangi still has 7,000 inhabitants, its leaders fear that it might soon face the same decline as Ostana.
The arrival of baby Pablo has certainly been welcomed in Ostana, according to the mayor. "It's great to finally have someone born here, and it shows that our efforts to reverse population decline are slowly working," Lombardo was quoted as saying.
Lombardo has tried to create jobs in order to prevent other young people from leaving the town. Pablo might be the first indication that his strategy is working. His parents wanted to move away several years ago but stayed after they were offered the opportunity to work at a mountain refuge.
© Washington Post