A former-prostitute who was in the middle of Silvio Berlusconi's high-profile sex scandal said in court that she plans on making a film about their relationship.
Patrizia D'Addario gave evidence in a trial in Bari on Friday in which seven people are accused of procuring prostitutes for the former prime minister.  
D'Addario read out a six-page letter, the Telegraph reported, in which she said Berlusconi had ruined her life.
"I'm going to make a film about my experiences based on the truth of what happened," she said. "You destroyed my life, now you should apologise and tell the truth of our relationship."
At the centre of the case is, The Times reported, business man Gianpaolo Tarantini who is accused of pimping for Berlusconi in 2009 and 2009. He is thought to have sent 26 women to parties thrown by the politician.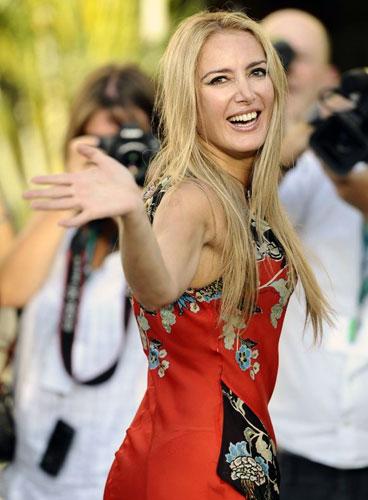 Aiding and abetting prostitutes is illegal in Italy but paying them for services is not.
Ms D'Addario claimed that she was never paid for having sex with Berlusconi but that he knew she was a prostitute when he invited her to bed – something he denied.
"In contrast to those girls, who are real prostitutes, who have always been paid by Berlusconi and who have treated him like a cash machine, I have never taken money or asked favours," D'Addario said in court.
D'Addario already released a book in 2009 called Prime Minister, Take Your Pleasure in which she detailed their two evenings together in 2008. When the book came out, Berlusconi said he did not remember her. 
In pictures: Silvio Berlusconi's political career
In pictures: Silvio Berlusconi's political career
1/7 1994

The billionaire media tycoon wins elections with his Forza Italia (Go Italy) party, following a wave of anti-corruption investigations that decimate the old political order. He is forced to step down just months later after his coaltion partner pulls out.

Getty

2/7 2001

Berlusconi wins elections for a second time after a powerful media campaign in which he promised to slash taxes and unemployment. He goes on to serve the longest stint as Prime Minister in Italy's post-war history

Getty

3/7 2006

Berlusconi steps down after being narrowly defeated by a centre-left coalition led by Romano Prodi, right, a former president of the European Commission.

Getty

4/7 2008

Mr Berlusconi wins a third election victory following the collapse of Mr Prodi's government due to internal disagreements over Italian troop deployments in Afghanistan

Getty

5/7 2009

Veronica Lario, Silvio Berlusconi's wife, files for divorce and accuses her husband of cavorting with under age girls

Getty

6/7 2011

Silvio Berlusconi steps down following a parliamentary revolt and a growing number of sex scandals and criminal investigations

Getty

7/7 2013

Silvio Berlusconi is sentenced for having sex with a then under age 17-year-old prostitute nicknamed Ruby the Heart Stealer. He also loses a second and final appeal over a tax fraud conviction

Getty
Berlusconi appeared as a witness in the trial in southern Puglia but did not say anything apart from confirming his name and address.
Reuse content