Tears streamed down the faces of many of those who flocked to the heart of Moscow yesterday to mourn the loss of prominent opposition leader Boris Nemtsov, who was shot dead late on Friday night – as world leaders lined up to condemn his murder.
Mr Nemtsov, a former deputy prime minister and a sharp critic of the Russian President, Vladimir Putin, was said by Russian investigators to have been shot four times in the back by an unknown killer. The timing of the killing – carried out just a few steps from the Kremlin – sent shockwaves through Moscow.
Police were still washing away blood early yesterday from the Great Moskvoretsky Bridge where Mr Nemtsov had been walking with a woman – who was unhurt in the attack. The country's top investigative body said it was pursuing several motives for the killing.
One of these theories involved "Islamic extremism" in light of threats Mr Nemtsov was said to have received for his stance on the recent Charlie Hebdo killings in Paris.
Tensions between Russia and the Western world
Tensions between Russia and the Western world
1/7 Russia

Vladimir Putin leaves G20 early after criticism from world leaders over Ukraine. David Cameron warned Vladimir Putin, face to face, that Russia's whole post-Cold War relationship with the West is at a "fork in the road" over Ukraine

Getty

2/7 Russia

A mysterious Russian object is being tracked by space agencies, giving new life to fears about the increase of space weapons. The satellite, dubbed Object 2014-28E, has grabbed the interest of official and amateur satellite-watchers because it is taking a confusing path and its purpose has not been identified

Getty Images

3/7 Russia

Russian warplanes are risking the security of civilian passengers as they play a dangerous game designed to test Western air defences, according to Nato's secretary general

FRA

4/7 Russia

Russia has warned Ukraine that a resumption of hostilities against pro-Russian separatists in the east would be catastrophic for Ukraine

Reuters

5/7 Russia

A Swedish minesweeper searches for suspected "foreign underwater activity" near Stockholm. A Russian sub in Swedish waters has slipped away into the sea...leaving recriminations in its wake

Reuters

6/7 Russia

Russian government agencies have been accused of editing a Wikipedia article to suggest the Ukrainian military was responsible for shooting down the Malaysia Airlines flight MH17, a Twitter account monitoring state IP addresses has claimed

AFP

7/7 Russia

Australia's prime minister Tony Abbott has promised he will "shirtfront" Vladimir Putin over the downing of Malaysia Airlines flight MH17, which killed 38 Australian citizens

AP
Russia's investigative committee issued an online statement in which it also did not rule out that the killing was part of a business dispute, an attempt to destabilise the political landscape in Russia, or even tied to "internal Ukrainian events" involving "radical characters" that did "not answer to any authority".
"Mr Nemtsov may have been sacrificed by those who do not shun anything to reach their political gains," committee head Vladimir Markin was quoted as saying.
The killing comes just a week after a massive pro-Kremlin protest in which Mr Nemtsov's face was plastered on placards next to the word "traitor" and "fifth column", a term used by pro-Kremlin activists to describe members of the opposition.
The new Anti-Maidan movement, whose stated goal is to prevent a repeat of the Maidan protests in Kiev during which Kremlin-backed Viktor Yanukovych was ousted, has relentlessly depicted members of the opposition as traitors plotting to overthrow the government.
Mr Nemtsov had been singled out as one of the most dangerous members of the "fifth column" – stating in a recent interview that his mother was scared he would be killed for his views. The 55-year-old was also set to attend a rally in the city today against Russia's actions in Ukraine, as well as the economic situation in the country. That rally is now a memorial march.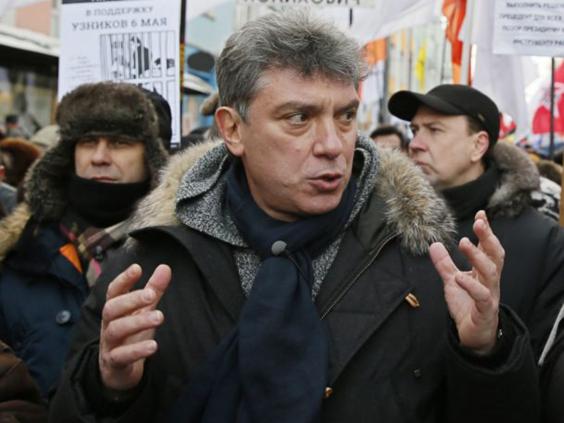 Mr Nemtsov had declared that the main goal of the opposition protest scheduled for 1 March should be to stop the war in Ukraine.
Ukraine was the word on the lips of a number of opposition leaders, with Ilya Yashin, a close ally of Mr Nemtsov, claiming Mr Nemtsov had been gearing up to publish a report that would prove Russia sent troops to Ukraine, leaving the accusation hanging that the Kremlin could be implicated in Mr Nemtsov's death.
"He mentioned that he had some materials that directly indicated [Russian involvement], that proved it, and that within the next month he would publish these materials as a report," Mr Yashin said in comments to the liberal-minded Ekho Moskvy radio station yesterday. Mr Yashin said he didn't know any further details and had no idea what would happen to the report.
US President Barack Obama, the Prime Minister David Cameron and a number of other world leaders called for a swift investigation into the killing. Mr Obama said Russia's government should perform a "prompt, impartial and transparent" investigation to bring to justice the killers of the "tireless advocate".
"The Russian people have lost one of the most dedicated and eloquent defenders of their rights," he said in a statement.
Mr Cameron said he was "shocked and sickened by the callous murder" of "a man of courage and conviction" who was "greatly admired in Britain". "Boris Nemtsov is dead. But the values he stood for will never die," he said.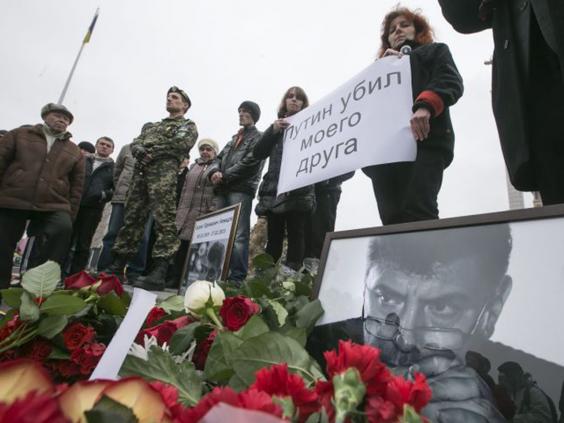 Mr Putin has said he will do everything possible to bring to justice those who committed the "vile and cynical" murder of the opposition politician. In a telegram to Mr Nemtsov's mother, published on the Kremlin website, Mr Putin offered condolences and praised Mr Nemtsov's openness and honesty. "We will do everything to ensure that the perpetrators of this vile and cynical crime and those who stand behind them are properly punished."
Mr Putin's official spokesman, Dmitry Peskov, dismissed the notion that Mr Nemtsov's killing had anything to do with the Kremlin , saying in comments to the Interfax news agency that it was more likely a "provocation".
However, the "provocation" theory was slammed by prominent opposition activists, with Svetlana Gannushkina, one of Russia's leading rights activists and the head of the Civil Assistance group, said it was strange to hear Russian leaders echoing theories about a "provocation" first voiced by Mr Putin years ago.
She referred to comments made by Mr Putin during elections for the presidential role he now holds back in 2012, when he said that opposition supporters could even look to create a provocation where they "sacrifice someone themselves and then blame the authorities".
Former Liberal Democrat leader Sir Menzies Campbell said Mr Putin bore some responsibility for creating the kind of atmosphere in which dissent could end in "political assassination".
"Remember, other dissidents have met their deaths in recent years, as have investigative journalists, so this is not a one-off," he told Sky News.
"I am not saying that [Putin] is responsible or that he ordered the killing or anything of that kind. There is no evidence to support that.
"But if you create an atmosphere in which those who are opposed to government find themselves subjected to what is essentially a political assassination, then you have to take some responsibility."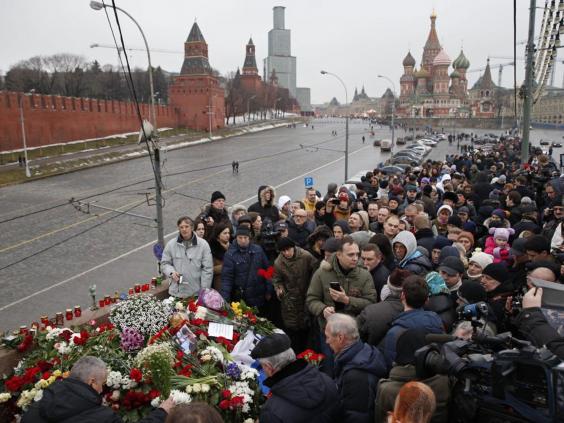 He said the declaration that Mr Putin would take personal charge of the investigation had "induced a certain amount of scepticism both in Russia and abroad".
The scene of the killing was an emotional one on yesterday, as people laid flowers at a makeshift memorial while five police officers looked on. As the piles of flowers grew too high, the several dozen visitors present spread them out along the bridge. Queues of people arrived and walked up to the memorial, making the sign of the cross before setting down a bouquet and quickly walking away in tears.
Many visitors openly cried while praying over the memorial, which also featured a copy of the constitution and a small handwritten note with details on Sunday's opposition protest. "He was the smartest, bravest politician in Russia today. This is a great loss. He was a great person. He was a real contender. If there had been an election today, he would've had real chances of winning," said Anna Pomilova, one of many Muscovites laying flowers. She said that whoever was behind the murder was trying to scare those critical of Russia's policies in Ukraine, saying "they operate on fear".
"If a country is at war, the war will come back home, in some way or another. The war isn't only in Donbass [eastern Ukraine]. It's in Moscow too," Ms Pomilova added.
The route for the opposition protest where Mr Nemtsov was to speak today was changed. Moscow authorities granted the organisers' request to begin the rally at the Kitai Gorod metro station, near where Mr Nemtsov was killed – they also took the unusual step of printing the afternoon start time of the protest, something not normally done for opposition rallies.
"There are not many honest politicians left. It's still hard to come to terms with the fact that the best people are the first to go," said Tatyana Shakhtova, a student from Moscow, yesterday. "He's done so much for Russia. He was always so sure that he could change things for the better."
Reuse content