Poland has acknowledged for the first time that there was a CIA "black site" on its soil.
The former Polish President, Aleksander Kwasniewski – who was in power from 1995 to 2005 – acknowledged that Washington did request use of a Polish facility. But he insisted that they had no knowledge of any torture or mistreatment at the site.
"The US side asked the Polish side to find a quiet site where it could conduct activity that would allow it to obtain information from persons who had declared readiness to co-operate," Mr Kwasniewski said. "We gave our consent to that."
CIA torture report: Who knew what?
CIA torture report: Who knew what?
1/6 GEORGE W BUSH

FORMER US PRESIDENT President Bush has stated in his autobiography that he discussed the programme, including the use of enhanced techniques, with then CIA director George Tenet in 2002, prior to application of the techniques on Abu Zubaydah, and personally approved them. A memoir by the former Acting CIA General Counsel John Rizzo disputes this.

AFP/Getty

2/6 JOHN BRENNAN

FORMER DEPUTY DIRECTOR AND NOW DIRECTOR, CIA Among those who were sent an update on 26 July 2002, in which CIA officers were said to be involved in "sound disorientation techniques," "sense of time deprivation," limited light, cold temperatures", and sleep deprivation. The plan was circulated to senior CIA officers.

Getty

3/6 CONDOLEEZZA RICE

FORMER NATIONAL SECURITY ADVISER On 31 July, 2002, she said that, in balancing the application of the CIA's interrogation techniques against the possible loss of American lives, she would not object to the CIA's enhanced interrogation techniques if the Attorney General determined them to be legal.

Getty

4/6 GEORGE J TENET

FORMER DIRECTOR OF CENTRAL INTELLIGENCE, CIA In late January 2003, in response to the death of CIA detainee Gul Rahman and the use of a gun and a drill in the CIA interrogations, DCI Tenet signed the first formal interrogation and confinement guidelines for the programme.

Getty

5/6 DONALD RUMSFELD

FORMER SECRETARY OF DEFENCE Donald Rumsfeld was made aware of the CIA interrogation programme prior to recertification of the covert action for the first time in a 25-minute briefing on 16 September, 2003. It was Condoleezza Rice who ordered his briefing.

Getty

6/6 COLIN POWELL

FORMER SECRETARY OF STATE A CIA email dated 31 July, 2003 states: "The [White House] is extremely concerned [Secretary of State] Powell would blow his stack if he were to be briefed on what's been going on." He was formally briefed for the first time on 16 September that year.

AFP/Getty
Earlier this year, the European Court of Human Rights ruled that Poland should be held responsible for the violation of the rights of two terrorism suspects who passed through a facility on its territory, and ordered the government to pay €100,000 and €130,000 in damages to two Saudis.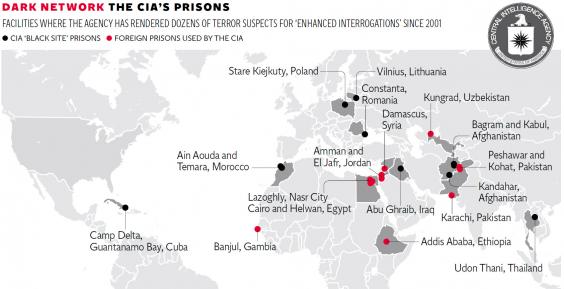 Click HERE to view full-size graphic
Reuse content