A convoy of 50 trucks carrying what are thought to be hundreds of Russian soldiers has reportedly driven into a base near Crimea's capital Simferopol.
Some of the green army vehicles had Russian licence plates and numbers indicating that they were from the Moscow region. Some towed mobile kitchens and what appeared to be mobile medical equipment.
Vladislav Seleznyov, a Crimea-based spokesman for the Ukrainian armed forces, told AP that witnesses had reported seeing amphibious military ships unloading around 200 military vehicles in eastern Crimea last night after apparently having crossed the Straits of Kerch, which separates Crimea from Russian territory.
"Neither the equipment nor the paratroopers have insignia that identify them as Russian, but we have no doubt as to their allegiance," he said.
The amphibious operation appeared to be one of the largest movements of Russian military forces since they appeared in Crimea a week ago.
Mr Seleznyov also said a convoy of more than 60 military trucks was spotted heading from Feodosia toward Simferopol, the regional capital, today.
In pictures: Ukraine crisis
In pictures: Ukraine crisis
1/12 Ukraine crisis

People shout slogans during a pro Russian rally at a central square in Donetsk. Pro Russian activists continued to gather on Saturday in the eastern Ukrainian city of Donetsk, as Russia was reported to be reinforcing its military presence in Crimea.

2/12 Ukraine crisis

In the same pro Russian rally, demonstrators show their support. Ukraine's ambassador to Russia and a deputy Russian foreign minister held a "cordial" meeting on Saturday, Moscow said, without giving details of any discussion of Russian-occupied Crimea.

3/12 Ukraine crisis

Crimean ethnic tatars stand on the roadside as Russian troops move towards to Simferopol in the settlement of Kok-Asan, some 70 kilometres from Simferopol in Crimea.

4/12 Ukraine crisis

Russian troops stand on a roadside in the settlement of Opytnoye, some 70 kilometres from Simferopol.

5/12 Ukraine crisis

Armed members of the first unit of a pro-Russian armed force, dubbed the "military forces of the autonomous republic of Crimea" march before the swearing-in ceremony in Simferopol, Ukraine. Some 30 men armed with automatic weapons and another 20 or so unarmed, were sworn in at a park in front of an eternal flame to those killed in World War II.

6/12 Ukraine crisis

A group of Cossacks march past a statue of Soviet revolutionary leader Vladimir Lenin in Simferopol as tensions in the area continue to rise.

7/12 Ukraine crisis

An armed member of the first unit of a pro-Russian armed force, dubbed the "military forces of the autonomous republic of Crimea" signs the oath during the swearing-in ceremony in Simferopol,

8/12 Ukraine crisis

9/12 Ukraine crisis

Ukrainian soldiers load their armed personnel carriers (APCs) into boxcars in the western Ukrainian city of Lviv. Pro-Kremlin militia fired warning shots as unarmed foreign observers tried to enter Crimea on the 8th.

10/12 Ukraine crisis

An abandoned naval ship sunk by the Russian navy to block the entrance is seen in the Crimean port of Yevpatorya on March 8th.

11/12 Ukraine crisis

Ukrainian sailors stand guard on top of the Ukrainian navy ship at the Crimean port of Yevpatorya.

12/12 Ukraine crisis

Crimea's pro-Moscow leader Sergei Aksyonov speaks to the media in Simferopol on the 8th March. He has defended a decision to hold a referendum on whether the region should join Russia, saying on Saturday that "no one" could cancel the voting.
An AP reporter caught up with the convoy and trailed it to Russian-controlled airfield. In the rear of the vehicles, heavily armed soldiers could be seen, though none appeared to have identifying badges or insignia. Soldiers spat at the reporters following them.
The regional parliament in Crimea has set a referendum on leaving Ukraine to join Russia for March 16, and senior politicians in Moscow said they would support the move, ignoring sanctions threats and warnings from US President Barack Obama that the vote would violate international law.
The strategic peninsula in southern Ukraine has become the flashpoint in the battle for Ukraine, where three months of protests sent President Viktor Yanukovych fleeing to Russia. A majority of people in Crimea identify with Russia, and Moscow's Black Sea Fleet is based in Sevastopol, as is Ukraine's.
While the US and the EU urged Russia to engage in dialogue with new Ukrainian authorities, the Kremlin has refused to do so, denouncing the change of power in Ukraine as an "unconstitutional coup".
Russian Foreign Minister Sergey Lavrov said Moscow sees no sense in having a dialogue with Ukraine's new authorities because, in his view, they kowtow to radical nationalists.
"The so-called interim government isn't independent; it depends, to our great regret, on radical nationalists who have seized power with arms," he said at a news conference. He said that nationalist groups use "intimidation and terror" to control Ukraine.
Despite that tough talk, the Russian Foreign Ministry said Grigory Karasin met Ukrainian Ambassador Volodymyr Yelchenko today, the first such diplomatic contact since the crisis began. In a terse statement, the ministry said only that they discussed issues related to Russian-Ukrainian ties in a "sincere atmosphere".
At a news conference in the capital, Kiev, Ukraine's new foreign minister, Andrii Deshchytsi, spoke hopefully about creation of a contact group made up of foreign ministers of various countries to mediate the crisis. Forming the group was an idea discussed during meetings between Ukraine's prime minister and European Union leaders in Brussels on Thursday.
Mr Deshchytsi said he learned from mediators that Russia has not "categorically' refused the idea of permitting a contact group to help broker an end to the dispute.
"The Russians are thinking," he said, so there is "reason to hope". He reiterated that the new Ukrainian government understands it is vital to establish good relations with all neighbours, including Russia.
Russian President Vladimir Putin has said Moscow has no intention of annexing Crimea, but that its people have the right to determine the region's status in a referendum.
The Crimean referendum has been denounced by Ukraine's new government, and Mr Obama has said it would violate international law. The US moved on Thursday to impose its first sanctions on Russians involved in the military occupation of Crimea.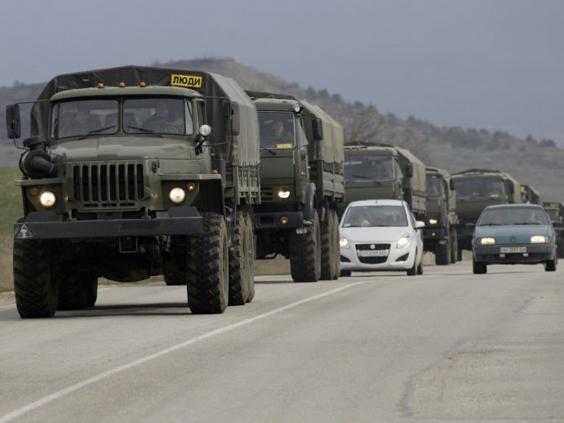 Speaking on the BBC today, Nato Secretary-General Anders Fogh Rasmussen said that while there is no military response to the recent events of Crimea, the crisis was a reminder of threats to European security and stability.
"I do believe that politicians all over Nato will now rethink the whole thing about investment in security and defence," he said. "Obviously, defence comes at a cost but insecurity is much more expensive."
An international military mission composed of officers from the US and 28 other nations tried again to enter Crimea today, but it was turned back around the town of Armiansk by armed men.
An AP reporter travelling with the 54 observers from the Organisation for Security and Co-operation in Europe said that after the group had stopped, the armed men fired bursts of automatic weapons fire to halt other unidentified vehicles. No injuries were reported.
In Simferopol, meanwhile, a public ceremony was held for the swearing-in of the first unit in the pro-Russia Military Forces of the Autonomous Republic of Crimea. About 30 men armed with AK-47s, and another 20 or so unarmed, turned out. They ranged in age from teenagers to a man who looked to be about 60. They were sworn in at a park in front of an eternal flame to those killed in the Second World War.
Sergei Aksyonov, the Crimean prime minister, came to the ceremony and was greeted by the soldiers with shouts of "Commander!"
He said their main role, at least until the referendum, would be to "keep the peace". He said he did not foresee any fighting with the Ukrainian soldiers still at bases in Crimea.
"We are not enemies with those soldiers who pledged loyalty to the Ukrainian state. They are not our enemies," he said. He added that they would be given the chance to go safely back to Ukraine if they want.
In the week since Russia seized control of Crimea, Russian troops have been neutralising and disarming Ukrainian military bases there. Some Ukrainian units, however, have refused to give up. Mr Aksyonov has said pro-Russian forces numbering more than 11,000 now control all access to the region and have blockaded all military bases that haven't yet surrendered.
Yesterday evening, pro-Russia soldiers tried to take over another Ukrainian base in Sevastopol, resulting in a tense stand-off which lasted for several hours.
Lieutenant Colonel Vitaly Onishchenko, deputy commander of the base, said three dozen men wearing unmarked camouflage uniforms arrived late yesterday. While one group climbed over a wall on one side of the base, another crashed a heavy military truck through the gates, he said.
He said they turned off power, cut telephone lines and demanded that about 100 Ukrainian troops, who barricaded themselves into one of the base buildings, surrender their weapons and swear allegiance to Russia. The invaders left around midnight.
No shots were fired in and no injuries were reported.
Russia has described the troops who wear green uniforms without insignia as local "self-defence forces." But Lt Col Onishchenko said the troops who tried to overrun his base were clearly Russian.
"These were Russian servicemen specially ordered," he said. "Their watches were set to Moscow time. They spoke with Russian accents and they didn't hide their allegiance to the Russian Federation." .
In other developments, Poland confirmed that it had evacuated its consulate in Sevastopol, Crimea, due to disturbances by Russian forces.
Polish Foreign Minister Radoslaw Sikorski said on Twitter: "Because of continuing disturbances by Russian forces there, we have reluctantly evacuated our consulate in Crimea, Ukraine."
The Polish Ministry of Foreign Affairs added that the consulate in Ukrainian city of Odessa would take over the duties of the Sevastopol unit.
The ministry called on Polish citizens to leave the Crimean peninsula and avoid travelling to eastern areas of Ukraine.
Russia and Ukraine are locked in a tense standoff over the largely ethnically Russian region of Crimea after Ukraine's president Viktor Yanukovych was ousted by protesters two weeks ago.
PA