A senior Russian politician has told Britain to "have a break, have a Twix" over Vladimir Putin's annexation of Crimea.
Alexei Pushkov, head of the Russian parliament's Foreign Affairs Committee, made the jibe on Twitter after Philip Hammond condemned it as a "blatant breach of international law".
But he appeared to have mixed up his chocolate bars, seemingly using the famous "have a break, have a KitKat" slogan rather than Twix's accidentally timely line: "Try both and pick a side."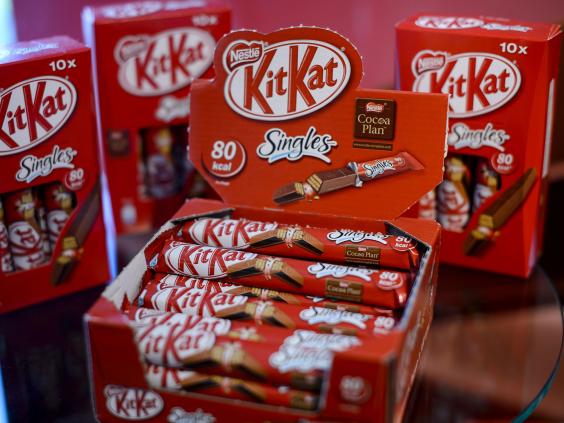 "Attention London: Crimea has far more reason to be in Russia than the Falklands have to be part of Great Britain," Mr Pushkov wrote on Twitter on Sunday, according to a translation by the Moscow Times.
"London should 'have a break, have a Twix'. All the Western polls conducted in Crimea show the absolute majority of Crimean people are for reunification with Russia."
He was reacting to a statement by the Foreign Secretary marking a year since President Putin signed the decree confirming the annexation of Crimea as the Ukrainian conflict raged.
Лондону следует "сделать паузу и скушать Твикс": по всем западным опросам в Крыму, абсол.большинство крымчан - за воссоединение с Россией.

— Алексей Пушков (@Alexey_Pushkov) March 22, 2015
Mr Hammond condemned the move as a "blatant breach of international law".
"It showed total disregard for Ukraine's right to sovereignty and territorial integrity, and I condemn it in the strongest terms," he added.
"It is completely unacceptable for Russia to use force to change borders.
"We do not recognise last year's sham referendum which President Putin has admitted was planned to provide a fig leaf for his land grab."
Crimea referendum and independence
Crimea referendum and independence
1/14 Crimea Referendum

A man shows his shirt with the Russian emblem as he celebrates the results of the Crimean referendum at the Lenin Square in Simferopol

EPA

2/14 Crimea Referendum

An elderly retired Soviet Navy officer and his wife take a walk in Sevastopol the morning after the referendum

AFP/Getty

3/14 Crimea Referendum

A man plays accordion as people dance during celebrations in Sevastopol

AFP

4/14 Crimea Referendum

People wave Russian flags as fireworks explode in the sky over Sevastopol following the announcement of the result of the referendum

EPA

5/14 Crimea Referendum

A member of a Ukrainian "Maidan" self-defense battalion takes part in training to qualify for service in the newly-created National Guard.

Reuters

6/14 Crimea Referendum

Pro-Russian protesters hold a Russian, Crimean and Soviet flags during their rally at Lenin Square in Simferopol, Ukraine

EPA

7/14 Crimea Referendum

A member of the Crimean election commission waits for voters at the polling station in Belogorsk near Simferopol, Crimea, Ukraine

EPA

8/14 Crimea Referendum

Polling stations opened in Crimea for a referendum about whether the Ukrainian Black Sea region should join Russia. The vote has been widely condemned by Western governments, who call it illegal and have announced sanctions against Russia if it goes ahead. Thousands of unmarked forces, believed to be Russian, have appeared in Crimea after local Moscow-backed authorities asked Russia for protection against 'extremists' in the new Ukrainian leadership

EPA

9/14 Crimea Referendum

A lettering on the facade of the Council of Ministers building reads 'Spring in Crimea' in Simferopol, Crimea, Ukraine

EPA

10/14 Crimea Referendum

People wave Crimean flags at Lenin square in Simferopol, Crimea, Ukraine

EPA

11/14 Crimea Referendum

A poster in Crimea presents a stark choice - Nazism, or Russia - to voters ahead of the referendum

12/14 Crimea Referendum

Protesters against Ukraine's referendum gather in Simferopol

Getty Images

13/14 Crimea Referendum

Action stations: Preparations for today's referendum in Simferopol, where Crimea will vote to become part of Russia

AP

14/14 Crimea Referendum

Cossacks guard the regional parliament building in Simferopol during the Crimean referendum

AP
Elections in Crimea supporting the Russian annexation and in separatist-controlled eastern Ukraine voting in rebel rulers have been denounced by the Ukrainian government and the West.
But Russia backed the supposed landslide victories as a free and fair vote of confidence in areas dominated by Russian speakers.
Mr Hammond called the Crimean referendum a "sham" mounted in 20 days to legitimise the land grab under the supervision of armed pro-Russian troops.
"Opposition media was shut off before the vote, there were no Organisation for Security and Co-operation in Europe (OSCE) monitors and the referendum was declared illegal and illegitimate by the OSCE and G7 nations shortly after it took place," he said.
"Since the illegal annexation, political freedom has reduced, and those who have dared to speak out have been threatened and subjected to violence.
"Human rights abuses in Crimea are particularly affecting ethnic minorities, with over 100 raids on Crimean Tatar homes reported since the annexation."
Parallels to Britain's claim over the Falklands have been drawn before. Shortly after the annexation of Crimea, Argentinian President Cristina Kirchner claimed it was no more acceptable than Britain's hold on the islands.
"The Malvinas (Falklands) have always belonged to Argentina," she said.
"Crimea once belonged to the Soviet Union and was then given by (former Soviet leader Nikita) Khrushchev to the Ukrainians."
Argentina maintains its claim to the Falkland Islands, which lie 310 miles off its coast in the South Atlantic, but they have remained British since 1833.
The Argentinian invasion in 1982 sparked the Falkands War, which killed more than 900 people.
Inhabitants of the islands voted overwhelmingly, by 1,513 to three votes, for it to remain a British overseas territory in a 2013 referendum but some Argentinian politicians said self-determination was irrelevant.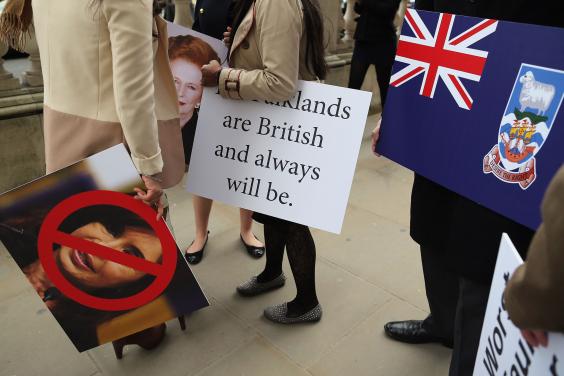 Ballots cast in the Donetsk and Luhansk provinces of Ukraine in May showed similar results, with 89 per cent and 96 per cent of voters backing independence from Kiev respectively.
In Crimea, the result of its vote in March claimed 95 per cent of voters supported joining Russia but the EU said the referendum was "illegal and illegitimate and its outcome will not be recognised".
"Our message to Russia is consistent and clear," Mr Hammond said.
"The annexation of Crimea was illegal and illegitimate in March 2014, and remains illegal and illegitimate in March 2015. Russia must return Crimea to Ukraine."
Reuse content