President François Hollande is under pressure to dismiss his Prime Minister, Jean-Marc Ayrault, as a "blood sacrifice" after the calamitous outcome of municipal elections last Sunday.
Mr Hollande was obliged to swap an international crisis for a domestic one, abandoning a global summit in The Hague that had been dominated by discussion of Ukraine a day earlier than scheduled.
Senior Socialist figures are demanding a change of government – and the metaphorical public beheading of Mr Ayrault – once the full extent of left-wing losses and right and far-right gains is known after the second round of elections this weekend.
The Employment Minister, Michel Sapin – a close friend and ally of Mr Hollande – has called publicly for "change". His comments were echoed by the outgoing Mayor of Paris, Bertrand Delanoe, and the former Employment Minister and Mayor of Lille, Martine Aubry.
All three have been touted at different times as possible prime ministers. President Hollande, if he does act, is reported to favour the promotion of the energetic, reformist Interior Minister, Manuel Valls. To the fury of left-wingers, this would signal no change in Mr Hollande's new policies of steep cuts in public spending and market-oriented economic reforms.
Sacrificing a prime minister is a traditional response to public fury and disaffection in France. With spending cuts of €50bn (£42bn) due to be presented in the next few weeks, the fund of popularity for any new prime minister is unlikely to last  for long.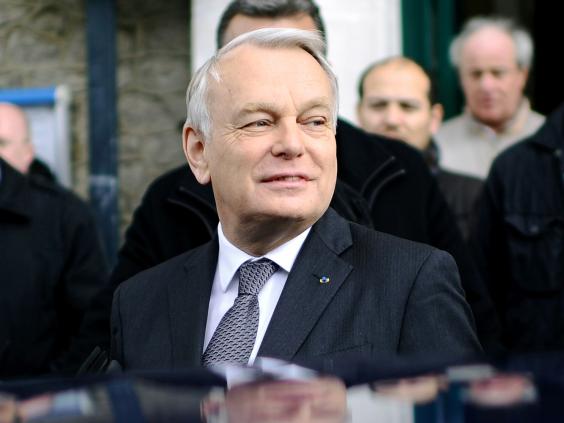 Mr Valls, 51, has been described as a "Nicolas Sarkozy of the left" – a calculating, plain-talking, ambitious man who has annoyed some left-wingers by taking a tough line on immigration and crime.
Two years after the election of Mr Hollande, the centre-left's nationwide score slumped to 38 per cent in the first round of the local elections on Sunday. Hundreds of thousands of left-wing electors failed to vote or switched to the right or far right.
Marine Le Pen's National Front captured one town hall and may take up to five more this weekend. The centre-right is likely to recapture scores of towns from the left, including two large cities, Toulouse and Strasbourg.
With Mr Hollande's approval rating in the low twenties and unemployment frozen at around 10 per cent, left-wing losses in the first mid-term election of his presidency were inevitable. Socialist politicians had not foreseen the extent of Sunday's rout, nor the breakthrough of the National Front, which topped the poll in 15 small or medium-sized towns.
None of this is the Prime Minister's fault alone. Mr Ayrault spent his first 18 months in office delivering the shuffling reforms and tax rises promised by Mr Hollande in his 2012 campaign. He has attempted to deliver the more ambitious economic reforms and spending cuts promised by the President in January.
Mr Ayrault is mostly accused of failing to sell the policies or give the French people a sense of direction. The same criticism is made of Mr Hollande. "If you have a calm and colourless President, you can't also have a calm and colourless Prime Minister," one Socialist parliamentarian said.
Mr Ayrault, previously Mayor of Nantes and the Socialist Party parliamentary leader, may have sealed his fate with a dull and stumbling TV address on Sunday night as the bad results poured in.
President Hollande is believed to have wanted to delay any change of government until European elections in late May, which are likely to be even more disastrous for the left. Unless disaffected voters turn out in greater numbers for Sunday's second round – which seems unlikely – he will be under intense pressure to fire Mr Ayrault next week.
"As things stand," one Socialist adviser said, "we could come fourth in the European elections behind the National Front, the centre-right and the Greens."