All hostages have been freed after an Egyptian passenger plane was being hijacked by a man claiming to be wearing a suicide belt.
EgyptAir Flight 181 was on a scheduled journey from Alexandria to Cairo when it veered off course on Tuesday morning and landed in Cyprus.
Sources told Reuters that British and Americans passengers were on board but it was unclear if they had been released or were among those held hostage as negotiations continued.
The attacker was intitially named in state-controlled Egyptian media as Ibrahim Samaha, a passenger who was sat in seat 38K on the plane. 
But Dr Samaha, a professor at Alexandria University, denied he was the hijacker in an interview with BBC Arabic and said he had been evacuated with other passengers. Officials in Cyprus later identified the suspect as Seif Eldin Mustafa.
While initial reports claimed the hijacker was demanding "political asylum", Cyprus broadcasting (CYBC) reported that the man may have personal motives and related to an ex-wife on the island.
Amid growing speculation about the hijacker's motives, the Cypriot President Nicos Anastasiades said the Egypt plane hijacking was not related to "terrorism".
In pictures: EgyptAir hijacked plane
In pictures: EgyptAir hijacked plane
1/10

Seif Eldin Mustafa, suspected of hijacking EgyptAir plane MS181, flashes the 'V' for victory sign as he leaves the court in Larnaca in a police car

AFP/Getty Images

2/10

Seif Eldin Mustafa wears handcuffs as he leaves the court in Larnaca escorted by Cypriot police

AFP/Getty Images

3/10

An EgyptAir flight 181 passenger embraces a family member after arriving at Cairo international airport

Reuters

4/10

CCTV footage shows Seif Eldin Mustafa walking through a metal detector before being patted down by security

Egypt Ministry of Interior

5/10

Cypriot police guard the hijacked EgyptAir A320 plane at Larnaca Airport after it landed in Cyprus

EPA

6/10

Passengers evacuate a hijacked EgyptAir Airbus 320 plane at Larnaca airport, Cyprus

Reuters

7/10

An official boards a hijacked Egyptair A320 Airbus at Larnaca Airport in Larnaca, Cyprus

8/10

An Egypt Air Airbus A-320 sits on the tarmac of Larnaca aiport after it was hijacked and diverted to Cyprus

9/10

A Cypriot policeman stands guard near a hijacked EgyptAir A320 plane at Larnaca Airport, Cyprus

10/10

Screen grabbed image taken from Flightradar24 of EgyptAir plane MS181 which has landed in Cyprus after being hijacked while flying from Alexandria to Cairo
The Guardian quoted a foreign ministry official in Cairo as saying: "He's not a terrorist, he's an idiot. Terrorists are crazy but they aren't stupid. This guy is."
But conflicting reports later said claims of personal issues were untrue and that the man had a "political" motive, including demanding the release of prisoners.
Satellite data recorded by the Flight Aware website showed the Airbus A320 took off from Borg El Arab Airport as scheduled before diverting from its 30-minute route towards Cyprus.
It landed at Larnaca airport at 8.50am local time (6.50am BST) carrying 56 passengers, seven crew and a member of security staff in a statement from EgyptAir.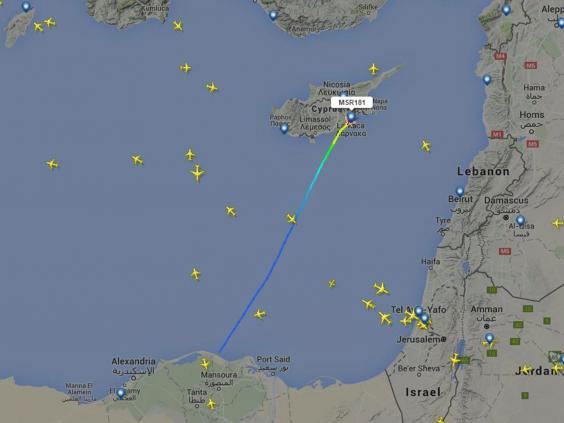 A statement from EgyptAir said initial negotiations with a single hijacker saw all those on board released apart from the flight crew and four foreigners. 
Egyptian officials later said that more people had been released, leaving seven people - the captain, co-pilot, an air stewardess, a security officer and three passengers - on board.
They were held for several more hours until shortly after 2pm local time (noon BST), when a man was filmed climbing out of the cockpit window.
Footage showed him launching himself out of the small opening before using bars on the outside of the aircraft to lower himeslf safely to the ground, sparking speculation he was a crew member.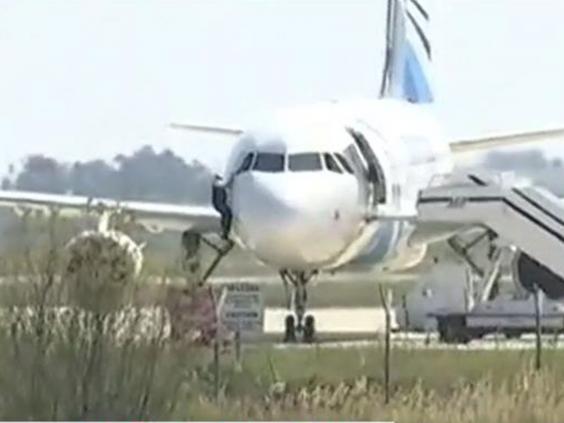 A live stream appeared to show several other people disembarking from the aircraft and being taken to safety by armed police.
Minutes later, the Cyprus ministry of foreign affairs announced that the hostage crisis was over in a statement on Twitter. 
A spokesperson for EgyptAir also confirmed the release of all hostages and the suspect's arrest.
Egypt's civil aviation minister said the hijacker did not have a gun but claimed to be wearing a suicide belt, which may have been fake. He said he could not confirm the suspect's identity.
Updates posted in Arabic on Twitter by the airline said a passenger wearing a suicide belt had threatened the pilot, Omar Jamal, and that negotiations started immediately after landing.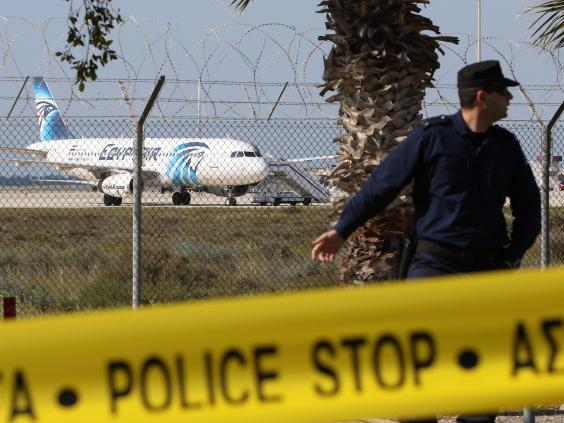 A spokesperson said the aircraft had already been diverted to Larnaca when it was hijacked, adding: "The aircraft is an Airbus A320 with 56 passengers onboard in addition to seven crew members and one EgyptAir security member."
Hossni Hassan, the director of Borg El Arab Airport, said there were originally 26 foreigners on board, including eight Americans, four Britons, four Dutch, two Belgians, a French national, an Italian, two Greeks and one Syrian, with three other foreigners unidentified. 
A spokesperson for the Foreign and Commonwealth Office said they were in contact with Cypriot and Egyptian authorities and assisting any British nationals involved.
The hijacking came five months after a Russian aircraft crashed over Egypt's Sinai Peninsula minutes after it took off from Egypt's Red Sea resort of Sharm el-Sheikh.
All 224 people on board were killed in the crash. Russia later said an explosive device brought down the aircraft after Isis claimed responsibility. 
Additional reporting by agencies
Reuse content