The Eiffel Tower will be lit up in black, yellow and red in solidarity with Belgium following the bomb attacks in Brussels.
Anne Hidalgo, the mayor of Paris, has tweeted that the famous landmark of France's capital will be illuminated in the colours of its neighbour after blasts in which at least 26 people were killed.
Ms Hidalgo said: "In solidarity with the people of Brussels, Paris will light up the Eiffel Tower in the colours of the Belgian flag tonight. #Weareunited."
The airport blasts struck at just after 8am local time, reportedly close to the American Airlines section of the terminal.
Another explosion then hit Maalbeek Metro station, located near EU institutions, one hour later.
Charles Michel, the prime minister of Belgium, has tweeted his condemnation of the attacks on his country.
At least 132 people were killed during a series of attacks across the French capital in November 2015, the deadliest act of terror Europe since the Madrid train bombings of 2004.
Several of the attackers in Paris had links with Brussels, and French and Belgian police have since worked together to establish the events leading up to the attacks.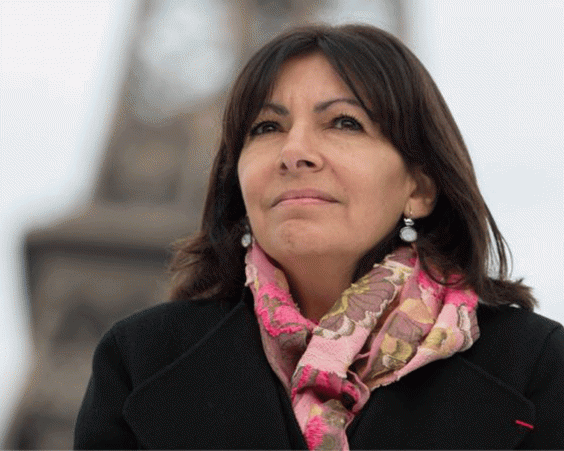 Abdelhamid Abaaoud, the suspected ringleader who attacked bars and restaurants, was a Belgian national who was killed in northern Paris a few days after the shootings.
Salah Abdeslam, meanwhile, was a French national born in Brussels who had been hunted by police since fleeing the scene on November 13.
Abdeslam was captured in Brussels while brandishing a handgun and was reportedly shot in the knee before being taken away by police on Friday.
Questions have since been raised as to how police in France and Belgium allowed him to pass back through after checks, and why with a history of petty crime Belgian police had not flagged him up sooner.
World's monuments show solidarity with Paris
World's monuments show solidarity with Paris
1/30

National Portrait Gallery, London, UK

2/30

London Eye, UK

3/30

Sydney Opera House, Australia

4/30

The Christ the Redeemer statue, Rio de Janeiro, Brazil

5/30

The Great Pyramid of Giza, Egypt

6/30

The HSBC building, Hong Kong, China

7/30

California State University, Long Beach, USA

8/30

US Embassy, Paris

9/30

The Swiss Parliament, Bern, Switzerland

10/30

Chhatrapati Shivaji train station building, Mumbai, India

11/30

The Eiffel Tower, Paris

12/30

Wembley Stadium, London

13/30

The fortress 'Tsarevets', Veliko Tarnovo, Bulgaria

14/30

The SSE Hydro arena, Glasgow, Scotland

15/30

The Story Bridge, Brisbane, Queensland, Australia

16/30

The Perth Council house, Perth, Australia

17/30

Plaza Francia (France's Square), Caracas, Venezuela

18/30

Sarajevo city hall, Bosnia and Herzegovina

19/30

Penshaw Monument, Sunderland, UK

20/30

St Mary's Cathedral, Sydney, Australia

21/30

Chile's presidential palace La Moneda, Santiago, Chile

22/30

The Australian Parliament House, Canberra, Australia

23/30

The monument of Brotherhood and Unity, Pristina, Kosovo

24/30

The Planalto Presidential Palace, Brasilia, Brazil

25/30

De La Salle university, Manila, Philippines

26/30

The Greenland Centre, Jinan city, China

27/30

Calagary Tower, Alberta, Canada

28/30

The Senate building, Mexico City

Reuters/Tomas Bravo

29/30

One World Trade Centre, New York, USA

30/30

The Angel de la Independencia monument, Mexico City
One district in Brussels, Molenbeek, has become a particular focus of investigations following the Paris attacks, with commentators noting unemployment and disengagement have allowed radical preachers promoting violent jihadi doctrine to gain a foothold.
When the Paris shootings happened, many countries around the world also showed their solidarity with France by lighting their monuments in the Tricolor colours.
Reuse content