Thrill-seeking Francophiles have a new way to get their selfie kicks: by striking a pose on the new glass floor of the Eiffel Tower.
The new installation is part of a £24 million refit that includes new solar panels and a museum. Nerves of steel will be required to walk on the transparent floor – built on the first level of the tower – where visitors can admire the 57 metre drop before heading up to the highest viewing platform, 276 metres above the ground.
The refit of the half-hectare first floor, which began in May 2012, also includes shops, restaurants and a museum explaining the 125-year-old construction.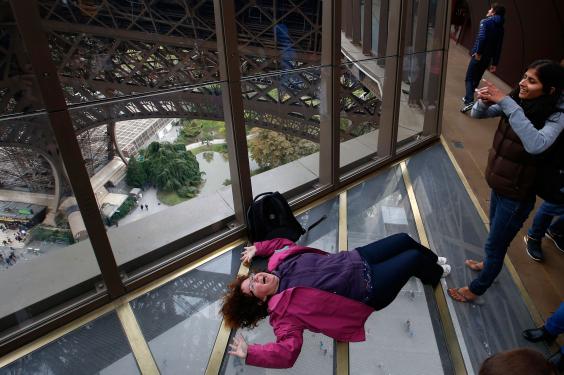 The tower's eco-friendliness has also been improved, with the installation of four solar panels to provide half of the tower's hot water requirements. The four small viewing sections, which cost 30 million euro ($38 million), were unveiled to visitors on Monday.
"We wanted people to realise how the building is anchored with its four pillars in the ground", Alain Moatti, the architect in charge of the renovation, told the Journal du Dimanche, the French Sunday newspaper.
The Eiffel tower opened in 1889 and was named after civil engineer and architect Gustave Eiffel. At 324m in height, it was the world's tallest building for 41 years, until the Chrysler building was built in New York in 1930.
Reuse content