EU policymakers are guilty of "killing by neglect" by cutting rescue missions in the Mediterranean - potentially costing the lives of more than 1,500 refugees, according to a report.
The Italy-led search and rescue mission, Mare Nostrum, ended in October 2014 and was replaced by Triton, which deployed fewer ships and prioritised deterring migrants over rescue operations, the report says.
Charities and UN officials warned the move could have a disastrous impact and lead to far more deaths at sea.
Documents unearthed by British universities showed the European border force Frontex pushed ahead with the change despite an internal assessment warning that if it was not properly planned it "would likely result in a higher number of fatalities".
The subsequent scaling back of search and rescue operations during the growing refugee crisis "created the conditions that led to massive loss of life", the damning report states.
Refugee crisis - in pictures
Refugee crisis - in pictures
1/27

A child looks through the fence at the Moria detention camp for migrants and refugees at the island of Lesbos on May 24, 2016.

AFP/Getty Images

2/27

Ahmad Zarour, 32, from Syria, reacts after his rescue by MOAS (Migrant Offshore Aid Station) while attempting to reach the Greek island of Agathonisi, Dodecanese, southeastern Agean Sea

3/27

Syrian migrants holding life vests gather onto a pebble beach in the Yesil liman district of Canakkale, northwestern Turkey, after being stopped by Turkish police in their attempt to reach the Greek island of Lesbos on 29 January 2016.

Getty Images

4/27

Refugees flash the 'V for victory' sign during a demonstration as they block the Greek-Macedonian border

5/27

Migrants have been braving sub zero temperatures as they cross the border from Macedonia into Serbia.

6/27

A sinking boat is seen behind a Turkish gendarme off the coast of Canakkale's Bademli district on January 30, 2016. At least 33 migrants drowned on January 30 when their boat sank in the Aegean Sea while trying to cross from Turkey to Greece.

Getty Images

7/27

A general view of a shelter for migrants inside a hangar of the former Tempelhof airport in Berlin, Germany

8/27

Refugees protest behind a fence against restrictions limiting passage at the Greek-Macedonian border, near Gevgelija. Since last week, Macedonia has restricted passage to northern Europe to only Syrians, Iraqis and Afghans who are considered war refugees. All other nationalities are deemed economic migrants and told to turn back. Macedonia has finished building a fence on its frontier with Greece becoming the latest country in Europe to build a border barrier aimed at checking the flow of refugees

9/27

A father and his child wait after being caught by Turkish gendarme on 27 January 2016 at Canakkale's Kucukkuyu district

10/27

Migrants make hand signals as they arrive into the southern Spanish port of Malaga on 27 January, 2016 after an inflatable boat carrying 55 Africans, seven of them women and six chidren, was rescued by the Spanish coast guard off the Spanish coast.

11/27

A refugee holds two children as dozens arrive on an overcrowded boat on the Greek island of Lesbos

12/27

A child, covered by emergency blankets, reacts as she arrives, with other refugees and migrants, on the Greek island of Lesbos, At least five migrants including three children, died after four boats sank between Turkey and Greece, as rescue workers searched the sea for dozens more, the Greek coastguard said

13/27

Migrants wait under outside the Moria registration camp on the Lesbos. Over 400,000 people have landed on Greek islands from neighbouring Turkey since the beginning of the year

14/27

The bodies of Christian refugees are buried separately from Muslim refugees at the Agios Panteleimonas cemetery in Mytilene, Lesbos

15/27

Macedonian police officers control a crowd of refugees as they prepare to enter a camp after crossing the Greek border into Macedonia near Gevgelija

Getty Images

16/27

A refugee tries to force the entry to a camp as Macedonian police officers control a crowd after crossing the Greek border into Macedonia near Gevgelija

Getty Images

17/27

Refugees are seen aboard a Turkish fishing boat as they arrive on the Greek island of Lesbos after crossing a part of the Aegean Sea from the Turkish coast to Lesbos

Reuters

18/27

An elderly woman sings a lullaby to baby on a beach after arriving with other refugees on the Greek island of Lesbos after crossing the Aegean sea from Turkey

Getty Images

19/27

A man collapses as refugees make land from an overloaded rubber dinghy after crossing the Aegean see from Turkey, at the island of Lesbos

EPA

20/27

A girl reacts as refugees arrive by boat on the Greek island of Lesbos after crossing the Aegean sea from Turkey

Getty Images

21/27

Refugees make a show of hands as they queue after crossing the Greek border into Macedonia near Gevgelija

Getty Images

22/27

People help a wheelchair user board a train with others, heading towards Serbia, at the transit camp for refugees near the southern Macedonian town of Gevgelija

AP

23/27

Refugees board a train, after crossing the Greek-Macedonian border, near Gevgelija. Macedonia is a key transit country in the Balkans migration route into the EU, with thousands of asylum seekers - many of them from Syria, Afghanistan, Iraq and Somalia - entering the country every day

Getty Images

24/27

An aerial picture shows the "New Jungle" refugee camp where some 3,500 people live while they attempt to enter Britain, near the port of Calais, northern France

Getty Images

25/27

A Syrian girl reacts as she helped by a volunteer upon her arrival from Turkey on the Greek island of Lesbos, after having crossed the Aegean Sea

EPA

26/27

Refugees arrive by boat on the Greek island of Lesbos after crossing the Aegean sea from Turkey

Getty Images

27/27

Beds ready for use for migrants and refugees are prepared at a processing center on January 27, 2016 in Passau, Germany. The flow of migrants arriving in Passau has dropped to between 500 and 1,000 per day, down significantly from last November, when in the same region up to 6,000 migrants were arriving daily.
Over 1,500 refugees died trying to cross the sea in the months after the change was implemented, according to the report, Death By Rescue: The Lethal Effects Of The EU's Policies Of Non-assistance At Sea.
Charles Heller, from Goldsmiths, University of London, co-author of the report, said policymakers were guilty of "institutionalised wilful neglect".
He told the Press Association: "Can we really qualify the ending of Mare Nostrum and its replacement by Triton in all knowledge of the consequences this would have, as a mistake?
"I would rather argue that this was a case of institutionalised wilful neglect, and that European policymakers and Frontex have made themselves guilty of killing by omission.
"Simply arguing that it was a mistake is insufficient. And if, as we show, policymakers and European agencies decided to disregard the risk their policy would entail for migrants, they should be held accountable for that negligence."
The report found European policymakers came to regard Mare Nostrum as a "pull factor" which encouraged refugees to make the perilous crossing because they knew they would be rescued if they got into difficulty.
It was scrapped in October 2014 and replaced by Triton, which deployed fewer vessels, patrolled an area further away from the Libyan coast where many refugees got into trouble, and did not have rescue as its operational priority.
But as the conflicts in Syria and Libya deepened, refugees continued to resort to people smugglers who packed them on to dinghies and sent them across the sea.
The number of refugees crossing the Med in the first four months of 2014 and 2015 stayed the same at 26,000, but death rates soared.
Sixty died in the first four months in 2014, but 1,687 died in the same four months the following year, meaning the chances of dying at sea increased 30-fold.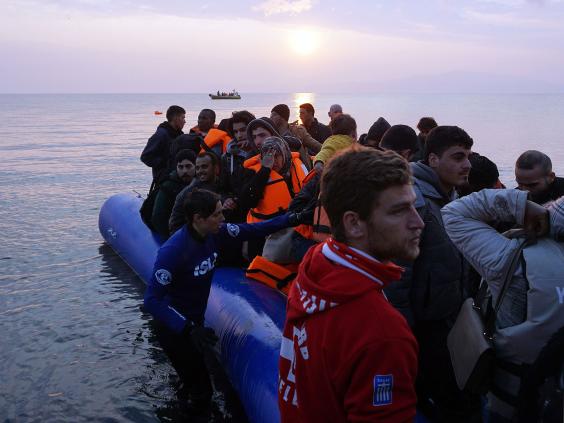 Charities warned the change could cost lives while Francois Crepeau, the UN rapporteur on migrant rights, said it amounted to saying "let them die because this is good deterrence".
The report said Frontex's planning of Triton "deliberately disregarded not only the external criticism of human rights advocates, but also its own internal assessment predicting increased deaths at sea".
Frontex prioritised stopping illegal border crossings and "deterrence took precedence over humans lives", it found.
By scaling down its search and rescue efforts, Europe effectively shifted the burden on to large merchant ships that were ill-equipped to cope.
Within a single week in April 2015 two ships capsized, killing around 1,200 migrants on board.
Reconstructing the shipwrecks using advanced spatial techniques, researchers found many died during and partly through the rescue operation itself because the merchant ships were not designed to deal with the disasters.
It stated that "EU policymakers and agencies carry a strong degree of responsibility for these deaths" which were, in effect, "death by privatised rescue".
Mr Heller said: "EU policymakers decided in 2014, in all knowledge of the deadly consequences, to end Mare Nostrum and replace it with the more limited Triton.
"It may not have been so much that Frontex and European policymakers were counting on more deaths as a deterrent.
"What is absolutely sure is that their priority was to make the conditions of crossing more difficult for migrants and for smugglers to act as a deterrent. And this priority was given precedent over migrants' lives."
He said Europe must ask itself if it can accept the deaths of thousands of migrants in the Mediterranean every year as a price worth paying to attempt to deter them, and called for an investigation into why the policy was taken up and not abandoned when the death toll began to rise.
Press Association
Reuse content