Slobodan and Mira, together for more than 40 years, were the strangest of love birds. Mirjana "Mira" Markovic was likened to Lady Macbeth by Belgraders, regularly interrupting her husband's war counsels to summon him for supper, or reportedly whispering an entreaty to eliminate a political opponent.
"Slobo" was, of course, Slobodan Milosevic, the "strongman of the Balkans", the man who ruled over Serbia and Yugoslavia with an iron fist and, before he could face justice for war crimes at The Hague, died in prison in 2006 – six years after his extradition. In 2003 Mira fled to Moscow as she faced corruption charges in Serbia. The couple's son, Marko, a reported tearaway with a penchant for fast cars, followed his mother with his wife and child. A daughter, Marija, is believed to live in Montenegro.
Accusations that Mira Markovic had squirrelled away millions from the former Yugoslavia led the European Union to issue a 15-year asset freeze, fearing that cash may have been removed illegally.
That freeze was ended this week. In a decision published on Wednesday, the EU said it had no grounds to continue the restriction as the people targeted, including Mira, no longer posed a threat to the "consolidation of democracy" in the region.
But the move triggered speculation that the family and close associates may now get their hands on millions that opponents still maintain were smuggled abroad by Slobo's regime during a decade of war and sanctions.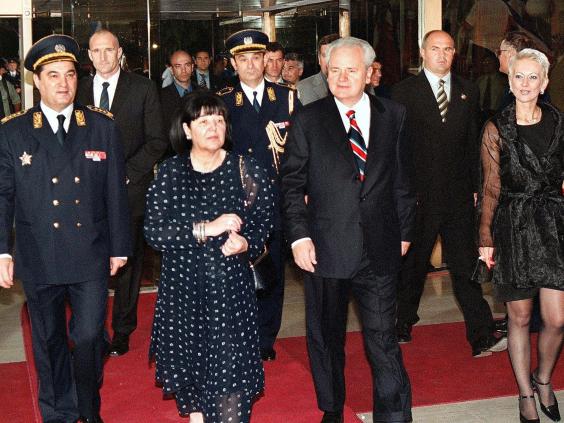 Mira scoffed at the suggestion she could be about to receive a windfall. The 72-year-old told the Vecernje Novosti newspaper in an interview published today: "We laughed… Neither I, my late husband, nor our children, ever had or have any kind of property in the European Union. Everything we have is in Serbia."
She said the family had a house in their hometown of Pozerevac and another in the capital, Belgrade, that they had rented out.
The Socialist Party once led by Milosevic, and which is now part of a ruling coalition setting out on talks to join the 28-nation EU bloc, welcomed the decision.
But Zarko Korac, a liberal who had served in Serbia's first post-Milosevic government, said the move sent out a message that "crime pays". He accused the family of having stolen billions of Deutschmarks, which they had smuggled out in suitcases to Cyprus and Russia.
Mira has described the claims as "nonsense" and official investigations, launched after Milosevic lost power, failed to locate any money.
Vuk Draskovic, a former dissident who survived two assassination attempts during Milosevic's reign, told the Associated Press: "If Milosevic had killed political opponents in the EU and terrorised its citizens, I'm sure the EU would not have amnestied him."
Reportedly, Slobodan and Mira hardly ever went out in Belgrade, and lived a frugal existence, shunning expensive restaurants, the theatre and the cinema.
Mira said this week: "I came to Russia for 10 days and stayed 11 years. I came with my luggage, including three pairs of glasses, two skirts, two jumpers and a box of aspirin." Asked what she lived off, she replied: "My pension."
Reuse content