The proliferation of "beautiful young vampires" in TV series and Hollywood films including True Blood and the Twilight movies is encouraging young people to dabble with occult forces, a leading authority on demonic possession has warned a Vatican-backed exorcism course.
"There are those who try to turn people into vampires and make them drink other people's blood, or encourage them to have special sexual relations to obtain special powers," said Professor Giuseppe Ferrari at the meeting in Rome, which heard that the number of such possessions is rising globally. "These groups are attracted by the so-called beautiful young vampires that we've seen so much of in recent years."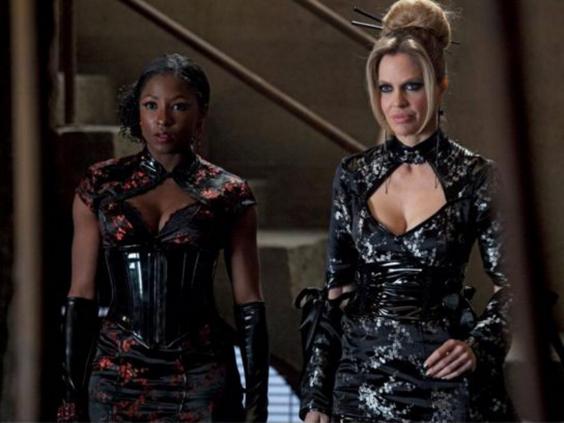 Professor Ferrari, who heads an Italian occult watchdog, The Group on Research and Socio-Religious Information, said exorcisms should only be conducted by properly trained priests. Although the Vatican regards genuine demonic possession as rare, with many suspected cases proving to be people with mental illnesses, Pope Francis has urged dioceses to ensure that they follow Catholic law and have at least one trained exorcist each.
Swiss exorcist Father Cesare Truqui told The Independent that this week's course, attended by exorcists, priests and lay people, was vital in order to raise awareness and hone priests' skills in fighting evil. "The ministry of performing exorcism is little known among priests. It's like training to be a journalist without knowing how to do an interview," he said, noting that dioceses in Italy and beyond were experiencing a surge in reports of symptoms of possession.
In pictures: 'The many popes of Pope Francis'
In pictures: 'The many popes of Pope Francis'
1/12 The Pro-Gay Pope

In just a year, Pope Francis has managed to change the public perception of the Catholic Church, and the stance it takes on civil issues, like gay rights. Despite originally protesting the legalisation of gay marriage in his native Argentina some years ago, he told reporters this year: "If someone is gay and seeks the Lord with good will, who am I to judge?"

Getty Images

2/12 The Rebel Pope

No other Pope has urged a shake-up of the Catholic Church quite like Pope Francis, a true rebel of the dioceses. Who, incidentally, used to be a night club bouncer.

Getty Images

3/12 The Graffiti Pope

Pope Francis become... SUPER POPE in this Vatican-approved street art. But was he happy with the reference to the fictional DC comic character?"To depict the pope as a sort of superman, a sort of star, seems offensive to me. The pope is a man who laughs, cries, sleeps tranquilly and has friends like everyone else, a normal person," he said. So, that's a no, then.

4/12 The Biker Pope

Yes, the Pope used to own a Harley Davidson. And yes, he auctioned it off this year and donated the proceeds to a charity that feeds the hungry in Rome. Very Papal.

5/12 The 'Blue' Pope

Dropping the 'F' bomb during Sunday service? Classic Pope Francis. Sadly, down to a Spanish-speaking slip of the Italian language rather than pure bad-assery.

6/12 The 'Because I'm Worth It' Pope

That awkward moment when your Papal hat blows off, forcing your barnet into Sesame Street-like spikes. Pope Francis has been there.

7/12 The Chocolate Pope

Imagine the Pope's delight (horror?) when he was presented with a giant chocolate replica of himself outside the Vatican by by students on a chocolatier course at the Accademia of Maestri Cioccolatieri, near Venice.

EPA/Osservatore Romano

8/12 The Rock Star pope

The one and only religious leader ever to grace the cover of Rolling Stone magazine? Introducing... Pope Francis.

9/12 The People's Pope

His U-turn attitude towards sexuality won him Time magazine's coveted Person of the Year accolade, and the cover of gay rights magazine The Advocate.

Time

10/12 The Merchandise Pope

Thongs, mugs, onesies, earrings and even a baby mobile adorned with decapitated Pope heads, the 'Francis Effect' has seen sales of Papal merchandise soar by 200% over the last year.

11/12 The Fashion Pope

The only Pope, as far as we're aware, to be compared to fashion royalty (Karl Lagerfeld. Yes way.) and win Esquire's Most Stylish Man of 2013 award, too.

EPA

12/12 The Modern Pope

Let it be said, Pope Francis knows a thing or two about social media. He might be a way off 'doing a Dalai' and opting for Instagram, but he's not above posing for the odd 'Selfie' on Twitter.
In 2012 it emerged that the diocese of Milan, the biggest in the world, had installed an exorcism hotline to cope with demand. Monsignor Angelo Mascheroni, Milan's chief exorcist, said that his diocese had doubled the number of exorcists from six to 12 to cope with the 100 per cent rise in the number of requests for help over the last 15 years.
"That has to tell us something," said Father Cesare. He claims to have seen possessed people speaking in tongues and exhibiting unearthly strength, including one "small woman, who could not be pinned down by three strong men".
Father Cesare is a protégé of Father Gabriele Amorth, the Vatican's chief exorcist for 25 years, who claims to have dealt with 70,000 cases of demonic possession. Father Amorth said that sex abuse scandals in the Roman Catholic Church were proof that "the Devil is at work inside the Vatican". He took a similarly dim view of fantasy novels and yoga. Practising the latter, he once warned, was "satanic; it leads to evil just like reading Harry Potter".
Gay rights and IVF fertility treatment were listed as signs of existential evil in society by Monsignor Luigi Negri, the Archbishop of Ferrara-Comacchio. "There's homosexual marriage, homosexual adoption, IVF and a host of other things. There's the clamorous appearance of the negation of man as defined by the Bible," he declared.
Exorcism guidelines: don't try this at home
Professor Giuseppe Ferrari gave delegates at the Vatican-backed course a checklist for improve the effectiveness of exorcisms.
* Exorcisms should only be carried out by properly trained priests, licensed to do so by the diocese in which they work. Priests can not perform exorcisms in different dioceses without special permission.
* Lay people should never perform exorcisms, say the special prayers of liberation, nor bless or touch a possessed person.
* Exorcists should defer to qualified doctors or psychiatrists, though priests may help by praying.
* Priests should not perform the Eucharist during an attempt to exorcise somebody because that can make the process "too Hollywood".
* Priests must welcome and pay heed to anyone who reports that a demonic possession may have taken place.
* Exorcists should consider the possibility that symptoms may be due to known medical conditions and seek appropriate professional advice if they suspect this to be the case.
Reuse content