Facebook has asked an Italian art historian to remove a picture of the sea god Neptune from her page.
The 3.2 metre high bronze statue stands in the Piazza del Nettuno, in Bologna, Italy.
Elisa Barbari chose the photo for her Facebook page, called "Stories, curiosities and views of Bologna".
However, Facebook told her the image violates its guide lines because it "presents an image with content that is explicitly sexual".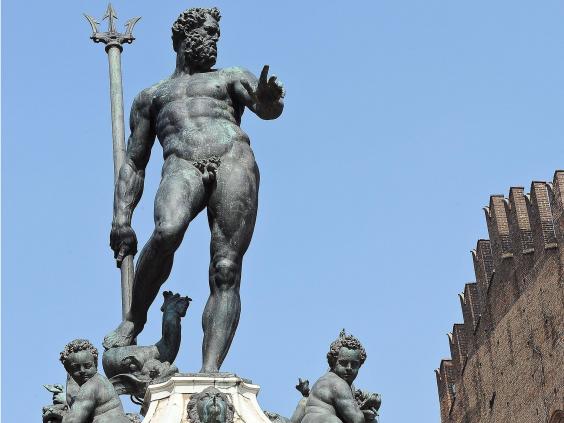 "I wanted to promote my page but it seems that for Facebook the statue is a sexually explicit image that shows off too much flesh. Really, Neptune? This is crazy!" Ms Barbari said, according to The Daily Telegraph.
Facebook told her: "The use of the image was not approved because it violates Facebook's guide lines on advertising. 
"It presents an image with content that is explicitly sexual and which shows to an excessive degree the body, concentrating unnecessarily on body parts."
It added: "The use of images or video of nude bodies or plunging necklines is not allowed, even if the use is for artistic or educational reasons."
In a post on Facebook, Ms Barbari wrote: "Back in the 1950s, during celebrations for school children graduating, they used to cover up Neptune. Maybe Facebook would prefer the statue to be dressed again."
She asked: "How can a work of art, our very own statue of Neptune, be the object of censorship?"
In November, Facebook was forced to apologise for removing a photograph of a former firefighter with severe burn scars.
The social media site twice took down a picture of Lasse Gustavson after his friend Bjorn Lindeblad posted the photograph to celebrate his 60th birthday. 
The company only restored the image when more than 10,000 people shared a third post by Mr Lindeblad, criticising their "disgusting policy".
Instagram censorship controversies
Instagram censorship controversies
1/11

Rupi Kaur uploaded an image onto the social networking site for a menstruation-themed photo series developed by her and her sister Prabh. The image, which was taken by Prabh, shows Ms Kaur lying down on a bed fully clothed with two spots of blood visible on her clothes and on the sheet. It was removed from Instagram twice for violating its community standards. Ms Kaur challenged the removal and the image was eventually restored on the site

2/11

Harley Weir's Instagram account was deactivated, after she shared images from a shoot for i-D magazine. Weir was photographing nude models for the magazine's The Female Gaze edition from her series, Portraits of a Woman. Weir, who also shot the controversial Calvin Klein erotica themed campaign, shared a shot of one model, who was on her period, with her 91,000 followers. Menstrual blood was visible on the model's legs and the image was removed

3/11

Chrissy Teigen uploaded an image of herself taken for the W Magazine, in which Teigen's nipple was visible. The picture was later determined to violate Instagram's usage guidelines and the image was removed. To challenge the policy Teigen later posted a selfie on Instagram with a strategically placed can of hairspray covering her nipple

4/11

Scout Willis was banned from Instagram for posting a photograph of a sweatshirt she designed featuring two topless women. The 22-year-old actress, who is the daughter of Bruce Willis and Demi Moore, went on a topless jaunt around New York City to highlight her disagreement with policies against female nudity

5/11

Rihanna is known for notoriously challenging Instagram's censorship. In the latest spat with the site her topless photo from the cover of French magazine Lui was banned

6/11

Instagram was heavily criticised for deleting photos of women showing off their post-baby bodies. That prompted women who wanted to show how the motherhood really looks like, to form the group The 4th Trimester Bodies Project and post images of their changed bodies

7/11

Blogger Meghan Tonjes posted an image of her butt to Instagram as a body-positive message to her followers. The picture was quickly removed as it was considered as inappropriate and violating site's guidlines. Tonjes however believed that it was taken down due to her size

8/11

User Samm Newman posted a selfie in her underwear to celebrate her plus-size figure but Instagram decided to take the image down. The social platform was later questioned about the controversial censorship, as many believed it was an example of fat-shaming

9/11

Comedian Chelsea Handler challenged the nudity policy with an image in which she tried to recreate a shirtless photo of Russian president Vladimir Putin. The post was removed by Instagram and Handler called the move sexist, saying, "If a man posts a photo of his nipples, it's OK, but not a woman? Are we in 1825?"

10/11

Many women have had their Instagram photos removed and accounts shut down because of breastfeeding photos. In a protest against censoring photos of mothers taking part in something as natural as breastfeeding groups such as @normalizebreastfeeding dedicated their accounts to fight the stigma

11/11

Australian online magazine Sticks and Stones had its Instagram account removed after posting the photo of two women with pubic hair peeking out of their swimsuits
Facebook also made a u-turn over its decision to censor an iconic image of a child victim of the Vietnam War under its nudity guidelines.
The company initially defended the move, saying in a statement: "While we recognise that this photo is iconic, it's difficult to create a distinction between allowing a photograph of a nude child in one instance and not others."
But following intense backlash, Facebook said they would  reinstating the image and allow uses to share it due to its "status as an iconic image of historical importance."