Generations of top-ranking Fifa officials have engaged in "rampant, systemic, and deep-rooted" corruption which has poisoned world football for decades, it was claimed, as two separate criminal investigations sparked the biggest crisis in the history of the sport.
Nine officials at football's powerful governing body accepted bribes and kickbacks totalling hundreds of millions of dollars over more than 20 years, in return for awarding lucrative tournaments to certain countries and rigging Fifa's own presidential elections, US prosecutors said.
On the same day, Swiss authorities announced a separate investigation into "criminal mismanagement" and money laundering surrounding the allocation of the 2018 and 2022 World Cups in Russia and Qatar, throwing the future of both tournaments into doubt.
With only 48 hours to go until Fifa's latest presidential elections, a 47-count charge sheet filed in a New York federal court detailed 12 separate corrupt schemes allegedly carried out by the officials. In total, they are alleged to have accepted bribes amounting to more than $150m over a 24-year period beginning in 1991.
One of the schemes allegedly involved the soliciting of a $10 million bribe from the South African government ahead of its successful bid for the 2010 World Cup. Another involved the alleged rigging of Fifa's 2011 presidential elections by Jack Warner, a former Trinidadian politician and Fifa vice-president. Trinidad and Tobago issued a warrant for his arrest following a request from the US and he later turned himself in.
Mr Warner was later released on $2.5m (£1.6m) bail.
According to the indictment, Mr Warner arranged for envelopes containing $40,000 in cash to be given as a "gift" to officials in return for their votes. He is alleged to have told colleagues: "There are some people here who think they are more pious than thou. If you're pious, open a church, friends. Our business is our business." In a statement he said he was "innocent of any charges".
At a press conference, Chief Richard Weber of the IRS Criminal Investigation unit described what the men had done as "the World Cup of fraud". US Attorney General Loretta Lynch added that the officials had used their positions of trust to solicit bribes "over and over, year after year, tournament after tournament".
"The indictment alleges corruption that is rampant, systemic, and deep-rooted both abroad and here in the United States," she added. "It spans at least two generations of soccer officials who, as alleged, have abused their positions of trust to acquire millions of dollars in bribes and kickbacks."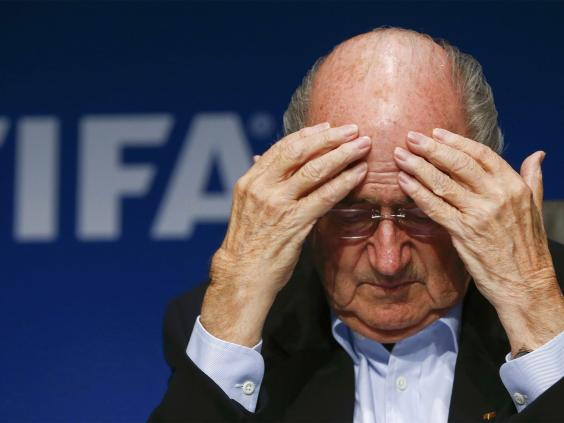 The nine arrested Fifa officials, who are charged with racketeering, wire fraud and money laundering conspiracies, include one of the body's vice presidents, Jeffrey Webb, long regarded as a voice for reform. The Cayman Islander has previously argued for the release of Fifa's internal report into the bidding process for the 2018 and 2022 World Cups, which has never been made public.
Seven of the officials, including Mr Webb, were arrested in an early morning raid at the five-star Baur au Lac hotel in Zurich, carried out by Swiss authorities at the request of the US. Six of the seven are contesting extradition proceedings, which are already under way. Five other men, including four executives of sports management companies, have also been charged.
US prosecutors said the charges were "not the final chapter" in its efforts to root out the corruption in world football. "It is not over. The work will continue until all of the corruption is uncovered and a message is sent around the world," FBI Director James Comey said.
While the officials were being arrested, Swiss police investigating "irregularities" in the awarding of the 2018 and 2022 World Cups to Russia and Qatar raided Fifa's headquarters in Zurich to gather data and documents. The two investigations were launched simultaneously to avoid any possible collusion between the suspects.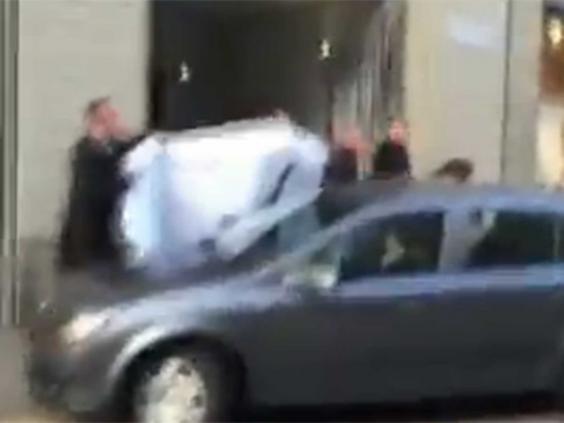 Swiss prosecutors said they had opened criminal proceedings "against persons unknown" on suspicion of "criminal mismanagement and of money laundering" in connection with the allocation of the two tournaments.
Fifa's current president Sepp Blatter, who is standing for re-election on Friday, was not arrested. But Andre Marty, a spokesman for the Office of the Swiss Attorney General, said he "could be questioned" in the coming weeks. "Theoretically, every person involved in the allocation of the World Cups might be questioned," he added.
The body is under mounting pressure to postpone the election, with Uefa's general secretary Gianni Infantino calling for it to be delayed by six months. But Fifa insisted it would go ahead as planned.
The Fifa bigwigs facing charges
The Fifa bigwigs facing charges
1/14 Jeffrey Webb, 50, Cayman Iskands

A Fifa vice president. His arrest came as a big surprise, as he had been tipped as the man to clean up Fifa once Blatter departs. Webb is also president of Confederation of North, Central America and Caribbean Association Football (Concacaf) and the Cayman Islands Football Association

Getty

2/14 Costas Takkas, 58, UK

A British citizen, Mr Takkas is currently an attache to the Concacaf president. He was previously general secretary of the Cayman Islands Football Association, of which Mr Webb is president

3/14 Jack Warner, 72, (pictured), Daryan Warner, 46 and Daryll Warner, 40, Trinidad & Tobago

The former Fifa vice president and head of Concacaf was a dominant force in football for 30 years, but was suspended from his roles in 2011 amid accusations of corruption dating back to the 1980s and an investigation by Fifa's ethics committee. He later resigned, ending the proceedings against him. Daryan Warner, the son of Jack Warner is also believed to have co-operated with the FBI. He pleaded guiltyin October 2013 to wire fraud conspiracy, money laundering conspiracy and the structuring of financial transactions, forfeiting $1.1m. Daryll Warner, another of Jack Warner's sons, he pleaded guilty to various offences in July 2013. A former Fifa development officer, he lost the job in 2012 after his father's resignation amid corruption allegations. He and his brother both face up to 10 years in prison

Getty

4/14 Charles Blazer, 70, USA

The former Concacaf general secretary reportedly turned "supergrass" to help the FBI inestigation, using a bugging device hidden inside a key fob to record meetigs with his Fifa colleagues at the London 2012 Olympics. In November 2013 he pleaded guilty to racketeering conspiracy, wire fraud conspiracy, money laundering conspiracy, and income tax evasion. Seriously ill with colon cancer

Getty

5/14 Rafael Esquivel, 68, Venezuela

Executive committee member of the South American Football Confederetion (Conmebol). It is alleged that officials at Conmebol, which organises the Copa America, received bribes from marketing executives

Reuters

6/14 Eugenio Figueredo, 83, USA/Uruguay

The Fifa vice president and executive committee member is a big name in world football, having previously been at the head of Conmebol and the Uruguayan Football Association. A former right-back

Reuters

7/14 Nicolas Leoz, 86, Paraguay

A former Fifa executive committee member and Conmebol president. When he retired in 2013 for health reasons, he said: "I've not stolen so much as a cent"

Getty

8/14 Eduardo Li, 56, Costa Rica

President of the Costa Rican Football Federation. He was elected to Fifa's executive commitee in March

Reuters

9/14 José Maria Marin, 83, Brazil

The former president of the Brazilian Football Confederation is also a member of Fifa's committee for Olympic tournaments

Reuters

10/14 Julio Rocha, 64, Nicaragua

Fifa development officer. Previously president of his country's football federation

EPA

11/14 José Hawilla, 71, Brazil

The owner and founder of the Traffic Group, a sports marketing conglomerate, pleaded guilty to racketeering conspiracy, wire fraud conspiracy, and money laundering conspiracy in 2014. Two of his companies - Traffic Sports International Inc and Traffic Sports USA Inc - have also pleaded guilty

youtube.com

12/14 Aaron Davidson, 44, USA

President of Traffic Sports USA, is a large promoter of football events in America

AP

13/14 Alejandro Burzaco, 50, (pictured), Hugo Jinkis, 70 and Mariano Jinkis, 40, Argentina

Alejandro Burzaco, a media executive who controls Torneos y Competencias, a sports marketing business. Hugo Jinkis, is the president of Full Play Group, a sports marketing business in Argentina. His son Mariano, is vice president

AP

14/14 José Margulies (AKA José Lazaro), 75, Brazil

Although he is in broadcasting, it is alleged he served as an intermediary to facilitate illicit payments between sports marketing executives and Fifa officials

youtube.com
Spokesman Walter de Gregorio claimed that the criminal charges were "good" for the organisation. "It is not good in terms of image or reputation, but in terms of cleaning up, this is good…. It is not a nice day, but it is also a good day. The process goes on and we are looking forward," he said.
In a statement, Fifa said it "welcomes actions that can help contribute to rooting out any wrongdoing in football", adding: "We are pleased to see that the investigation is being energetically pursued for the good of football and believe that it will help to reinforce measures that Fifa has already taken."
Fifa's Ethics Committee announced that it had "provisionally" banned 11 of the 14 men from carrying out any football-related activities in light of the allegations.
However, Prince Ali Bin Al Hussein of Jordan, who is standing against Mr Blatter, said it was time for a change at the top of the sport's governing body. "We cannot continue with the crisis in Fifa, a crisis that has been ongoing and is not just relevant to the events of today," he said. "Fifa needs leadership that… accepts responsibility for its actions and does not pass blame."
Damian Collins, the Conservative MP who has campaigned for the reform of Fifa, described Mr Blatter as "the most despicable man in sport" and urged him to stand down. He also called for new votes on the 2018 and 2022 World Cups to be held in light of the claims.
"Over the years they've sought to dismiss out of hand any suggestion of widespread wrongdoing in the organisation... and here we are today in this terrible mess they have created themselves," he said. "This is doing immense damage to world football and it has to stop, with Blatter going and a re-run of the World Cup rights vote. People within Fifa should not be surprised at all. This is the end for them."
Key points: what the indictment says
Fifa 2011 presidential election
The former Fifa vice president Jack Warner attempted to rig 2011 presidential elections by paying delegates to vote for his preferred candidate, the indictment claims. Mr Warner is alleged to have arranged for envelopes containing $40,000 (£26,000) in cash to be given as a "gift" to officials in return for their votes.
After hearing that one of them had talked, it is claimed Mr Warner said: "There are some people here who think they are more pious than thou. If you're pious, open a church. Our business is our business." In a statement issued yesterday he said he was "innocent of any charges".
The 2010 world cup
A bribery bidding war broke out in 2004 prior to the awarding of the 2010 finals to South Africa, the indictment claims. Jack Warner, then the president of the Confederation of North, Central America and Caribbean Association Football, reportedly travelled to Morocco which was bidding to be hosts, where a bid committee offered to pay him $1m in exchange for his vote. The South African government was also prepared to pay $10m to "support the African diaspora", the indictment states – a sum which was in fact offered in exchange for the votes of Mr Warner and two others.
The sportswear deal
The indictment claims bribes were paid to secure the sponsorship rights to the Brazilian national team for a US sportswear company after the 1994 World Cup. It is understood a middleman was involved rather than the company itself. Nike, sponsors of the Brazilian team since 1996, did not return requests for comment last night. The court document says tens of millions of dollars in bribes were also paid to South American Fifa officials to secure media and marketing rights to tournaments. Bribes were also paid to Concacaf officials to secure similar rights to Caribbean football tournaments, it says.
Reuse content