The leader of Germany's main right-wing anti-migrant party has caused political uproar by insisting that the country's border police should be authorised to shoot at refugees trying to enter the country illegally.
Frauke Petry, the 40-year-old leader of Germany's once merely Eurosceptic but now increasingly xenophobic Alternative for Germany (AfD) party, made her controversial demands after addressing a political meeting in Hanover at the weekend.
"Police must stop migrants crossing illegally from Austria," Ms Petry told the Mannheimer Morgen newspaper. "And, if necessary, use firearms. That is what the law says." She added: "I don't want this either, but the use of armed force is there as a last resort."
Her remarks were the most extreme political response so far by a substantial political figure to mounting public dissatisfaction with Chancellor Angela Merkel's "open door" refugee policy and growing anxiety at the unprecedented influx of refugees and other migrants.
More than 1.1 million migrants entered Germany in 2015 – the majority arriving since September. A poll issued last week showed that 40 per cent of Germans now wanted Ms Merkel to resign.
The AfD is attracting growing support for its vitriolic anti-migrant stance. It has already won seats in five of Germany's state parliaments and, in elections next month, is also on course to win seats in the state parliaments of Baden-Württemberg, Rhineland-Palatinate and Saxony Anhalt, where polls suggest the party could win 15 per cent of the vote.
Refugee crisis - in pictures
Refugee crisis - in pictures
1/27

A child looks through the fence at the Moria detention camp for migrants and refugees at the island of Lesbos on May 24, 2016.

AFP/Getty Images

2/27

Ahmad Zarour, 32, from Syria, reacts after his rescue by MOAS (Migrant Offshore Aid Station) while attempting to reach the Greek island of Agathonisi, Dodecanese, southeastern Agean Sea

3/27

Syrian migrants holding life vests gather onto a pebble beach in the Yesil liman district of Canakkale, northwestern Turkey, after being stopped by Turkish police in their attempt to reach the Greek island of Lesbos on 29 January 2016.

Getty Images

4/27

Refugees flash the 'V for victory' sign during a demonstration as they block the Greek-Macedonian border

5/27

Migrants have been braving sub zero temperatures as they cross the border from Macedonia into Serbia.

6/27

A sinking boat is seen behind a Turkish gendarme off the coast of Canakkale's Bademli district on January 30, 2016. At least 33 migrants drowned on January 30 when their boat sank in the Aegean Sea while trying to cross from Turkey to Greece.

Getty Images

7/27

A general view of a shelter for migrants inside a hangar of the former Tempelhof airport in Berlin, Germany

8/27

Refugees protest behind a fence against restrictions limiting passage at the Greek-Macedonian border, near Gevgelija. Since last week, Macedonia has restricted passage to northern Europe to only Syrians, Iraqis and Afghans who are considered war refugees. All other nationalities are deemed economic migrants and told to turn back. Macedonia has finished building a fence on its frontier with Greece becoming the latest country in Europe to build a border barrier aimed at checking the flow of refugees

9/27

A father and his child wait after being caught by Turkish gendarme on 27 January 2016 at Canakkale's Kucukkuyu district

10/27

Migrants make hand signals as they arrive into the southern Spanish port of Malaga on 27 January, 2016 after an inflatable boat carrying 55 Africans, seven of them women and six chidren, was rescued by the Spanish coast guard off the Spanish coast.

11/27

A refugee holds two children as dozens arrive on an overcrowded boat on the Greek island of Lesbos

12/27

A child, covered by emergency blankets, reacts as she arrives, with other refugees and migrants, on the Greek island of Lesbos, At least five migrants including three children, died after four boats sank between Turkey and Greece, as rescue workers searched the sea for dozens more, the Greek coastguard said

13/27

Migrants wait under outside the Moria registration camp on the Lesbos. Over 400,000 people have landed on Greek islands from neighbouring Turkey since the beginning of the year

14/27

The bodies of Christian refugees are buried separately from Muslim refugees at the Agios Panteleimonas cemetery in Mytilene, Lesbos

15/27

Macedonian police officers control a crowd of refugees as they prepare to enter a camp after crossing the Greek border into Macedonia near Gevgelija

Getty Images

16/27

A refugee tries to force the entry to a camp as Macedonian police officers control a crowd after crossing the Greek border into Macedonia near Gevgelija

Getty Images

17/27

Refugees are seen aboard a Turkish fishing boat as they arrive on the Greek island of Lesbos after crossing a part of the Aegean Sea from the Turkish coast to Lesbos

Reuters

18/27

An elderly woman sings a lullaby to baby on a beach after arriving with other refugees on the Greek island of Lesbos after crossing the Aegean sea from Turkey

Getty Images

19/27

A man collapses as refugees make land from an overloaded rubber dinghy after crossing the Aegean see from Turkey, at the island of Lesbos

EPA

20/27

A girl reacts as refugees arrive by boat on the Greek island of Lesbos after crossing the Aegean sea from Turkey

Getty Images

21/27

Refugees make a show of hands as they queue after crossing the Greek border into Macedonia near Gevgelija

Getty Images

22/27

People help a wheelchair user board a train with others, heading towards Serbia, at the transit camp for refugees near the southern Macedonian town of Gevgelija

AP

23/27

Refugees board a train, after crossing the Greek-Macedonian border, near Gevgelija. Macedonia is a key transit country in the Balkans migration route into the EU, with thousands of asylum seekers - many of them from Syria, Afghanistan, Iraq and Somalia - entering the country every day

Getty Images

24/27

An aerial picture shows the "New Jungle" refugee camp where some 3,500 people live while they attempt to enter Britain, near the port of Calais, northern France

Getty Images

25/27

A Syrian girl reacts as she helped by a volunteer upon her arrival from Turkey on the Greek island of Lesbos, after having crossed the Aegean Sea

EPA

26/27

Refugees arrive by boat on the Greek island of Lesbos after crossing the Aegean sea from Turkey

Getty Images

27/27

Beds ready for use for migrants and refugees are prepared at a processing center on January 27, 2016 in Passau, Germany. The flow of migrants arriving in Passau has dropped to between 500 and 1,000 per day, down significantly from last November, when in the same region up to 6,000 migrants were arriving daily.
Ms Merkel has flatly refused to close Germany's borders or accede to demands from within her own party to cap the influx. At the weekend she tried to placate her critics by insisting that asylum seekers from Syria and Iraq would return home once the conflicts there had ended.
Germany's mainstream parties swiftly condemned Ms Petry's demand for what some compared to Cold War border police practices last used when the Berlin Wall still stood. Sigmar Gabriel, Germany's Social Democrat Vice-Chancellor, demanded that the AfD be put under permanent domestic intelligence surveillance. "There is massive doubt that the AfD stands by the free democratic principles of our republic," he told Bild newspaper.
The police trade union also condemned the suggestion, saying officers would never shoot at refugees and accusing Ms Petry of having a "radical and inhuman" mindset.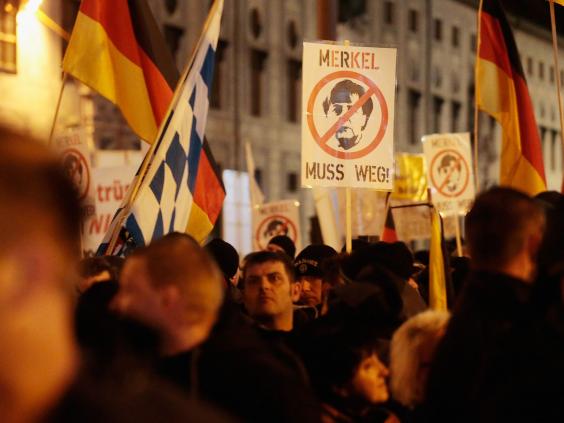 Ms Petry, who has a degree from the University of Reading, was elected party leader in an internal putsch last July which ousted its middle-class and academic former leaders, who were mostly concerned with opposing the euro. Since then she and other populist right-wingers have rebranded it as an anti-migrant party and have capitalised on events such as the New Year's Eve attacks on women in Cologne by predominantly Moroccan and Algerian immigrants.
The party warns that German culture and identity will be destroyed by migrants. Its most popular slogan is "Merkel must go". An opinion poll published yesterday found that it would win 12 per cent of the vote in a national election – which would make it Germany's third most powerful political party after Ms Merkel's Christian Democratic Union and her Social Democrat coalition partners.
Ms Petry helped the AfD win seats in the east German state of Saxony in 2014 by advocating mildly anti-immigrant policies. She is seen as the acceptable face of the party's right wing. But she is now being pulled further to the right by more radical and xenophobic figures within the party, whose stance appears to have increased AfD's popularity among voters. "Petry can't get her way; she is just being used as a stepping stone by the right wing," said Professor Hajo Funke, an expert on the German extreme right.
The AfD leader risks being eclipsed by colleagues such as Björn Höcke, the party's outspoken leader in the eastern state of Thuringia, whose speeches have been compared to those of Hitler's propagandist, Joseph Goebbels. Mr Höcke, who regularly draws crowds of up to 8,000 supporters, recently appeared on a popular chat show brandishing a German flag. "For decades its seemed as if the rise of a politician like Björn Höcke was impossible," wrote Die Welt newspaper. "In the meantime, the impossible has become possible."
At an AfD rally in the eastern city of Magdeburg last week Mr Höcke regaled the party faithful with an apocalyptic vision of what was in store for the German "volk" and "kultur" unless the refugee influx was stopped. The migrants were a threat to "1,000 years of Germany". He talked darkly of terrified German women aid workers who were too afraid "to wear makeup" because they felt intimidated by Muslim migrants.
"I am afraid for my country. This is what it feels like to be a foreigner in your own land! This catastrophic development has to be stopped," he bellowed into a microphone at the rally. His entranced AfD supporters responded with loud cheers.
Reuse content