Tree-lined roads stretching into the distance are one of the best-loved features of the French landscape. Not for much longer. After several threats and reprieves France's roadside trees, popularised by the Emperor Napoleon, are facing their Waterloo.
Officials have been ordered to list all trees that present a danger to motorists and to chop them down. Two petitions circulating on the internet beg the government to change its mind. The many miles of roadside trees, often more than a century old, are not just beautiful but are also a vital habitat for birds and insects, the petitioners say.
Campaigners argue there is no proof trees are a threat to road safety. In several other countries, including in some parts of Britain, trees are being planted along rural roads as a way of persuading motorists to reduce their speed.
Chantal Fauché, the president of the Association for the Protection of Roadside Trees, accuses successive French governments of creating an anti-tree psychosis among road users. "Trees are actually helpful in warning about bends in the road and keeping speed down. People feel they are driving faster if they are rushing past trees," she said.
The mother of all 'barn finds': Vintage cars
The mother of all 'barn finds': Vintage cars
1/9 Vintage cars

EPA

2/9 Vintage cars

The 1961 Ferrari 250 GT SWB California Spyder (left) owned by Alain Delon as it was discovered in a remote farm in western France

EPA

3/9 Vintage cars

EPA

4/9 Vintage cars

EPA

5/9 Vintage cars

EPA

6/9 Vintage cars

EPA

7/9 Vintage cars

AFP

8/9 Vintage cars

EPA

9/9 Vintage cars

EPA
Other campaigners point out that, where roadside trees had been systematically removed, there was no obvious reduction in road deaths; cars that spin off the road simply crash into other objects.
The president of France's League Against Violence on the Roads, Chantal Perrichon, begs to differ. She says trees were involved in the deaths of 400 road users in 2013 – about one in eight of all the road fatalities. "On a tree-lined road, any small error can be fatal," she said.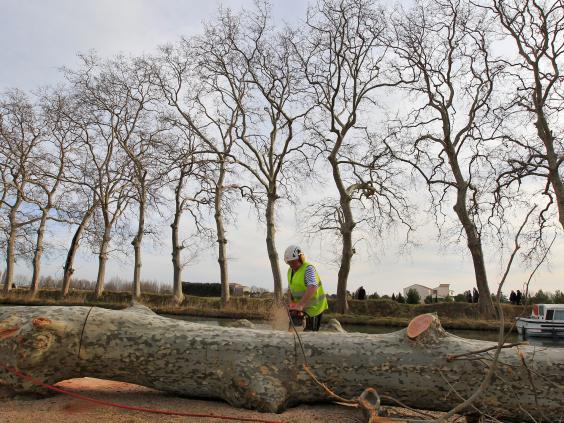 There was a flurry of felling from 1999 to 2001 but roadside trees were reprieved by a sharp fall in road deaths. President Jacques Chirac transformed France's road-safety record after 2002 by enforcing existing rules on speed limits and drink-driving.
Since then the annual toll of road fatalities has fallen, from 7,655 in 2002 to 3,388 in 2014. Last year's figure was the first increase in 12 years.
Plantations began in the 16th century but Napoleon is credited with lining French roads with trees to enable his soldiers to march in the shade – not, as an old joke has it, for the benefit of invading German armies.
Reuse content