It has been described as a Colditz castle for the super-rich, but this weekend the emphasis at Schloss Elmau, Colditz's Bavarian sister castle, is on excluding the riff-raff – including Vladimir Putin – rather than keeping its elite and willingly incarcerated residents under lock and key.
Hidden 3,000 feet up among mountains and pine forests close to Germany's border with Austria, the "luxury spa retreat and cultural hideaway" was personally selected by Chancellor Angela Merkel to host the summit of G7 leaders.
"We want to show our guests a wonderful part of Germany and convene in this kind of atmosphere and style which is important for the results of summits like these," explained Europe's most powerful leader in a recent interview.
Elmau's atmosphere is all about its panoramic views of snow-capped Alpine peaks which are reflected in the hotel's large heated outdoor swimming pool. The castle boasts a concert hall, several restaurants and a fully fledged wellness centre complete with hammam, sauna, gym and tennis courts.
The leaders will stay in elegant suites in a newly built luxury retreat behind the castle. Each room is furnished in seven different kinds of wood. Guests have a choice of six pillows for their beds. Sheets are tastefully monogrammed with elephants.
Ms Merkel's government has potentially spent double the €150m (£109m) originally earmarked for the two-day meeting, according to some estimates. Much of the money has gone on draconian security measures to protect the summit guests from the threats of terrorism and violent anti-G7 protests.
Ten miles of specially imported Slovak-made barbed wire fencing and more than 17,000 police will attempt to ensure that Schloss Elmau remains sealed off from the rest of the world. The more than 4,000 journalists reporting on the summit will not be allowed near the castle and have been banished to the resort town of Garmisch, some six miles away by road.
But the summit is just what Dietmar Müller-Elmau, the five-star hotel's owner, wanted: "I always thought that Elmau would be an ideal place for a summit, it was always a dream," he says.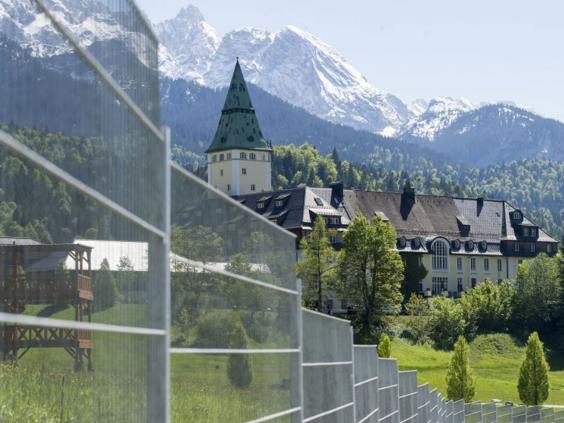 He points out that he made no attempt to lobby for the event but was approached by Ms Merkel in person and asked if he would like to host the summit.
Mr Müller-Elmau, 60, is the grandson of Schloss Elmau's creator Joannes Müller-Elmau, who completed the castle in 1916. He was born in the hotel's room No 54, but says that during his youth Schloss Elmau felt like "enemy territory". That may have something to do with the fact that his grandfather, a protestant missionary, was a fervent admirer of Adolf Hitler. During the Second World War the hotel was used by the German army.
As a young man, Mr Müller-Elmau went off to live in India and Israel before going to America in the mid-Eighties to study hotel management and computer science. He wrote the world's leading hotel reservation computer program and used the profits to invest in Schloss Elmau, which he took over from his uncle in 1996.
9 controversial Putin quotes
9 controversial Putin quotes
1/9 2004

"Anyone who doesn't regret the passing of the Soviet Union has no heart. Anyone who wants it restored has no brains."

Getty images

2/9 December 2005

"There is no such thing as a former KGB man."

Getty images

3/9 G8 Summit press conference 2008

"If you want to become an Islamic fundamentalist and be circumcised, come to Moscow. We are multiconfessional. We have very good specialists. I can recommend one for the operation. He'll make sure nothing grows back."

Getty images

4/9 2010

"Russia doesn't negotiate with terrorists. It destroys them." After the Moscow Metro bomb

Getty images

5/9 September 2013

"They say that Pyotr Ilyich Tchaikovsky was a homosexual. Truth be told, we don't love him because of that, but he was a great musician, and we all love his music. So what?" Interview with Associated Press

Getty images

6/9 March 2014

"The West's leaders seem, from what they say, entirely to have forgotten that there are some leaders in the world who want to conquer other countries."

Getty images

7/9 2014

Amazingly elaborate metaphor regarding the West and Russia "[Sometimes I think] our bear should probably just sit quietly and just eat honey instead of hunting animals, maybe then they will leave the bear in peace, but, no, they will not. What they are trying to do is chain the bear, and when they chain the bear they will take out his fangs and claws. This is how nuclear deterrence is working at the moment. If they take out the bear's fangs and claws, then the bear will not be able to do anything. It will just be a stuffed animal." Russian President's annual press conference

Getty images

8/9 2014

After Ksenia Sobchack, a well-known anti-Kremlin activist and journalist, was allowed to ask a question about Putin's government suppressing opposing political viewpoints: "Why did you give her the floor?" Russian President's annual press conference

Getty images

9/9 January 2014

"You can feel relaxed and calm [in Russia], but leave children alone, please." Directed at gay people in January 2014, before the Sochi Winter Olympics

Getty images
His establishment has won countless hotel industry awards which this weekend will be crowned with what Mr Müller-Elmau considers to be the ultimate accolade. 
It is unlikely that any of the world's leaders will be bored during the summit. But should that occur, Schloss Elmau has the facilities to cope. For a small additional fee, guests can enjoy the "Porsche Experience", consisting of an Alpine drive in a Porsche Carrera, and two wellness centre massages.  Mr Putin must be eating his heart out.
Reuse content