Either the German government is full of sci-fi fans or the recent reimagining of Battlestar Galactica has tangible real world relevance.
The German Federal Agency for Civic Education is funding a five-day getaway aboard a retired destroyer for 80 aspiring diplomats — they'll be role-playing Ron Moore's post-apocalyptic TV series.
Project Exodus, which will begin on February 4th, will see participants immerse themselves in a character that will enable them to explore the political topics the show interrogated — freedom, safety, ideology, government.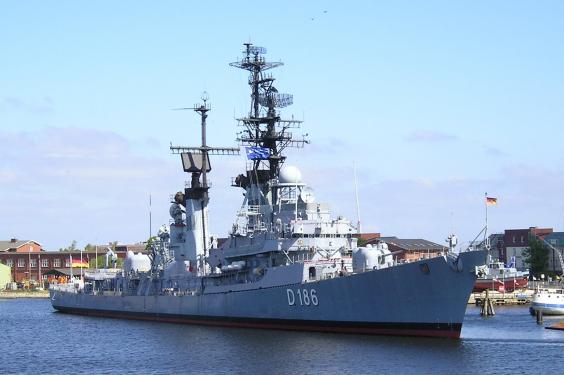 The organisers told the Verge that the aim is to "experience problems of our society from a completely new viewpoint".
"They will be confronted with new situations and impressions that will leave a lasting mark on their thinking."
The role playing itself will last two and half days, with 1 and a half set aside for preparation and one for reflection.
Star Wars 7 cast in pictures
Star Wars 7 cast in pictures
1/15 John Boyega

The 22-year-old best known for sci-fi movie Attack the Block is a new arrival for Star Wars and will be one of the sequel's 'trio of young leads'.

Getty Images

2/15 Harrison Ford

Ford will be returning as Han Solo for Star Wars 7 and is rumoured to have a 'gigantic role in the first of the next three films'.

3/15 Daisy Ridley

There's not much out there on Ridley, who is a relative unknown bar appearances in TV dramas Casualty and Mr Selfridge. But the British actress is set to become a huge star now...

Getty Images

4/15 Adam Driver

Lena Dunham tweeted confirmation that her fellow Girls star had landed the role of the villain in JJ Abrams' film. Now he has been officially confirmed and is expected to play a Darth Vader-like baddie.

Getty Images

5/15 Carrie Fisher

Carrie Fisher, who played Princess Leia in the 1977 original, has confirmed she will reprise the role in upcoming Star Wars films.

Getty Images

6/15 Kenny Baker

Baker played R2-D2 in the Star Wars franchise and will be back reprising his role for the 7th movie.

Rex

7/15 Domhnall Gleeson

Gleeson played Bill Weasley in the Harry Potter films and recently starred with Rachel McAdams in About Time. He has been confirmed for Star Wars 7.

Getty Images

8/15 Miltos Yerolemou

The Game of Thrones actor is not expected to have a 'major part' in the film

Rex Features

9/15 Oscar Isaac

Last seen in the Coen brothers' Inside Llewyn Davis, Isaac has been confirmed as a new arrival and will likely feature in a lead role.

Getty Images

10/15 Andy Serkis

Also confirmed for the 7th installment is Serkis - who has a reputation as one of the best motion capture actors out there. So expect him to portray some sort of other worldly character.

AP

11/15 Max Von Sydow

He's not a spring chicken but Von Sydow is a new arrival to Star Wars. Rumours suggest he might play a sinister old Jedi but that remains to be seen.

12/15 Mark Hamill

Mark Hamill will be back as Luke Skywalker along with his fellow original cast members Carrie Fisher and Harrison Ford.

13/15 Anthony Daniels

Anthony Daniels has starred as C-3PO in past Star Wars films and will be back for JJ Abram's seventh.

Neela Debnath/The Independent

14/15 Peter Mayhew

Peter Mayhew will reprise his role as Chewbacca with many fans excited at the theoretical prospect of a wizened old Chewie retired from space flight

Getty Images

15/15 Original Star Wars trio

Here are the original Star Wars trio of Harrison Ford, Carrie Fisher and Mark Hamill back in the day.

AP
Assuming the project sort of sticks to the script, participants can expect to try to set up a civilian government in the face of devastating and ongoing war (maybe with a cyborg species) and develop strategies and solutions for ideological guerrilla warfare.
It's not the first time a high-concept game has been backed by a government; Sweden offers funding to similar games and, as the Verge points out, some American Civil War reenactments approach larping (live-action role-playing).
And while this is a fresh project for the GFAFC, the cultural bureau has done things like publishing comics.
Neither is Battlestar Galactica new to being taken seriously; it was designed to recontextualise the post-9/11 political landscape, and was even given a proper send off by the UN when it finished back in 2009.
Of course the game is sold out, and spoken exclusively in German, but people can witness the goings-on of the Mölders destroyer on February 8th.
Reuse content