They say opposites attract. But the attraction appears a one-way process where Germany and Greece, Europe's financial powerhouse and its economic minnow, are concerned. In the wake of the No vote and with just days left for their leaders to convince creditors not to expel Greece from the euro, many, if not most Greeks remain contemptuous of what they see as German-inspired austerity.
But while visitors of some nationalities may be staying away, put off by political uncertainty and the risk of running out of cash, the crisis hasn't stopped Germans flooding in to enjoy the Mediterranean summer – with the ironic result that Greeks may be depending on them even more than they usually do.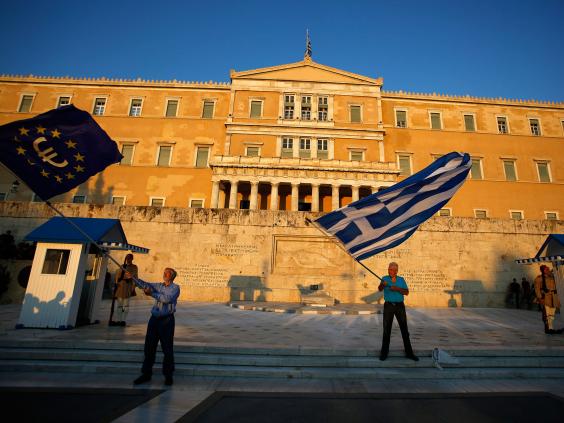 According to the German Travel Association (DRV), German bookings for Greek holidays are holding up well, despite the country's economy being spoken of in apocalyptic terms.
"Greece continues to be very popular with Germans. Package tourists are sticking with their travel plans even after the referendum … and are not cancelling their reservations," the travel association said. "Germans do not seem to be affected at all by the avalanche of libellous headlines about the current Greek financial turmoil. Greece this summer is again among the most popular destinations for them."
The Germans were proclaimed "the world's travel champions" by the DRV. "They spend more on foreign travel than any other nation, namely almost €65bn (£47bn) per year," it said. That's a lot of Greek salads, and quite a few drinks, even in fashionably expensive islands such as chi-chi Mykonos.
Manos, the manager of Adrianos Travel, in the Monastiraki Square under the Parthenon, who like many Greeks during this crisis refused to give his surname, said there had been no slowdown in German tourists buying tickets for ferries to the Greek islands.
"They're still coming. And we don't have a problem with them," he said. "It's Angela Merkel and  Wolfgang Schäuble [the Finance Minister] who are the problem. "They say we're lazy, but we're working 12 hours a day here. Ordinary Germans are fine. They come here and spend money."
The Greeks' aversion to the German Chancellor and her hawkish Finance Minister is widespread. When I mentioned Ms Merkel to a taxi driver he cursed out loud, and involuntarily swerved, narrowly missing a lorry, before launching into a tirade.
Greeks and Germans at least have sandals in common. The Greeks invented them and sensible German holidaymakers are among the top customers of So What Sandals in the Plaka district of Athens, according to the manager, Christina, 36. "Greek people are friendly, if people are friendly with us," she said, clearly not convinced of Germany's intentions. "We are concerned about ensuring democracy, which started here, and respect."
Another Christina, a 28-year-old waitress at the Em Cafe near to the far-left Syriza party headquarters, alluded to the wealth gap between Germans and Greeks. "They can afford to come here and to go to Mykonos. But here you're lucky if you have a job. And even some people with jobs don't get paid," she said.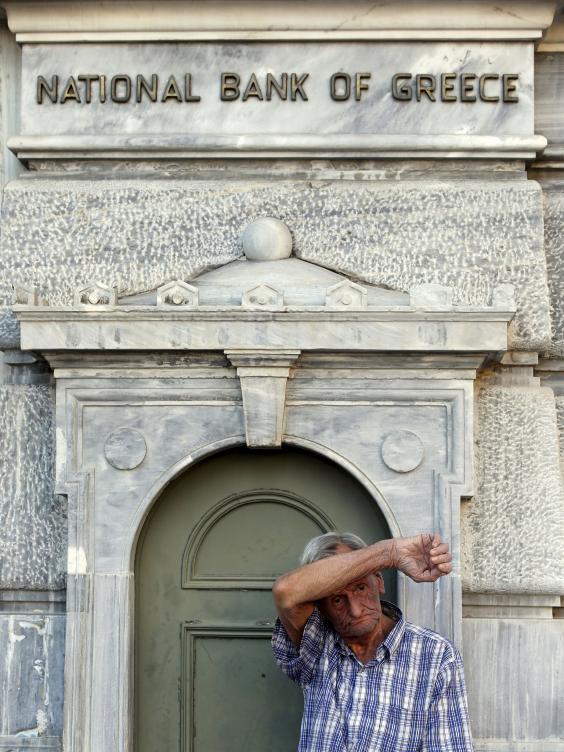 Antigone Lyberaki, an MP with the centrist To Potami (The River) party, said the animosity was genuine, but not only the Germans were to blame. "Greeks have an ambivalent attitude to Germans," she said. "Unfortunately there is still some animosity lingering on from the war. And popular politicians here like to blame the nation's problems on foreigners.
"So everything bad that has happened here in the last five years has become the German leader's fault, very often to hide the fact that Greek politicians themselves didn't have the courage to do what was needed. Add Greece's tendency to see itself as a victim, and you have a toxic cocktail."
But Ms Lyberaki said Greeks also knew how important it was for German visitors to continue holidaying here, given that tourism generates almost 20 per cent of Greece's jobs.
Some reports suggest that the constant flow of migrants arriving on the islands is also off-putting. On Lesbos alone, more than 15,000 arrived in June, overwhelming reception facilities.
During a visit to the Serb capital, Belgrade, Ms Merkel said: "Things in Greece are not going well." The German leader will visit Albania and Bosnia as well as Serbia, as all three countries seek to demonstrate the economic and political progress required to join the EU – even as Greece appears to be slipping out of the back door. The news didn't please Manos at Adrianos Travel. "She should be sorting out the current mess in Europe. Not making things worse," he said.
Reuse content