The burning newspapers placed outside the home of five asylum-seekers in Brandenburg an der Havel, a small town near Berlin, prompted a swift response. It was a "cowardly act of arson" said Germany's Foreign Minister.
In the first six months of this year there has been a sharp rise in the number of crimes against asylum-seekers or refugee homes with some 202 incidents reported – more than during the whole of 2014. 
But the apparent rise in hostility toward refugees, many of whom see wealthy Germany as a kind of promised land, has been countered by an outpouring of sympathy and support for people seen as desperate victims of poverty or violence. In recent months, Germans have flocked to join welcome committees for them. Students, retirees and even one conservative politician have taken refugees into their homes. Others have created websites to organise car rides for refugees wanting to come to Germany for accommodation and jobs.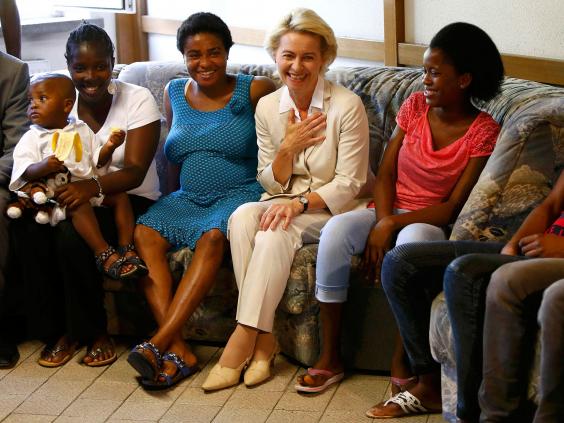 "We felt we just had to do something to assist these people, because they deserve our help," says David Jacob, a 24-year-old student from Berlin who co-founded workeer.de – a site that matches up refugees and employers. Launched at the end of July, the site already has over 1,000 registered refugees and 450 employers.
The starkly differing reactions to the influx of refugees points to an increasing polarisation in Germany, with growing acceptance of outsiders by a majority but a possibly radicalised minority fearful of all things foreign.
Authorities have attributed about 173 anti-refugee incidents in the first half of the year to far-right sentiment, including eight cases of arson. For Germans, these have stoked grim memories of fatal fire-bombings in the early 1990s, when many feared that overt racism was again going mainstream less than half a century after the defeat of the Nazis.
The majority of Germans have been openly supportive of refugees. In Buch, a down-at-heel suburb of Berlin, one Eritrean asylum-seeker said the only time he had witnessed any hostility was when a far-right protest occurred outside his refugee shelter. "But there were many more people protesting for the refugees," said the 32-year-old, who gave his name only as Mehari out of concern for his family.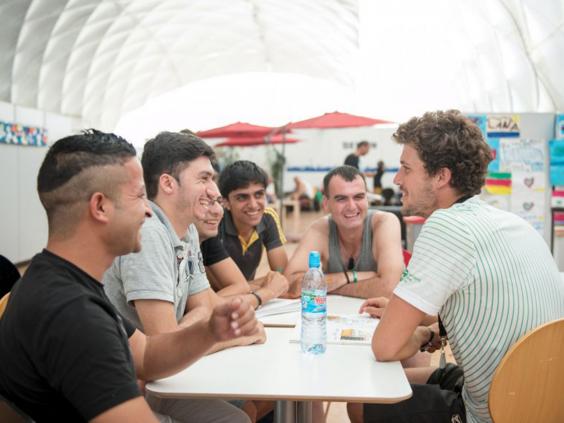 Hajo Funke, a professor of political science at Berlin's Free University, said the attitude of most Germans toward foreigners has changed profoundly from what it was a couple of decades ago, when immigrants were considered temporary residents only.
"There has been an immense change in society. Germany has become a more open, liberal country," said Mr Funke. "Polls show about two-thirds of the population say they are prepared to invest time or money to help refugees."
When hundreds of asylum-seekers were camping outside Berlin's reception centre for refugees last week in searing August temperatures, locals used social media to organise deliveries of water, ice cream and toys for children.
Refugee supporters say there's no cause for complacency, however. Robert Kusche, who runs a counselling service for victims of hate crime in the eastern city of Dresden, said many attacks do not show up in official statistics because refugees do not believe it is worth reporting minor incidents such as spitting or shoving in the street.
Mr Kusche said groups such as Pegida had tapped into a lingering fear of foreigners among some parts of German society. "We need a strong sign that this won't be tolerated," said Mr Kusche.
In pictures: Calais crisis intensifies
In pictures: Calais crisis intensifies
1/20 Calais crisis

French gendarmes try to stop migrants on the Eurotunnel site in Coquelles near Calais

2/20 Calais crisis

French gendarmes try to stop migrants on the Eurotunnel site in Coquelles near Calais

Getty Images

3/20 Calais crisis

A migrant climbs a security fence of a Eurotunnel terminal in Coquelles near Calais

4/20 Calais crisis

A migrant climbs a security fence of a Eurotunnel terminal in Coquelles near Calais

5/20 Calais crisis

French gendarmes block migrants along a road to prevent them access to train tracks which lead to the Channel Tunnel in Frethun, near Calais

6/20 Calais crisis

Policemen try to prevent migrants from reaching the Channel Tunnel operated by Eurotunnel in Coquelles near Calais

7/20 Calais crisis

A policeman faces migrants trying to reach the Channel Tunnel operated by Eurotunnel in Coquelles near Calais

8/20 Calais crisis

A policeman tries to stop migrants on the Eurotunnel site in Coquelles near Calais

9/20 Calais crisis

Migrants who managed to pass the police block on the Eurotunnel site climb over a fence to make their way towards the boarding docks in Coquelles near Calais

10/20 Calais crisis

Migrants are seen near a Channel Tunnel train in Coquelles near Calais

11/20 Calais crisis

Migrants trying to reach the Channel Tunnel run past policemen in Coquelles near Calaisa

12/20 Calais crisis

Migrants step over the fence as they try to catch a train to reach England, in Calais

13/20 Calais crisis

A migrant climbs a security fence of a Eurotunnel terminal in Coquelles near Calais

14/20 Calais crisis

Migrants warm themselves with a fire as they attempt to access the Channel Tunnel, in Calais

15/20 Calais crisis

An Afghan flag flies above makeshift shelters at a site dubbed the "new jungle", where migrants trying to cross the Channel to reach Britain have camped out around the northern French port of Calais

16/20 Calais crisis

Migrants build a makeshift shelter around the northern French port of Calais

17/20 Calais crisis

Migrants build a makeshift shelter

18/20 Calais crisis

Migrants walk in a makeshift camp in Calais

19/20 Calais crisis

A driver climbs on his truck as he waits to cross the English channel, in Calais

20/20 Calais crisis

Migrants walk along the roadside while a French policeman secures the area as lorries queue in Calais
Despite the current support for refugees, some are nervous. "Far-right extremists are exploiting concerns among parts of the population and this is leading to violence," said Mr Funke. "The danger is that this will take the shape of terrorism."
For now, most refugees appear to feel secure in Germany. Hassan Salameh, a 30-year-old pharmacist who fled Aleppo with his mother and two sisters, said he considers himself lucky to be in Germany. "It's the second homeland for us," he said at a refugee shelter in Spandau, on the outskirts of Berlin. Still, one incident stuck in his mind. "We were walking together with my family and someone made like this," said Mr Salameh, making a cutting gesture across his neck. "But they don't try to make action, it's just a sign." AP
Reuse content