Germany's supreme constitutional court has rejected a proposed ban on a far-right party accused of neo-Nazi links because its members are deemed too ineffective to pose a real threat to democracy.
The Federal Constitutional Court rejected a historic attempt by all of Germany's 16 states to outlaw the National Democratic Party (NPD), which has been described by intelligence services as racist and anti-Semitic.
In its unanimous judgement, the court agreed that the NPD wants to eliminate existing democratic freedoms in favour of an authoritarian state housing an ethnically defined "national community".
"Their political concept disregards human dignity and is incompatible with the principle of democracy," it continued.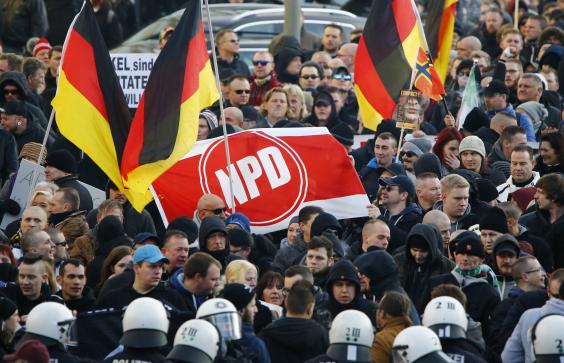 "The NPD also works in a well-planned way and with sufficient intensity to achieve its goals against the liberal democratic order. 
"However, there is (currently) a lack of concrete evidence showing it is possible for these actions to lead to success."
The court's judgement said the NPD had an "essential affinity with national socialism [Nazism]", including using the phrase Volksgemeinschaft, which has strong anti-Semitic and Nazi associations.
Judges said the party employs the vocabulary, songs and symbolism of the Third Reich, and that some of its supporters display "intimidating and criminal behaviour".
The ban, which was applied for in 2013, would have been the first of its kind since 1956. 
It was the second attempt to prohibit the NPD, which officials say violates the constitution of the state that funds it.
It states: "Parties that, by reason of their aims or the behaviour of their adherents, seek to undermine or abolish the free democratic basic order or to endanger the existence of the Federal Republic of Germany shall be unconstitutional."
The NPD celebrated the verdict with a cartoon depicting its leader, Frank Franz, celebrating with the caption: "The German Bundesrat has lost the second attempt to ban the NPD. We are now the only party in Germany legitimised by the supreme court."
Founded in 1964, the party calls itself a "patriotic organisation" and openly lists British fascist leader Sir Oswald Mosley among its former supporters.
Its policies oppose "the rising flood of migrants", the "devastating consequences of globalisation" and multiculturalism and calls integration "genocide", writing in its manifesto that "Germany must remain the country of Germans".
The NPD cites both "Americanisation and Islamisation" as risks to national identity and calls for Germany's exit from the EU and Nato, while opposing same-sex marriage, equality laws and calling for the castration of convicted paedophiles.
Some of its members and former leaders have been convicted of Holocaust denial or incitement, but the party denies any involvement in violence.
The NPD is highly visible in Germany due to its frequent political rallies, where Nazi symbols and gestures have been reported, but has little official influence.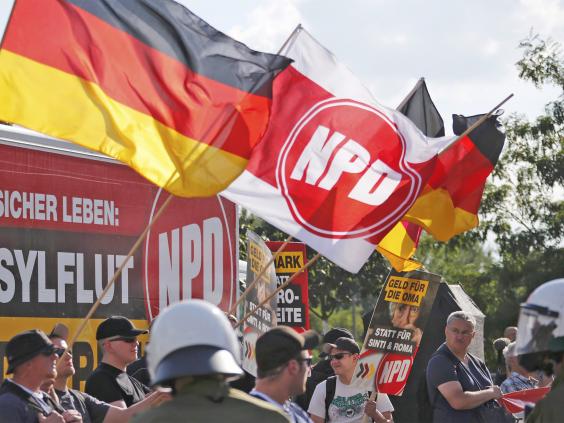 The party holds a single seat in the European Parliament but is not represented in the German Bundestag, winning just 1.3 per cent of the vote in the last national election in 2013. 
Its fortunes have declined further since then, losing its last seats in state legislatures in September. 
The Federal Constitutional Court said the NPD's situation made the achievement of its aims impossible, adding that there is no prospect of members either winning elections or operating within coalitions.
The chance discovery of the National Socialist Underground (NSU) in 2011, blamed for killing nine immigrants and a police officer between 2000 and 2007, prompted politicians to explore a legal ban. The first public hearing took place in March 2016.
Only two parties have been outlawed in West Germany and reunited Germany - the neo-Nazi Socialist Reich Party in 1952 and the German Communist Party in 1956. 
Germany's domestic intelligence agency says the NPD has about 6,000 members in a country of 82 million, causing judges to classify it as a "limited campaigning capacity and low impact on society".
Heiko Maas, the justice minister, said the verdict would not "take the confrontation with right-wing extremism off our hands". 
Germany reacts to Cologne New Year's Eve attacks
Germany reacts to Cologne New Year's Eve attacks
1/13

Women protest against sexism outside Cologne Cathedral on 5 January after the assaults

Oliver Berg/EPA

2/13

Women protest against sexism in Cologne following the rash of sex attacks on New Year's Eve

Wolfgang Rattay/Reuters

3/13

Police initially failed to mention the assaults in report the following morning

EPA

4/13

Police officers patrol in front of the main station of Cologne, Germany

AP

5/13

German far-right supporters demonstrate at Cologne`s train station (Reuters)

Reuters

6/13

Supporters of anti-immigration right-wing movement Pegida in Cologne, Germany, January 9, 2016.

Reuters

7/13

Police used pepper spray to control supporters of Pegida, Hogesa (Hooligans against Salafists) and other right-wing populist groups as they protested against the New Year's Eve sex attacks on 9 January, 2016 in Cologne, Germany

Reuters

8/13

Police use a water cannon during a protest march by supporters of anti-immigration right-wing movement Pegida in Cologne, Germany, January 9, 2016

Reuters

9/13

Police use pepper spray against supporters of anti-immigration right-wing movement Pegida, in Cologne, Germany, January 9, 2016.

Reuters

10/13

Artist Mira Moiré protests naked in Cologne against the mass sex attacks on New Year's Eve

AP

11/13

A demonstrator holds a sign in German that reads 'No violence against women' during a demonstration in the wake of the sexual assaults on New Year's Eve, outside the cathedeal in Cologne, Germany, 09 January 2016.

EPA

12/13

Counter demonstrators hold up a sign reading "Against sexism, against racism" as they protest against a demonstration of the islamophobic movement PEGIDA at the train station in Cologne, Germany, on January 9, 2016.

AFP/Getty Images

13/13

Demonstration by a women's group on Saturday (AP)

AP
"Even if the NPD were banned, that unfortunately does not mean there are no right-wing extremists in Germany," he told Die Welt.
Some experts argued that allowing the fringe NPD to exist would legitimise it and send a signal that its right-wing views are acceptable, while others warned a ban could be counterproductive and push its members underground.
The first attempt to ban the NPD came in 2003, when the bid was rejected because paid government informants within the party were partially responsible for evidence against it. Officials say there was no evidence from informants this time around.
There are fears over rising support for right-wing groups in Germany, amid tensions over the refugee crisis and a series of terror attacks, as well as mass sexual assaults in Cologne.
The nationalist Alternative for Germany party, which has chipped away the NPD's support while attacking Angela Merkel for opening Germany's border to refugees in 2015, has enjoyed unprecedented success in local elections. 
Protest movements like the anti-Islam Pegida have drawn thousands of supporters at marches, while asylum centres and mosques have been attacked.
A homemade bomb emblazoned with a swastika was found in the latest plot uncovered, which had links to the neo-Nazi "Oldschool Society" (OSS).
Additional reporting by agencies