German police have provoked outrage by advising local authorities not to organise refugee trips to carnival celebrations because of the risk of "undesirable interactions" with locals.
Officers from the headquarters of North Rheine-Westphalia state police (LZPD) said that officers took a "critical view" of the prospect of "mass appearances of refugees and asylum seekers" at the traditional festival.
"We are aware that last year, carers of refugees and asylum seekers organised visits to carnival events," said the memo, which was obtained by the Kölner Stadt-Anzeiger.
"In light of the ongoing security situation in Germany, due to the events of the past couple of years, it could lead to undesirable interactions with the population and we advise against it."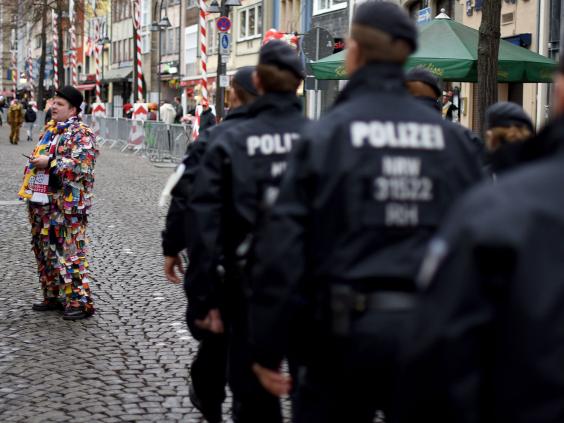 The "Information for Carnival 2017" email advised anyone attending to expect "strong" security provisions and a heavy police presence, and ordered them not to carry "large bags, rucksacks or dangerous objects".
It added that refugees should accept searches and other security measures targeting them "without criticism".
German "Karneval" or "Fasching" celebrations officially start in November but peak around Rose Monday, the day before Shrove Tuesday, falling this year on 27 February.
Thousands of people will be joining celebrations across North Rheine-Westphalia, centring on its cities of Cologne, Düsseldorf and Mainz, where there will be parades and traditional performances, music and dance.
Petra Jennen, who runs a refugee centre in Leverkusen, told the Kölner Stadt-Anzeiger she was "embarrassed" by the letter.
"I will not tell our families that they should not go to the parade," she added. "Even in an internal email, the district government and state police cannot communicate in this way."
The North Rheine-Westphalia interior ministry and LZPD disassociated themselves from the letter, saying it was "unauthorised".
Some local politicians were incensed by the leaked email. Marion Heuser, from the German Green Party, said the measures were tantamount to racial profiling.
Germany reacts to Cologne New Year's Eve attacks
Germany reacts to Cologne New Year's Eve attacks
1/13

Women protest against sexism outside Cologne Cathedral on 5 January after the assaults

Oliver Berg/EPA

2/13

Women protest against sexism in Cologne following the rash of sex attacks on New Year's Eve

Wolfgang Rattay/Reuters

3/13

Police initially failed to mention the assaults in report the following morning

EPA

4/13

Police officers patrol in front of the main station of Cologne, Germany

AP

5/13

German far-right supporters demonstrate at Cologne`s train station (Reuters)

Reuters

6/13

Supporters of anti-immigration right-wing movement Pegida in Cologne, Germany, January 9, 2016.

Reuters

7/13

Police used pepper spray to control supporters of Pegida, Hogesa (Hooligans against Salafists) and other right-wing populist groups as they protested against the New Year's Eve sex attacks on 9 January, 2016 in Cologne, Germany

Reuters

8/13

Police use a water cannon during a protest march by supporters of anti-immigration right-wing movement Pegida in Cologne, Germany, January 9, 2016

Reuters

9/13

Police use pepper spray against supporters of anti-immigration right-wing movement Pegida, in Cologne, Germany, January 9, 2016.

Reuters

10/13

Artist Mira Moiré protests naked in Cologne against the mass sex attacks on New Year's Eve

AP

11/13

A demonstrator holds a sign in German that reads 'No violence against women' during a demonstration in the wake of the sexual assaults on New Year's Eve, outside the cathedeal in Cologne, Germany, 09 January 2016.

EPA

12/13

Counter demonstrators hold up a sign reading "Against sexism, against racism" as they protest against a demonstration of the islamophobic movement PEGIDA at the train station in Cologne, Germany, on January 9, 2016.

AFP/Getty Images

13/13

Demonstration by a women's group on Saturday (AP)

AP
"Many people have committed themselves to bringing the people left stranded here closer to German culture, which can sometimes be incomprehensible," she wrote on Facebook. "Now refugees should be kept away?"
Rainer Pannenbäcker, director of the LZPD, confirmed that the message was sent out on 30 January.
"The wording in this letter is divisive and offensive. I regret that very much," he said. "NRW police protect all people who celebrate carnival peacefully, no matter where they come from or what colour their skin is."
Authorities said similar information would be distributed in a more "suitable form" in future.
Authorities in North Rheine-Westphalia came under fire last month after using the pejorative term "Nafri" in a tweet referring to North African immigrants, who they claimed were being vetted during New Year's Eve celebrations in Cologne.
The controversy came a year after mass sexual assaults outside the city's main railway station, where police initially sought to play down attacks largely attributed to migrants.
The assaults and a series of Isis-inspired terror attacks in Germany have fuelled growing anti-immigrant sentiment since Angela Merkel opened the borders to Syrian refugees in 2015.
She is facing a tough battle to be elected as Chancellor for a fourth term amid rising support for the far-right populist Alternative for Germany, while the anti-Islam Pegida group has drawn thousands of people at its marches.