Greek officials remained locked in last-minute talks with their creditors on Tuesday ahead of a eurozone finance ministers meeting on Wednesday evening which will offer Athens a final chance at capitulating to a biting reform programme, and so, remain in the euro.
A fresh set of proposals tabled by the Greeks late on Monday was cautiously welcomed by eurozone leaders and appeared to bring the country back from the brink. But a gulf remained over any last-minute concessions.
Prime Minister Alexis Tsipras came out of a late-night summit on Monday saying the "ball is in the court of the European leaders" to soften their stance on aspects of Greek economic reform and take "social justice" into account. But a spokesman for European Commission President, Jean-Claude Juncker, said that they were still waiting for an exact list of actions Greece will take to implement the programme.
Greece's more hardline creditors such as the International Monetary Fund and Germany were also clear that they were expecting further concessions, even as critics in Greece warned that Mr Tsipras had strayed too far from his original pledge to end austerity. IMF chief Christine Lagarde has said Greek suggestions were "still short of everything that we expected".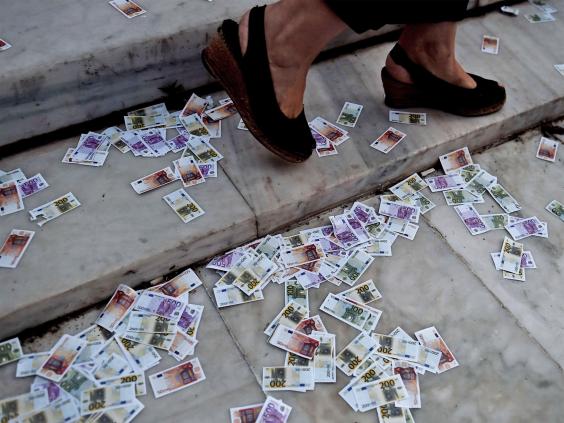 Without a deal to unlock billions in frozen bailout cash, Greece will be unable to meet the 30 June deadline for a €1.6bn IMF loan repayment. This is a non-negotiable deadline and an EU spokesman, Margaritis Schinas, warned that it was "a match with no extra time".
Since the left-wing Syriza party came to power in January, Athens has been fighting to salvage some of Syriza's election promises to end austerity and take on international creditors who many Greeks blame for soaring unemployment and social deprivation. But Greece's eurozone partners have refused to budge on debt relief and budget cuts.
Negotiations have become increasingly fractious as the months dragged on, with fears that compromise was impossible and that Greece would default on its debt and leave the euro – a scenario European leaders were keen to avoid for fear of economic contagion.
Optimism that a deal will be reached tonight caused global markets to rally on Tuesday. The European Central Bank also approved more emergency funding for the Greek financial institutions, easing the risk of a run on banks. This all set the stage for tonight's meeting of the 19 eurozone finance ministers. If they strike a deal, it would then be approved when all 28 EU heads of state meet for a pre-arranged summit in Brussels tomorrow and Friday.
The final details needed ironing out, however, and two Greek ministers stayed in Brussels to continue talks. Greece's creditors were also studying the proposals, with the chance they could come back with more demands.
The new proposals include a curb on early retirement, increased taxation on the well-off, VAT hikes, and a cut of €200m in defence spending, Greek government sources said. The moves represent savings worth €8bn, and are aimed at covering the financing gap for promised pension freezes which the creditors initially opposed. However, disagreement will likely remain on exact levels of VAT hikes and budget cuts.
The Commission has also raised the prospect of releasing €35bn in EU funds to help Greece recover.
But the proposals have strayed far from Mr Tsipras's original demands, and are believed to be more in line with a document of suggestions presented to Greece by creditors at a previous meeting.
Raoul Ruparel, a co-director with the Open Europe think-tank, wrote on his blog that the proposals meant "Greece finally bends to its creditors". This has not gone down well with opposition MPs in Greece and some members of Syriza, and Mr Ruparel warned that any deal may face another hurdle when it has to clear the Greek parliament. "It should not be underestimated that this will be a big challenge given the significant concessions in the plans," Mr Ruparel said.
Reuse content