"Going back to a national currency, my God, that will be a huge setback," says a woman, walking away from the Alpha Bank cash machine off Syntagma Square near the Greek parliament in Athens. Her bid to withdraw euros has been unsuccessful: cash has dried up at the ATM.
After the Greek Prime Minister Alexis Tsipras's shock announcement to call a referendum this weekend, queues have started lining up outside banks in Athens, lending credence to fears of a renewed "run" on Greek banks. Near Syntagma Square, Greeks continued to line up outside ATMs in an effort to withdraw some savings to help with payments as uncertainty remained about whether banks would open today.
Dimitrios Dedes, a retired military serviceman, was queuing outside the Ethniki Bank, the National Bank of Greece, further down from Syntagma.  The 55-year-old said he would only withdraw some cash for daily expenses. How will he vote in Saturday's referendum? he was asked.  "No," he says.
"We must chase fear away and gain our sovereignty back. What kind of Europe is this? It is using the euro as a tool of submission. A country's strength is reflected by its independent flag flying high and control over its national currency – it's time we regain our currency before we lose both ."
But a few dozen feet away it was business as usual at the Peri Coffee café on Syntagma Square. The owner is worried, however,  because of the uncertainty that looms over the country's membership to the eurozone.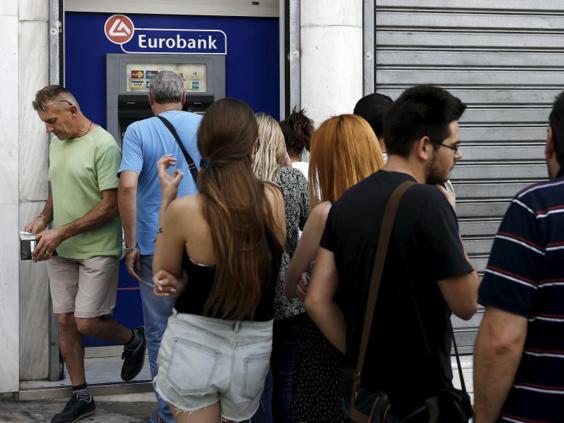 "I'm torn over what to vote – I want to stay in the euro but the creditors' measures mean increasing VAT for restaurants and that'll be the end of us," says Nikiforos Hatzidakis, 26, who opened his business in the midst of the financial crisis in 2013 and warned that increasing taxation would only lead to businesses closing and tax evasion.
Cafés and restaurants are among the businesses that have largely survived the crisis thanks to a 13 per cent taxation rate. That may have to increase under bailout terms. The government had yet to decide on whether to impose restrictions on cash withdrawals from ATMs yesterday in an attempt to keep financial institutions from collapsing.
Fotoula, a former bank employee who refused to give her last name, was aghast at the EU's insistence on imposing austerity in a country which has lost a quarter of its GDP in the past five years. She called for a split with the European bloc. "The EU wants to get rid of this left-wing led government – it disturbs them. They want to remove a government that has declared war against them," she said. 
In pictures: Solidarity protest for Greece in London
In pictures: Solidarity protest for Greece in London
1/7 London

Campaigners hold a solidarity protest for Greece in Trafalgar Square

2/7 London

Campaigners hold a solidarity protest for Greece in Trafalgar Square

3/7 London

Campaigners hold a solidarity protest for Greece in Trafalgar Square

4/7 London

Campaigners hold a solidarity protest for Greece in Trafalgar Square

5/7 London

Supporters blow horns, chant slogans and hold various signs to show support for Greece's new anti-austerity government

6/7 London

Christos Giovanopoulos from the Greek group 'Solidarity For All' speaks against the 'regime of austerity and social barbarism' and how Greece has a chance to escape a country in crisis, now under Alexis Tsipras and the Syriza party

7/7 London

A sign reads 'Merkel Crete is here' as the Greece Solidarity Campaign, Syriza London and other organisations gathered for a mass rally in support of the people of Greece in Trafalgar Square
Back at the café, Mr Hatzidakis remains angry with Mr Tsipras's decision to call a referendum. "He's calling a referendum because the negotiations are stuck and he's shifting the responsibility to us, ordinary people, without being forthright about the consequences of the results and what's at stake," he said.
Constitutional law experts echo this sentiment. "[The referendum] is awkward but not unconstitutional," said Yiannis Drossos, Athens Law School professor and visiting fellow at Cambridge University. Professor Drossos adds that important issues were left open: voters have not been given enough time to mull over a complex fiscal issue.
"[This referendum] does not leave space for democratic deliberation and reduces the act of voting to a mere formality," he said, adding that with the creditors' proposal expiring on Tuesday, the referendum seemed redundant.
Reuse content