A roller-coaster day of high political drama across Europe, shading at times into farce, ended with Greece still firmly on course to hold a fateful referendum on 5 July that could end the country's membership of the eurozone.
The eurozone's most powerful leaders appeared to reject a bombshell letter from Greek Prime Minister, Alexis Tsipras, in which he offered to accept the vast bulk of the austerity demands made by the country's creditors, with only relatively minor changes, in exchange for a new bailout.
Stock markets leapt across the Continent when news of the apparent Greek reversal emerged, as expectations shot up that the two sides would do a deal despite everything.
There was even speculation that Mr Tsipras would call off Sunday's plebiscite. Yet those hopes were dashed when the German Chancellor, Angela Merkel, seemed to spurn the olive branch. "Before the referendum, no further talks on an aid programme can take place," she said.  That rebuff prompted Mr Tsipras to confirm in a televised address to the Greek public that the referendum would go ahead as planned – and that his government would still urge people to vote "no" to the creditors' demands. "The sirens of destruction are blackmailing you to say yes to everything without any prospect of exiting the crisis," he said.
The Eurogroup, made up of eurozone finance ministers, also confirmed it would take no action in response to Tsipras's letter until after the vote. "We see no grounds for further talks at this point," said the group's president Jeroen Dijsselbloem.
Yet there were signs the letter had opened a divide within creditor nations, with the French President, François Hollande, saying a deal could still be done before the vote. "It is our duty to keep Greece in the eurozone," he said.

Many creditors have firmly told Greece's population it will be effectively voting on whether the country will remain in the single currency, or even perhaps the EU. But Mr Tsipras insists that a "no" vote to the creditors austerity demands on 5 July will merely prompt a fresh round of talks with creditors – and that a rejection will strengthen his hand.
Greece's banks have been shut since 29 June, after Mr Tsipras' surprise decision to hold a referendum prompted the European Central Bank (ECB) to limit the emergency lending available. At 11pm on Tuesday night Greece failed to make a €1.6bn payment due to the International Monetary Fund, one of the country's creditors, thus becoming the first developed nation to go into "arrears" with the fund.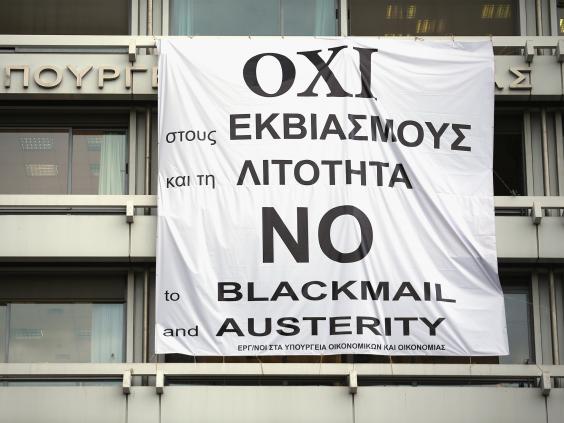 The effective sovereign default has ratcheted up pressure on the ECB to further restrict the funding available to banks, which have been swapping Greek government bonds for funding from the Frankfurt-based central bank.
The ECB decided to maintain the current funding limit. If Greece's banks are cut off entirely from ECB support, the government would likely have no choice but to nationalise banking and print state IOUs to pay its public-sector workers. Analysts expect this would be the first step towards re-introducing the drachma.
In pictures: Solidarity protest for Greece in London
In pictures: Solidarity protest for Greece in London
1/7 London

Campaigners hold a solidarity protest for Greece in Trafalgar Square

2/7 London

Campaigners hold a solidarity protest for Greece in Trafalgar Square

3/7 London

Campaigners hold a solidarity protest for Greece in Trafalgar Square

4/7 London

Campaigners hold a solidarity protest for Greece in Trafalgar Square

5/7 London

Supporters blow horns, chant slogans and hold various signs to show support for Greece's new anti-austerity government

6/7 London

Christos Giovanopoulos from the Greek group 'Solidarity For All' speaks against the 'regime of austerity and social barbarism' and how Greece has a chance to escape a country in crisis, now under Alexis Tsipras and the Syriza party

7/7 London

A sign reads 'Merkel Crete is here' as the Greece Solidarity Campaign, Syriza London and other organisations gathered for a mass rally in support of the people of Greece in Trafalgar Square
In his letter, which was sent to the European Commission, the ECB and the IMF just hours before the fund repayment was due, Mr Tspiras said he was prepared to accept almost all of the demands in exchange for more cash over the next two year.
However, he held out for a continued 30 per cent VAT discount for holiday islands, a slower implementation of pension reforms and delayed cuts to military spending. Analysts were baffled by the letter, with some interpreting it as an act of desperation in the face of an imminent default and others describing it as a clever political tactic designed to strengthen the "no" vote on 5 July.
Finance minister's blog: Why 'No' is the only answer
1. Greece's creditors refused to reduce our public debt and targeted weakest members of our society.
2. Most economists believe debt must be restructured.
3. The Eurogroup agrees but is refusing to commit to it.
4. Europe is sending signals it is ready to soften.
5. Greece will stay in the euro.
6. The future, which  depends on a No vote, demands a proud Greece at heart of Europe.
Reuse content