It isn't every day that you drive into a village called Hercules and ask the locals if they want to go on living in the European Union. And it's not every day that you are asked in a coffee shop how you would vote if you were a Greek. No if you're brave, I suggested. Yes if you're wise.
But a white-haired man in a bright blue pullover waved his finger in my face. "Wrong!" he shouted. "To vote No you have to be brave – but you also have to have no money." Of the 10 men, eight plan to vote No. They were agricultural workers. And they were also frightened.
Not for the first time – but certainly more suspiciously – I was asked for my identity, who I worked for, what was the name of my driver. These people were worried. Did they think I was a cop, some kind of thought police swooping down on this tiny village, some 230km north-west of Athens, near the Gorgopotamos river where – so the villagers all informed me – Hercules died. Perhaps a ghost of a not entirely forgotten civil war was making its appearance. But I'd come to Hercules to ask questions – and to find a railway bridge.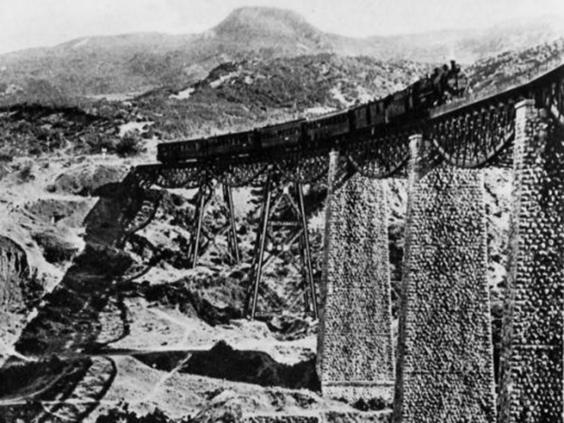 Mr Evangelis is 70 and runs a small marble factory – "we used to export to the Arab world", he boasted, although like others he wouldn't give his family name. He laid off his 25 workers two years ago. "Some people are afraid so they're voting Yes and some are going to vote No  because it gives our government more time to negotiate with the EU governments." I didn't challenge this odd assertion but in Greece right now, illusions are stronger than truth, at least if you're poor. My driver Mattheos – he's married to a Thessalonika hotel worker who came with us for the trip – wouldn't agree.
Indeed, he got a good reception. "When we had drachmas, a Greek salad cost 300 drachmas which were €1," he said. "Now it costs €5 – 1,500 drachmas. And every year since we joined the EU, we've got poorer. I used to earn €3,000 a month. Now I earn €1,400 (£999)."
The other men applauded. "Give me some independence," one of them said. "Greece is a small town. People respect our history." And so did the EU, I suppose, when it was confronted by all those Greek columns and all that mythology and forgot about more recent history –which was one reason I was passing through Hercules. That's where the railway bridge comes into it.
In pictures: Greek referendum
In pictures: Greek referendum
1/28 Greece EU Referendum

People celebrate in Athens after the first exit-polls of the Greek referendum

Getty Images

2/28 Greece EU Referendum

A "No" supporter flashes a victory sign before a Greek flag atop the parliament in Athens, Greece July 5, 2015.Greeks voted overwhelmingly "No" on Sunday in a historic bailout referendum, partial results showed, defying warnings from across Europe that rejecting new austerity terms for fresh financial aid would set their country on a path out of the euro.

REUTERS/Yannis Behrakis

3/28 Greece EU Referendum

Supporters of the No vote react after the first results of the referendum at Syntagma square in Athens

AP

4/28 Greece EU Referendum

Supporters of the No vote wave Greek flags after the referendum's exit polls at Syntagma square in Athens

AP

5/28 Greece EU Referendum

Greece's finance minister Yanis Varoufakis casts his vote in the country's referendum

EPA

6/28 Greece EU Referendum

A ballot box is emptied by a voting official at the closing of polling stations in Athens, Greece July 5, 2015. Greece voted on Sunday on whether to accept more austerity in exchange for international aid, in a high-stakes referendum likely to determine whether it leaves the euro-currency area after seven years of economic pain.

REUTERS/Marko Djurica

7/28 Greece EU Referendum

A photographer photographs a man waiting to vote in the referendum at a school in the suburbs of Athens

Getty

8/28 Greece EU Referendum

Greek voters are being asked to choose between backing their creditor's austerity measures or rejecting them

Getty

9/28 Greece EU Referendum

Tourists walk past posters with slogans that read "OXI" (NO) and "NAI" (YES) ahead of the referendum in Athens

AFP

10/28 Greece EU Referendum

Opposition parties to Syriza, including the centre-right New Democracy, are campaigning for a 'Yes' vote in the referendum

Reuters

11/28 Greece EU Referendum

Protesters on both sides of the argument ('No' pictured here) have rallied in Athens

AP

12/28 Greece EU Referendum

Greek Prime Minister Alexis Tsipras has been branded reckless and a feckless liar by EU leaders

Reuters

13/28 Greece EU Referendum

According to polls which surveyed some 1000 people across the country, 41.5 percent of Greeks would support the new bailout measures to avoid an exit from the Eurozone

AP

14/28 Greece EU Referendum

Despite Tsipras's assurances, many Greek people are not certain whether Sunday's referendum is a vote on whether Greece will remain in the euro or not

Reuters

15/28 Greece EU Referendum

The Greek and EU flags flutter in front of the ancient Acropolis hill in Athens. The Greek people have been called upon to show "calm and national unity"

Getty

16/28 Greece EU Referendum

Greek Prime Minister Alexis Tsipras addresses a crowd of 25,000 'No' supporters in Athens' Syntagma Square

YANNIS BEHRAKIS/Reuters

17/28 Greece EU Referendum

Greece's Prime Minister Alexis Tsipras gave a televised address to the nation ahead of the vote. He has called on voters to reject creditors' proposals for more austerity in return for rescue loans

AP

18/28 Greece EU Referendum

Protesters march holding a torn European Union flag during a demonstration for the 'NO' campaign in Thessaloniki

Getty Images

19/28 Greece EU Referendum

Greek Finance minister Yanis Varoufakis has pledged to resign if his country votes "yes" to the bailout plan

Reuters

20/28 Greece EU Referendum

Pensioner wait to get their pensions outside a National Bank of Greece branch in central Athens. Banks only opened for pensioners to allow them to get their pensions, with a limit of 120 euros.

AFP/Getty Images

21/28 Greece EU Referendum

Protesters attend an anti-austerity pro-government rally in front of the parliament building

Getty

22/28 Greece EU Referendum

The possibility of Greece leaving the Eurozone is increasing by the day. Merchandise already exists to accompany the event

EPA

23/28 Greece EU Referendum

An elderly man waits to receive his pension outside the closed National Bank of Greece headquarters in Athens

AP

24/28 Greece EU Referendum

People stand in a queue to use an ATM outside a closed bank in Athens

AP

25/28 Greece EU Referendum

A banner supporting the NO vote in the upcoming referendum hangs from the offices of the Greek Finance Ministry

Getty Images

26/28 Greece EU Referendum

Greeks will be asked whether they accept the austerity terms demanded by the country's creditors

Getty

27/28 Greece EU Referendum

Eurozone finance ministers expressed disappointment at the Greek decision to hold a referendum on the bailout terms

Getty

28/28 Greece EU Referendum

Alexis Tsipras, the Greek Prime Minister, said bailout conditions had 'asphyxiated' his country

EPA
The locals all knew the story of how an intrepid Englishman led Greek guerrillas up the mountain track behind the town in 1942 and blew up the iron viaduct over the Gorgopotomas river to hold up Rommel's weapons and tank supplies which Germany was freighting through Bulgaria and Greece for shipment to Libya. Part of the bridge crashed into the river which halted all rail traffic for six weeks. But the Greeks took prisoner an Italian soldier and shot him and revenge was swift. Sixteen civilians were taken hostage and executed – a memorial to them stands close to the bridge.
"We know the story so well because we still use the same track up the hill," another of the men in the coffee shop remarked with one of the few smiles I've seen in Greece. "We still call it 'the path that the Englishman took'. So why doesn't your country come in on our side again when we're in trouble today?"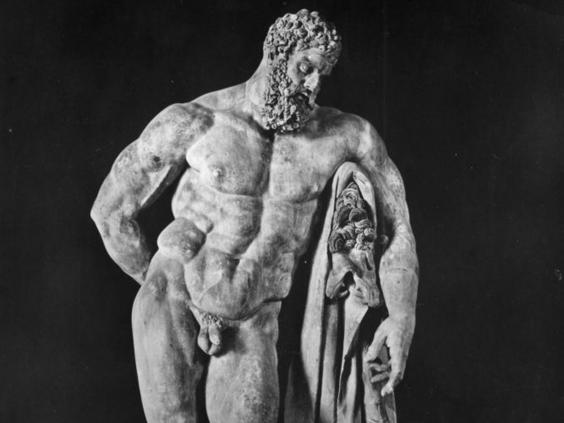 What none of these men knew is that the Englishman was called Christopher "Monty" Woodhouse, a senior secret agent who, in his later years and until his death in 2001, became a friend of mine. We both researched the dark past of President Kurt Waldheim of Austria together, a man of interest to Woodhouse because a 2nd Lt Waldheim of Germany's Army Group E was drawing up reports on captured British agents, at least one of whom was murdered by the Gestapo. Waldheim was then based in Athens, the very same man who was to become UN Secretary General.
Woodhouse walked these mountains with his guerrillas for two years. And he would weep today – for he was to become one of the first British MPs to support what would become the European Union. He lived to see Greece join. He believed that Greece was a great and modern nation.
I climbed up to Monty Woodhouse's bridge – it still carries a single track railway – and it was there that Mattheos made his most powerful remark. "I don't know why," he said. "But people here have become more selfish since we joined the EU. We've lost the Greek culture of hospitality."
Reuse content