The eurozone's two most powerful politicians have brushed aside the resounding No vote in the Greek referendum and told Athens that it has one last chance today to offer a new plan to get its economy in order – and avoid crashing out of the single currency. However, other leaders are losing patience, with the Dutch Prime Minister telling Athens to accept reforms or "it's over".
The unyielding line from the German Chancellor, Angela Merkel, and French President, François Hollande, came as the European Central Bank tightened the noose around Greece's tottering lenders by squeezing their liquidity lifeline, ahead of Tuesday's summit of eurozone leaders.
The Greek government upped the stakes further by revealing that the Prime Minister, Alexis Tsipras, had telephoned the Russian President, Vladimir Putin, to discuss the consequences of the referendum in which Greeks voted by 61 per cent to 39 per cent to reject the EU's previous austerity demands.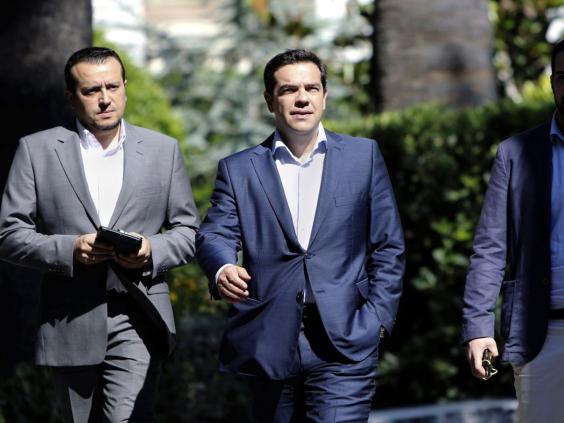 During the call, the Kremlin said, Mr Putin "expressed support for the Greek people in overcoming the difficulties facing their country" and that they discussed "several questions about the further development of Russian-Greek  co-operation".
Speaking as they began a joint summit meeting in Paris on Monday night, the German and French leaders said they respected the result of the Greek bailout referendum on Sunday, but added that it was now up to Athens to suggest a way forward.
Ms Merkel said the door to talks was still open, despite Sunday's No vote, but Greece must put its proposals on the table urgently. "We must respect the vote of the Greek people but we must also respect the other 18 member states. That's a matter of democracy," she said, repeating her line that the EU bailout offer rejected on Sunday had been "a generous one".
The Dutch Prime Minister, Mark Rutte, warned Athens that if it does not accept the creditors' reform demands "it is over". "Did Greeks really think that if they voted No, we would come and ask: 'how else would you like it?'" he said, adding that his own government was currently unwilling to commit any more funds to Greece.
Mr Hollande was more conciliatory, speaking of the values that hold Europe together. "It is not just a monetary and finance construction," he said.
The departure earlier in the day of the inflammatory Greek Finance Minister, Yanis Varoufakis – who resigned and drove off on his motorcycle – was interpreted as a sign that Mr Tsipras was serious about resuming negotiations over a viable, long-term solution for Greece. While his replacement, Euclid Tsakalotos, is considered equally radical, he is also seen as a man who can deal pragmatically with his fellow finance ministers.
In pictures: Greek referendum
In pictures: Greek referendum
1/28 Greece EU Referendum

People celebrate in Athens after the first exit-polls of the Greek referendum

Getty Images

2/28 Greece EU Referendum

A "No" supporter flashes a victory sign before a Greek flag atop the parliament in Athens, Greece July 5, 2015.Greeks voted overwhelmingly "No" on Sunday in a historic bailout referendum, partial results showed, defying warnings from across Europe that rejecting new austerity terms for fresh financial aid would set their country on a path out of the euro.

REUTERS/Yannis Behrakis

3/28 Greece EU Referendum

Supporters of the No vote react after the first results of the referendum at Syntagma square in Athens

AP

4/28 Greece EU Referendum

Supporters of the No vote wave Greek flags after the referendum's exit polls at Syntagma square in Athens

AP

5/28 Greece EU Referendum

Greece's finance minister Yanis Varoufakis casts his vote in the country's referendum

EPA

6/28 Greece EU Referendum

A ballot box is emptied by a voting official at the closing of polling stations in Athens, Greece July 5, 2015. Greece voted on Sunday on whether to accept more austerity in exchange for international aid, in a high-stakes referendum likely to determine whether it leaves the euro-currency area after seven years of economic pain.

REUTERS/Marko Djurica

7/28 Greece EU Referendum

A photographer photographs a man waiting to vote in the referendum at a school in the suburbs of Athens

Getty

8/28 Greece EU Referendum

Greek voters are being asked to choose between backing their creditor's austerity measures or rejecting them

Getty

9/28 Greece EU Referendum

Tourists walk past posters with slogans that read "OXI" (NO) and "NAI" (YES) ahead of the referendum in Athens

AFP

10/28 Greece EU Referendum

Opposition parties to Syriza, including the centre-right New Democracy, are campaigning for a 'Yes' vote in the referendum

Reuters

11/28 Greece EU Referendum

Protesters on both sides of the argument ('No' pictured here) have rallied in Athens

AP

12/28 Greece EU Referendum

Greek Prime Minister Alexis Tsipras has been branded reckless and a feckless liar by EU leaders

Reuters

13/28 Greece EU Referendum

According to polls which surveyed some 1000 people across the country, 41.5 percent of Greeks would support the new bailout measures to avoid an exit from the Eurozone

AP

14/28 Greece EU Referendum

Despite Tsipras's assurances, many Greek people are not certain whether Sunday's referendum is a vote on whether Greece will remain in the euro or not

Reuters

15/28 Greece EU Referendum

The Greek and EU flags flutter in front of the ancient Acropolis hill in Athens. The Greek people have been called upon to show "calm and national unity"

Getty

16/28 Greece EU Referendum

Greek Prime Minister Alexis Tsipras addresses a crowd of 25,000 'No' supporters in Athens' Syntagma Square

YANNIS BEHRAKIS/Reuters

17/28 Greece EU Referendum

Greece's Prime Minister Alexis Tsipras gave a televised address to the nation ahead of the vote. He has called on voters to reject creditors' proposals for more austerity in return for rescue loans

AP

18/28 Greece EU Referendum

Protesters march holding a torn European Union flag during a demonstration for the 'NO' campaign in Thessaloniki

Getty Images

19/28 Greece EU Referendum

Greek Finance minister Yanis Varoufakis has pledged to resign if his country votes "yes" to the bailout plan

Reuters

20/28 Greece EU Referendum

Pensioner wait to get their pensions outside a National Bank of Greece branch in central Athens. Banks only opened for pensioners to allow them to get their pensions, with a limit of 120 euros.

AFP/Getty Images

21/28 Greece EU Referendum

Protesters attend an anti-austerity pro-government rally in front of the parliament building

Getty

22/28 Greece EU Referendum

The possibility of Greece leaving the Eurozone is increasing by the day. Merchandise already exists to accompany the event

EPA

23/28 Greece EU Referendum

An elderly man waits to receive his pension outside the closed National Bank of Greece headquarters in Athens

AP

24/28 Greece EU Referendum

People stand in a queue to use an ATM outside a closed bank in Athens

AP

25/28 Greece EU Referendum

A banner supporting the NO vote in the upcoming referendum hangs from the offices of the Greek Finance Ministry

Getty Images

26/28 Greece EU Referendum

Greeks will be asked whether they accept the austerity terms demanded by the country's creditors

Getty

27/28 Greece EU Referendum

Eurozone finance ministers expressed disappointment at the Greek decision to hold a referendum on the bailout terms

Getty

28/28 Greece EU Referendum

Alexis Tsipras, the Greek Prime Minister, said bailout conditions had 'asphyxiated' his country

EPA
Eurozone officials have said that if Mr Tsipras is ready to start negotiations on a new bailout in earnest, the Brussels summit could mark a turning point. In a terse statement, the Eurogroup said: "Ministers expect new proposals from the Greek authorities."
The European Commission's vice-president, Valdis Dombrovskis, poured cold water on prospects of a deal, insisting that debt relief was not on the table, and questioned the legitimacy of the referendum. He said the No vote would "dramatically weaken the negotiating stance of the Greek government and make things more complicated", adding: "This is an outcome that very possibly may have no winners whatsoever."
The referendum, he added, "unfortunately widens the gap between Greece and other eurozone countries. There is no easy way out of this crisis. Too much time and too many opportunities have been lost."
But Mr Tsipras appeared to remain defiant and officials in Brussels cautioned that, given the deadlocks that have arisen at almost every summit and ministerial meeting since Mr Tsipras came to power in January, there was only a slim hope of progress. Mr Tsipras received congratulations from other left-of-centre world leaders, including Cuban President Raul Castro, who said the Greek government's approach had been vindicated by the referendum.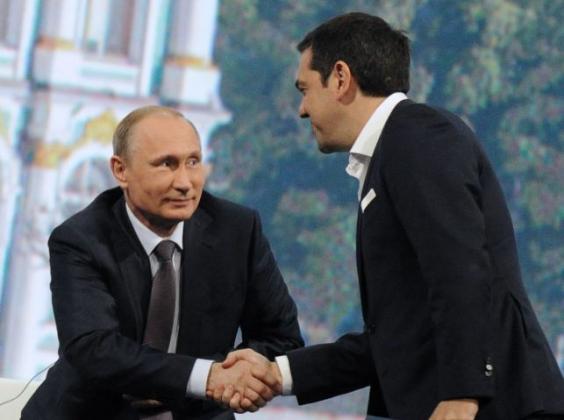 Banks in Greece remained closed, with the daily limit on withdrawals of €60 (£42) continuing alongside a ban on taking any cash at all from bank safety deposit boxes. They will not open on Tuesday or Wednesday, officials said.
Credit ratings agency Fitch said the No vote "dramatically increases" the risk of Greece leaving the eurozone.
The Greek Economy Minister, Giorgos Stathakis, urged the ECB to keep Greek banks afloat for a week to 10 days, so that rescue talks could progress between Athens and its main creditors, the European Commission, the ECB, and the International Monetary Fund (IMF).
But although the ECB has said that it would maintain overall levels of its liquidity lifeline to Greece's private banks, it added that lenders would have to pledge more assets to gain the same amount of funding – a de facto tightening of terms for Greek banks as they are already running perilously short of cash. According to reports, some members of the ECB's governing council wanted to take even "stronger measures" against Greek banks.
The IMF managing director, Christine Lagarde, said she stood "ready to assist Greece if requested to do so", despite Greece having defaulted on its €1.55bn loan whose repayment was due last Tuesday. The IMF also said last week that Greece would need debt relief as well as new financing worth more than €60bn over the next three years to avoid financial collapse.
Yet in Athens there was pride in the result of the referendum. "Something happened with the Greek people," said George Papadokostakis, 34, who runs the Due coffee shop in west Athens. "I'm very happy. We were in a dead-end situation [but] with the No vote we believe there may be something better."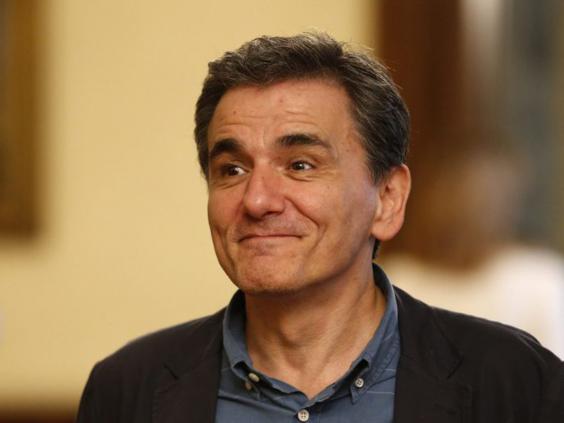 Mr Tsakalotos, 55, is about as far in style from Mr Varoufakis as it is possible to be. An Eton and an Oxford-educated economist with a mild demeanour, he was previously the deputy foreign minister responsible for international economic affairs and has quietly headed Greece's negotiating team since April when Mr Varoufakis was removed.
Born in the Netherlands and with a PhD from Oxford, he had taught at Athens University and was responsible for Syriza's economic policy until he was moved to the foreign ministry. "He's fairly well respected by the creditors, and is viewed as a safe harbour compared with the Varoufakis storm," said Megan Greene, chief economist at Manulife and John Hancock Asset Management.
He saw the referendum as a tool to prod the creditors into becoming more flexible. "We see the referendum as part of the negotiation process, not in lieu of it. So we look forward to greater flexibility in the days to come," had said in an emailed statement on 30 June.
Additional reporting by Nathalie Savaricas in Athens
Reuse content