It wasn't until Saturday, six days after Greece's forced bank holiday began, that the anxiety in the queues outside Athen's ATMs became palpable. Greeks, anxiously awaiting today's referendum – which could decide their future in the eurozone – began to feel the real pressure on their wallets.
"This is just crazy," said an exasperated young writer abandoning a 50ft  queue in the neighbourhood of Pangrati. "Every day we wait to get a measly €60 [£43] allowance. I'm fed up. What if there's an emergency – what are we to do then? This government is useless."
Anthee, who refused to give her last name, said she had supported the coalition government, but that Syriza's grace period was now over. The referendum will be a verdict on Alexis Tsipras's young left-wing, coalition government as much as on the question on the ballot – whether to accept the creditors' bailout proposal, which includes further tax rises and cuts.
Mr Tsipras was elected on a mandate to end the austerity that has brought unemployment to historic highs and wiped out a quarter of the economy in five years. He hopes his push for a No vote will boost his bargaining power with the country's creditors. But the country's voters aren't so sure and have been bitterly divided over the referendum; Friday's polls put the two camps almost neck and neck.
In Pangrati, Anthee said she would decide how to vote when she gets to the ballot box, with the country's potential exit from the euro weighing heavily on her mind.
She is unlikely to be alone. More than 10 per cent of voters were still undecided by Friday, according to polls. Many Greeks feel they are between a rock and a hard place: they want to vote No to austerity but Yes to Europe. Divided over the referendum, they are united in their desire to stay in the common currency. In the last published poll, only 15 per cent of Greeks want a return to the drachma.
"I want my pride and my country's independence back, so I'm tempted to vote No or just abstain," said Anna Bravakou, a pensioner. "But will that bring back my dignity? I doubt it."
In pictures: Greek referendum
In pictures: Greek referendum
1/28 Greece EU Referendum

People celebrate in Athens after the first exit-polls of the Greek referendum

Getty Images

2/28 Greece EU Referendum

A "No" supporter flashes a victory sign before a Greek flag atop the parliament in Athens, Greece July 5, 2015.Greeks voted overwhelmingly "No" on Sunday in a historic bailout referendum, partial results showed, defying warnings from across Europe that rejecting new austerity terms for fresh financial aid would set their country on a path out of the euro.

REUTERS/Yannis Behrakis

3/28 Greece EU Referendum

Supporters of the No vote react after the first results of the referendum at Syntagma square in Athens

AP

4/28 Greece EU Referendum

Supporters of the No vote wave Greek flags after the referendum's exit polls at Syntagma square in Athens

AP

5/28 Greece EU Referendum

Greece's finance minister Yanis Varoufakis casts his vote in the country's referendum

EPA

6/28 Greece EU Referendum

A ballot box is emptied by a voting official at the closing of polling stations in Athens, Greece July 5, 2015. Greece voted on Sunday on whether to accept more austerity in exchange for international aid, in a high-stakes referendum likely to determine whether it leaves the euro-currency area after seven years of economic pain.

REUTERS/Marko Djurica

7/28 Greece EU Referendum

A photographer photographs a man waiting to vote in the referendum at a school in the suburbs of Athens

Getty

8/28 Greece EU Referendum

Greek voters are being asked to choose between backing their creditor's austerity measures or rejecting them

Getty

9/28 Greece EU Referendum

Tourists walk past posters with slogans that read "OXI" (NO) and "NAI" (YES) ahead of the referendum in Athens

AFP

10/28 Greece EU Referendum

Opposition parties to Syriza, including the centre-right New Democracy, are campaigning for a 'Yes' vote in the referendum

Reuters

11/28 Greece EU Referendum

Protesters on both sides of the argument ('No' pictured here) have rallied in Athens

AP

12/28 Greece EU Referendum

Greek Prime Minister Alexis Tsipras has been branded reckless and a feckless liar by EU leaders

Reuters

13/28 Greece EU Referendum

According to polls which surveyed some 1000 people across the country, 41.5 percent of Greeks would support the new bailout measures to avoid an exit from the Eurozone

AP

14/28 Greece EU Referendum

Despite Tsipras's assurances, many Greek people are not certain whether Sunday's referendum is a vote on whether Greece will remain in the euro or not

Reuters

15/28 Greece EU Referendum

The Greek and EU flags flutter in front of the ancient Acropolis hill in Athens. The Greek people have been called upon to show "calm and national unity"

Getty

16/28 Greece EU Referendum

Greek Prime Minister Alexis Tsipras addresses a crowd of 25,000 'No' supporters in Athens' Syntagma Square

YANNIS BEHRAKIS/Reuters

17/28 Greece EU Referendum

Greece's Prime Minister Alexis Tsipras gave a televised address to the nation ahead of the vote. He has called on voters to reject creditors' proposals for more austerity in return for rescue loans

AP

18/28 Greece EU Referendum

Protesters march holding a torn European Union flag during a demonstration for the 'NO' campaign in Thessaloniki

Getty Images

19/28 Greece EU Referendum

Greek Finance minister Yanis Varoufakis has pledged to resign if his country votes "yes" to the bailout plan

Reuters

20/28 Greece EU Referendum

Pensioner wait to get their pensions outside a National Bank of Greece branch in central Athens. Banks only opened for pensioners to allow them to get their pensions, with a limit of 120 euros.

AFP/Getty Images

21/28 Greece EU Referendum

Protesters attend an anti-austerity pro-government rally in front of the parliament building

Getty

22/28 Greece EU Referendum

The possibility of Greece leaving the Eurozone is increasing by the day. Merchandise already exists to accompany the event

EPA

23/28 Greece EU Referendum

An elderly man waits to receive his pension outside the closed National Bank of Greece headquarters in Athens

AP

24/28 Greece EU Referendum

People stand in a queue to use an ATM outside a closed bank in Athens

AP

25/28 Greece EU Referendum

A banner supporting the NO vote in the upcoming referendum hangs from the offices of the Greek Finance Ministry

Getty Images

26/28 Greece EU Referendum

Greeks will be asked whether they accept the austerity terms demanded by the country's creditors

Getty

27/28 Greece EU Referendum

Eurozone finance ministers expressed disappointment at the Greek decision to hold a referendum on the bailout terms

Getty

28/28 Greece EU Referendum

Alexis Tsipras, the Greek Prime Minister, said bailout conditions had 'asphyxiated' his country

EPA
Voters were travelling back to their home districts to cast their votes. But for some, including Eleni Christodoulou, a shopkeeper, even voting was an economic burden; tickets to her home in the southern island of Samos, where she was born, were prohibitively expensive. 
"On the one hand I'm relieved, because I'm torn over what to vote, but on the other hand I'm angered by being prevented from exercising my right during such an important procedure," she said.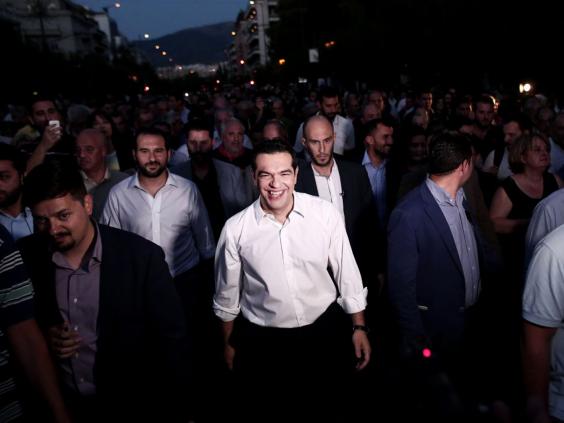 Her elderly mother in Samos had struggled even to understand the referendum question, which asks Greeks to vote on the complex credit proposals put forward by the European Commission, the International Monetary Fund and the  European Central Bank (ECB).
Ms Christodoulou said she had likened her country's dilemma to a struggle with an attacker: you either surrender and hope to escape alive, or fight and risk death.
Pro-government voices have accused Europe of forcing it towards capital controls, after the ECB refused to extend Greece's emergency cash lifeline. They say the disturbance to people's daily lives caused by the forced bank holiday and €60 cap on withdrawals will influence their vote.
Yanis Varoufakis, the Greek Finance Minister, accused creditors of frightening voters into accepting austerity.
"What they're doing to Greece has a name: terrorism," Mr Varoufakis said. "If the Yes side wins … then Europe, the place where democracy and rationalism were born, will turn into a dictatorial and irrational place."
Even if Syriza secures the No vote it has been campaigning for, the next move is far from clear. Fresh negotiations could drag on, putting more pressure on the economy. Syriza is banking on a quick deal in the event of a No vote. Tsipras told the private TV station Antenna last week that he sees a deal with creditors emerging "within 48 hours" of such an outcome.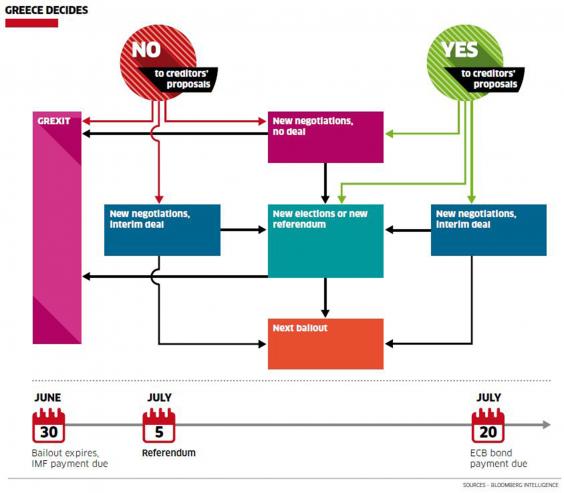 The mood from some corners of Europe looked to be softening in Greece's favour. Germany's Foreign Minister, Wolfgang Schäuble, who is one of Mr Tsipras' harshest critics, indicated in an article in the German newspaper Bild that a Greek exit from the euro may only be temporary.
"Greece is a member of the eurozone. There's no doubt about that. Whether with the euro or temporarily without it: only the Greeks can answer this question," he said.
His comments reflected those from Donald Tusk, head of the European Council, who said on Friday that a No vote would not necessarily result in Greece leaving the eurozone. A No vote would mean "the space for negotiation will be smaller, obviously," he told the website Politico. "But I would like to warn, for sure, we don't need any dramatic messages after No voting."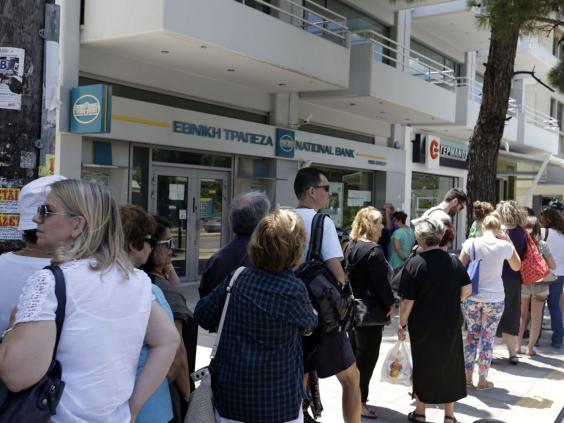 Meanwhile, Jacques Delors, who was president of the European Commission from 1985 to 1994, called on Greece's creditors to give the country leeway when he outlined a three-point plan in the French newspaper Le Monde. The plan included reviewing Greece's debt burden, which the country has called to be lifted.
With a ban on foreign transactions, the economy is all but frozen. Every day, some 50,000 hotel bookings are cancelled, according to the Association of Greek Tourism Enterprises; this is a huge blow as tourism accounts for one in five jobs. Some economists argue that Athens will inevitably have to take far stronger measures than it had originally planned.
"Capital controls are a complete game changer for the Greek economy in a bad way," said Megan Greene, the chief economist at Manulife and John Hancock Asset Management. "The fiscal gap that Greece will have to close will be much bigger now than it was when they were negotiating, so any deal that Greece is going to get is necessarily going to be a worse deal than the one that is on the table this Sunday."
Reuse content