Greece has ruled out making a legal challenge to reclaim the Elgin Marbles from the British Museum, rejected the advice of a team of lawyers that included Amal Clooney.
Clooney and the leading British QC Geoffrey Robertson helped prepare a 150-page report recommending Athens take its case to the International Court of Justice or even the European Court of Human Rights, in what would have represented a major escalation in the long-term campaign to have the artefacts returned.
But in a surprise move, the Greek government's culture minister Nikos Xydakis told Mega TV that "one cannot [just] go to court over whatever issue".
He did not say that Greece would be renouncing its claim to the marbles completely, but that a court verdict was "uncertain" and the best way to returning the sculptures was "diplomatic and political".
Greece has been demanding the return of the marbles for the past 30 years, and last year commissioned the team including Clooney to assess their legal options.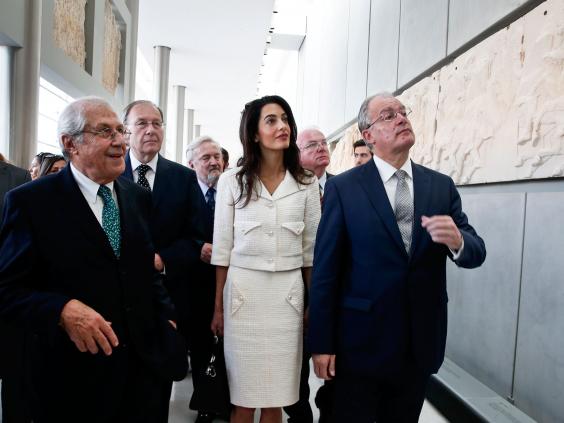 The sculptures, about half of those adoring the Parthenon temple above Athens, were taken by Lord Elgin in the early 1800s. He later sold them to the British Government after getting into financial trouble, and they have been kept in the British Museum ever since.
The lawyers suggested Greece first make a formal complaint then go to The Hague and Strasbourg. Their report claimed that, if an international court accepted jurisdiction, there would be a "75 to 80 per cent chance" of success.
A spokesman for the Department for Culture, Media & Sport under new Culture Secretary John Whittingdale said: "The Parthenon sculptures were acquired legally in accordance with the law of the time and the British Museum is the rightful owner."
Reuse content