The people of Greece have presented the European Union with the greatest political crisis in its history after voters decisively rejected years of further austerity and effectively challenged Brussels to throw a member state into the economic abyss.
The Syriza-led government in Athens celebrated what it called a victory of democracy over economic "terrorism", with the Greek people voting overwhelmingly against the demands of the country's hated creditors. The final tally of the referendum was 61.3 per cent No and 38.7 per cent Yes.
Such rhetoric has done little to endear Athens  to the mainly German and French politicians it will now have to persuade to save the country's economy. Germany's Vice-Chancellor, Sigmar Gabriel, warned that Greece was heading for "bitter abandonment and hopelessness" following the vote.
European officials had lined up all last week to warn that a No vote would mean exit from the euro, but Greece's voters decided to call what Syriza insisted was a bluff.
In a statement, the European Commission (EC) said it "takes note of and respects the result of the referendum in Greece".
"[EC President Jean-Claude] Juncker is consulting … with the democratically elected leaders of the other 18 Eurozone members as well as with the heads of the EU institutions," it added.
At a meeting in Paris on Monday, the German Chancellor, Angela Merkel, and French President, François Hollande, who spoke by phone on Sunday night, may take one of the most important decisions in EU history. A eurozone leaders' summit is also due to be held on Tuesday.
They will be faced with a choice of either swallowing their pride, putting European solidarity first and making a deal that would see their own taxpayers lose money, or cutting Greece off, forcing it to start printing its own currency as the euros run out.
The country's financial institutions had a lending reserve of no more than €500m (£356m) on Sunday and may not be able to dispense any more euros by mid-week unless they receive emergency funding from one of Greece's main creditors, the European Central Bank.
Addressing the nation on television, the Prime Minister, Alexis Tsipras, thanked voters for making a "very brave choice" and said the result showed that "democracy won't be blackmailed".
It would also mean that debt relief would be "on the negotiating table", he insisted, something that eurozone leaders have previously resisted. Greece owes about €323bn , about 60 per cent of which is owed to eurozone countries.
"The Greek people today gave an answer to what [kind of] Europe we want. What we want is a Europe of solidarity," Mr Tsipras added.
In pictures: Greek referendum
In pictures: Greek referendum
1/28 Greece EU Referendum

People celebrate in Athens after the first exit-polls of the Greek referendum

Getty Images

2/28 Greece EU Referendum

A "No" supporter flashes a victory sign before a Greek flag atop the parliament in Athens, Greece July 5, 2015.Greeks voted overwhelmingly "No" on Sunday in a historic bailout referendum, partial results showed, defying warnings from across Europe that rejecting new austerity terms for fresh financial aid would set their country on a path out of the euro.

REUTERS/Yannis Behrakis

3/28 Greece EU Referendum

Supporters of the No vote react after the first results of the referendum at Syntagma square in Athens

AP

4/28 Greece EU Referendum

Supporters of the No vote wave Greek flags after the referendum's exit polls at Syntagma square in Athens

AP

5/28 Greece EU Referendum

Greece's finance minister Yanis Varoufakis casts his vote in the country's referendum

EPA

6/28 Greece EU Referendum

A ballot box is emptied by a voting official at the closing of polling stations in Athens, Greece July 5, 2015. Greece voted on Sunday on whether to accept more austerity in exchange for international aid, in a high-stakes referendum likely to determine whether it leaves the euro-currency area after seven years of economic pain.

REUTERS/Marko Djurica

7/28 Greece EU Referendum

A photographer photographs a man waiting to vote in the referendum at a school in the suburbs of Athens

Getty

8/28 Greece EU Referendum

Greek voters are being asked to choose between backing their creditor's austerity measures or rejecting them

Getty

9/28 Greece EU Referendum

Tourists walk past posters with slogans that read "OXI" (NO) and "NAI" (YES) ahead of the referendum in Athens

AFP

10/28 Greece EU Referendum

Opposition parties to Syriza, including the centre-right New Democracy, are campaigning for a 'Yes' vote in the referendum

Reuters

11/28 Greece EU Referendum

Protesters on both sides of the argument ('No' pictured here) have rallied in Athens

AP

12/28 Greece EU Referendum

Greek Prime Minister Alexis Tsipras has been branded reckless and a feckless liar by EU leaders

Reuters

13/28 Greece EU Referendum

According to polls which surveyed some 1000 people across the country, 41.5 percent of Greeks would support the new bailout measures to avoid an exit from the Eurozone

AP

14/28 Greece EU Referendum

Despite Tsipras's assurances, many Greek people are not certain whether Sunday's referendum is a vote on whether Greece will remain in the euro or not

Reuters

15/28 Greece EU Referendum

The Greek and EU flags flutter in front of the ancient Acropolis hill in Athens. The Greek people have been called upon to show "calm and national unity"

Getty

16/28 Greece EU Referendum

Greek Prime Minister Alexis Tsipras addresses a crowd of 25,000 'No' supporters in Athens' Syntagma Square

YANNIS BEHRAKIS/Reuters

17/28 Greece EU Referendum

Greece's Prime Minister Alexis Tsipras gave a televised address to the nation ahead of the vote. He has called on voters to reject creditors' proposals for more austerity in return for rescue loans

AP

18/28 Greece EU Referendum

Protesters march holding a torn European Union flag during a demonstration for the 'NO' campaign in Thessaloniki

Getty Images

19/28 Greece EU Referendum

Greek Finance minister Yanis Varoufakis has pledged to resign if his country votes "yes" to the bailout plan

Reuters

20/28 Greece EU Referendum

Pensioner wait to get their pensions outside a National Bank of Greece branch in central Athens. Banks only opened for pensioners to allow them to get their pensions, with a limit of 120 euros.

AFP/Getty Images

21/28 Greece EU Referendum

Protesters attend an anti-austerity pro-government rally in front of the parliament building

Getty

22/28 Greece EU Referendum

The possibility of Greece leaving the Eurozone is increasing by the day. Merchandise already exists to accompany the event

EPA

23/28 Greece EU Referendum

An elderly man waits to receive his pension outside the closed National Bank of Greece headquarters in Athens

AP

24/28 Greece EU Referendum

People stand in a queue to use an ATM outside a closed bank in Athens

AP

25/28 Greece EU Referendum

A banner supporting the NO vote in the upcoming referendum hangs from the offices of the Greek Finance Ministry

Getty Images

26/28 Greece EU Referendum

Greeks will be asked whether they accept the austerity terms demanded by the country's creditors

Getty

27/28 Greece EU Referendum

Eurozone finance ministers expressed disappointment at the Greek decision to hold a referendum on the bailout terms

Getty

28/28 Greece EU Referendum

Alexis Tsipras, the Greek Prime Minister, said bailout conditions had 'asphyxiated' his country

EPA
Greek television reported that he spoke to Mr Hollande and several other European leaders by phone as early results showed the No camp winning by about 60 to 40 per cent.
And there were some glimmers of hope for Greece, with Emmanuel Macron, the French Economy Minister, saying Europe could not "crush an entire people" and a compromise must be found.
Panagiotis Kouroublis, Greece's Health Minister, told The Independent that he believed "democracy works in Europe" and the referendum result would "force everyone to reassess their position".
"Europe will have the responsibility. Europe cannot simply shift its responsibilities to others," he said. "Europe will have to give the banks the possibility [to open] and that means respect to democracy, and to immediately begin the negotiations and conclude them in no time."
Antonis Samaras, the former Greek Prime Minister, announced his resignation as leader of the main opposition New Democracy party as the result became clear. He urged Greeks to pressure the government to make a quick deal with its creditors.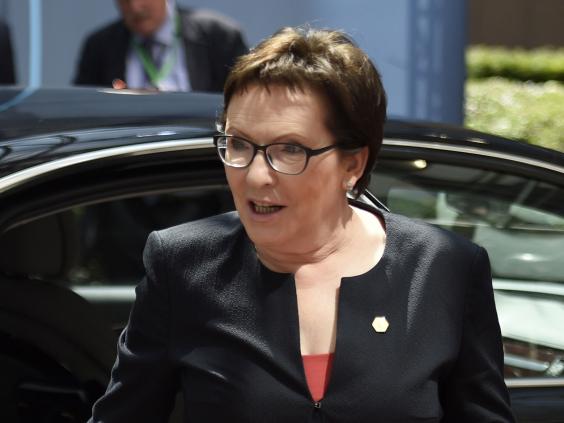 But leading German politicians appeared in little mood to show mercy. Mr Gabriel told the Tagesspiegel newspaper: "With the rejection of the rules of the eurozone … negotiations about a [bailout] programme worth billions are barely conceivable."
And Poland's Prime Minister, Ewa Kopacz, said a No victory would mean "the path of Greece can be only one: leaving the eurozone".
On the streets of Athens, the mood was a mix of celebratory defiance and fatalism. Thousands of people flooded into Syntagma Square, waving flags, blowing whistles and chanting. "I feel joy and satisfaction," said Maria Siamaki, an unemployed secretary waving a Greek flag. "I don't care if I'm hungry tomorrow or if we go bankrupt, I don't care. I have a kid who is sick and I might not be able to take care of [the child]. But I don't care, we're finding again our lost pride and dignity and that's the most important thing."
There have been fears of a breakdown in law and order.  Last week Panos Kammeno, Greece's Defence Minister and leader of the nationalist Independent Greeks party in the coalition, warned the army would step in to ensure "stability in the country in the worst moments for our homeland" if required.
But on Sunday night he put such bleak thoughts to one side as he joined in the celebrations. "The Greek people have proven that they won't be blackmailed," Mr Kammeno said. "They won't be terrorised. They won't be threatened. Democracy has won."
Bernie Sanders, a US senator from Vermont who is running for the Democratic nomination for president and describes himself as a "democratic socialist", said: "I applaud the people of Greece for saying 'no' to more austerity for the poor, the children, the sick and the elderly.
"In a world of massive wealth and income inequality, Europe must support Greece's efforts to build an economy which creates more jobs and income, not more unemployment and suffering."
Reuse content