The onset of warmer weather in Athens is usually accompanied by locals flooding the streets of their capital, shopping, eating and drinking out. This year, the shopfronts are empty. As insecurity surrounding Greece's debt crisis grows, more and more small businesses are folding.
Since Syriza's arrival in power, with its radical approach to debt negotiations, doubts have increased as to whether Athens can clinch a deal at all.
The government has remained optimistic about its ability to reach a deal with its creditors by 31 May, but with each confident statement in recent days has come a careful qualification from the European side. On Friday, Economy Minister George Stathakis said that Greece would pay back the €304m (£219m) due to the International Monetary Fund on 5 June, as Christine Lagarde, head of the IMF, maintained that a Greek exit from the euro was still a possibility.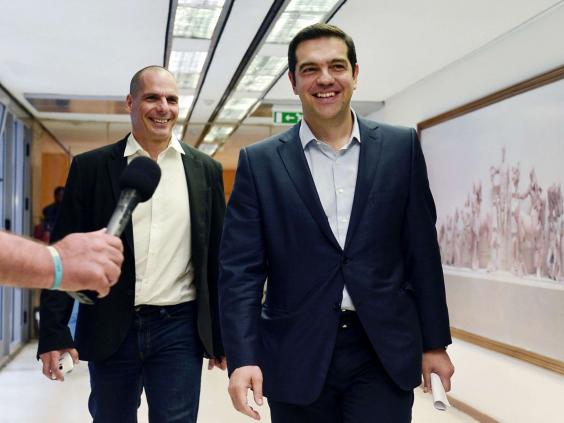 The world has been left wondering whether the country will manage to stay solvent and a member of the EU. And this uncertain climate has sounded the death knell for thousands of businesses that had been clinging on in the hopes of change after Syriza's electoral triumph.
"Since the elections, the market is completely frozen – people won't spend a dime because of the insecurity. They don't know what to do with their money, [whether] to spend it or to hide it," says Efi Chrisolomou, a shoe shop owner who is in the process of closing her business in the central neighbourhood of Kypseli after nearly 20 years. New figures released on Friday showed that bank deposits had fallen to their lowest in more than a decade.
"What if there's no deal with the EU? Greeks are very scared and we don't deserve all this fear. We really don't – we're being punished," she said.
Ms Chrisolomou has been struggling to keep her small business afloat since the onset of the austerity measures. With a dramatic increase in tax and a drop in demand, her debts have piled up. Today she owes money everywhere, she says.
The power company is threatening to cut her electricity as she's been unable to pay her bills, and even the bank keeps calling her every other day to ask her to repay her loan.
The business that once helped to raise both her sons after her husband died is now dragging her deeper into poverty. One of her sons works at a bank, but the other is forced to make ends meet working as a waiter in a café for €3 an hour.
Ms Chrisolomou says she's disappointed by Syriza, who rose to power promising the Greeks it would negotiate a better deal with the country's international creditors. "The problem starts with the EU but the government also promised all sorts of things – promises it hasn't delivered," she says.
The lack of confidence in the country's economic outlook has meant that Greece is excluded from credit lines for its trade industry. Foreign companies now demand that shopkeepers pay up front, making it difficult for recession-hit businesses to survive.
"We no longer have the credit we used to have. Everything needs to be paid on time. This is about the credibility of our country and that's the real tragedy because there is no solution for us," says Stamatios Tzanes, a shopkeeper in central Athens who has been importing luxury pens from the same company for the past 50 years.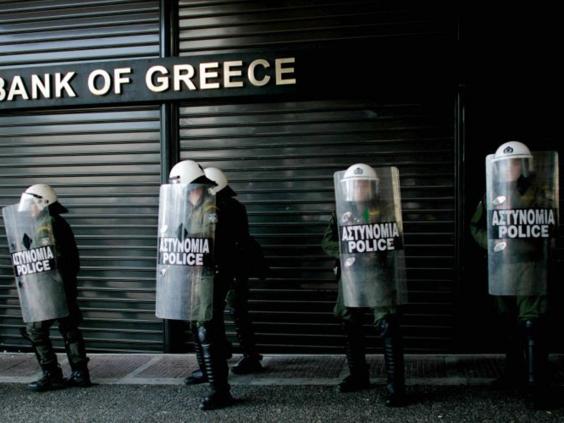 Mr Tzanes, a father of two, has had his income drop by 70 per cent in the past few years and has seen shop after shop in his area close down.
"We've come to the point where we prefer a bad deal [between the EU and Greece] than this devastating question mark of what comes next," he says.
Businesses across the country are closing at a rate of 59 a day, according to a study conducted by the Greek commerce confederation, at a cost of 613 jobs and €22.3m to GDP.
"The situation of the economy is desperate. Incomparable to the past. There is no demand whatsoever," says Nikolaos Kogioumtsis, the deputy president of the ESEE, Greece's commerce confederation, which represents a sector accounting for 18 per cent of working people.
Greek banks are also in a precarious situation as the EU tightens the screws. Ninety-five per cent of loan applications are being rejected, strangling the local economy. Mr Kogioumtsis predicts that up to 10,000 businesses will close down in the coming three months alone.
A man who wanted to remain anonymous because he is in debt closed down his business in late 2014 because he could no longer afford to pay his taxes and maintain his social security fund. He owes the authorities €20,000. "I had no choice," he says. "Now I live day by day, am grateful I don't have a family, as couldn't afford it, and pray I don't fall sick."
Syriza championed a call for universal access to medical services, to help the uninsured and unemployed. But so far it has failed to convince its lenders that it can achieve this while keeping a budgetary surplus.
In pictures: Solidarity protest for Greece in London
In pictures: Solidarity protest for Greece in London
1/7 London

Campaigners hold a solidarity protest for Greece in Trafalgar Square

2/7 London

Campaigners hold a solidarity protest for Greece in Trafalgar Square

3/7 London

Campaigners hold a solidarity protest for Greece in Trafalgar Square

4/7 London

Campaigners hold a solidarity protest for Greece in Trafalgar Square

5/7 London

Supporters blow horns, chant slogans and hold various signs to show support for Greece's new anti-austerity government

6/7 London

Christos Giovanopoulos from the Greek group 'Solidarity For All' speaks against the 'regime of austerity and social barbarism' and how Greece has a chance to escape a country in crisis, now under Alexis Tsipras and the Syriza party

7/7 London

A sign reads 'Merkel Crete is here' as the Greece Solidarity Campaign, Syriza London and other organisations gathered for a mass rally in support of the people of Greece in Trafalgar Square
The grim situation is having dire repercussions across many sectors. With mass government spending cuts, healthcare insurers are in debt to pharmacies; in turn, these have been unable to afford to buy medicine in bulk and are running low on certain medicines. While the situation is not yet grave, it's indicative of where things could be going.
Panayotis Barlos, a pharmacist in the Pangrati neighbourhood, says that the lack of medicine started in the midst of the crisis and has taken a turn for the worse in the past few months. "I only store one or two packs of a certain medicine, instead of five or six, as I used to. And I'm especially short on certain products for epilepsy, asthma or cholesterol," he says.
Much to the government's dissatisfaction, the EU and international creditors say that, to attract investment, Greece must continue restructuring its labour market rules and ramp up austerity. But Syriza has said it will stick to a series of red lines, including rejecting further cuts in pensions and wages.
According to a poll issued last week by Public Issue, one in two Greeks believe their financial situation is going to deteriorate in the coming months. Despite the dire outlook, the government remains the preferred party of Greeks, but its popularity has been dented.
The tourism sector employs one in five Greeks, and the summer months are usually a time for optimism across the country. But the uncertainty projected abroad by doubts over Greece's place in the euro has led many tour operators and holidaymakers to cancel their trips.
Hotel owners in popular islands such as Crete, Rhodes and Santorini have complained of an unusual number of cancellations for the past month; they fear the trend might continue unless a deal is reached.
"We're hoping that tourism is attached to politics – so, once the pact goes ahead and is agreed upon, then things will also improve for us," said Mr Kogioumtsis, who owns a hotel in Santorini.
His 40-room hotel in the Kamari Bay of the island is popular with British visitors and people from other northern countries. But now the newly elected government is threatening him with an additional tax.
In order to find a common agreement with its creditors, Athens is contemplating imposing higher VAT for the islands in the hopes of increasing state revenue – a policy that has hoteliers and the industry up in arms.
"The country is banking on the tourism industry to recover. But if the government increases VAT on islands and makes Greece not competitive compared with Turkey or neighbouring countries, this will be just the worst possible scenario. Tourism and shipping are all we have," says Mr Kogioumtsis.