Fractures began to appear in the Greek government today as Athens prepared to hand over a key proposed list of structural economic reforms to the country's European creditors.
The proposals – which include cracking down on tax evasion and smuggling – will be considered by eurozone finance ministers tomorrow. The list was supposed to be sent by the end of Monday, but Athens officials last night said it would be delivered this morning.
If the list is seen as sufficiently rigorous, Greece will receive enough financial support to tide the country over for the next four months. If it is rejected, the crisis over Greece's future in the single currency will be reignited.
The Greek Prime Minister, Alexis Tsipras, claimed at the weekend that the last-minute bailout extension struck in Brussels on Friday night was a major victory.
In pictures: Solidarity protest for Greece in London
In pictures: Solidarity protest for Greece in London
1/7 London

Campaigners hold a solidarity protest for Greece in Trafalgar Square

2/7 London

Campaigners hold a solidarity protest for Greece in Trafalgar Square

3/7 London

Campaigners hold a solidarity protest for Greece in Trafalgar Square

4/7 London

Campaigners hold a solidarity protest for Greece in Trafalgar Square

5/7 London

Supporters blow horns, chant slogans and hold various signs to show support for Greece's new anti-austerity government

6/7 London

Christos Giovanopoulos from the Greek group 'Solidarity For All' speaks against the 'regime of austerity and social barbarism' and how Greece has a chance to escape a country in crisis, now under Alexis Tsipras and the Syriza party

7/7 London

A sign reads 'Merkel Crete is here' as the Greece Solidarity Campaign, Syriza London and other organisations gathered for a mass rally in support of the people of Greece in Trafalgar Square
But one veteran member of the Mr Tsipras' Syriza movement, Manolis Glezos, complained that the agreement represented a reversal of the party's election promises. "I apologise to the Greek people because I have contributed to this illusion," he wrote online.
Sources in Greece today suggested Mr Glezos' views were likely to reflect what many other members of the coalition are privately thinking. Mr Glezos' message was apparently endorsed by one of Mr Tsipras' economic advisers on social media. If these tensions turn into outright splits, Syriza may not be able to deliver its reforms.
Gabriel Sakellaridis, a spokesman for the Greek government, rejected Mr Glezos' view: "Manolis Glezos is someone whom we will never cease to honour but... I believe that statement in particular was misguided and wrong".
In Germany, the Foreign Minister, Frank-Walter Steinmeier, indicated that Berlin intends to keep Athens on a short leash, despite agreeing to the bailout extension in principle. "The ball is in the Greek government's court," he said. "If Athens wants to see changes in individual points [of the bailout programme], then that is okay. But if these changes lead to further spending, then they need to save elsewhere or look to gather more revenue."
If the list is agreed by finance ministers tomorrow it will go to national parliaments in Germany, Finland, the Netherlands and elsewhere for approval.
The US investment bank JP Morgan estimated yesterday that deposit outflows from Greek banks accelerated at the end of last week, with over €1bn withdrawn on Friday alone, as talks in Brussels went down to the wire.
Today was a bank holiday in Greece but European shares were up and Greece sovereign bond prices rose, reducing the country's interest costs.
Mr Glezos said the administration was going back on its election pledges by working with the Troika. "Renaming the Troika as 'institutions', the bailout as an 'agreement' and creditors as 'partners'... does not change the previous situation, as in the case of renaming meat as fish," he wrote.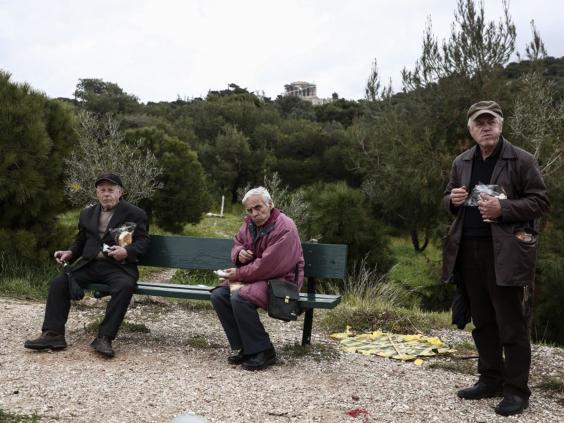 Promises, promises: Syriza's campaign
What Syriza wanted
* Overhaul of the bailout and its onerous austerity terms.
*No more co-operation with the Troika of the European Central Bank, the European Commission and the International Monetary Fund.
* A reduction in the debt owed to the rest of the eurozone and profits transfer from the ECB's sovereign bond purchase programme.
* Reduce requirement for Athens to run large budget surpluses indefinitely.
* Increase in the statutory minimum wage from €530 a month to €751 and end to privatisations.
What Syriza got
* Four-month extension of existing bailout.
* Agreement to work in "close agreement" with creditors (ie the Troika).
* No debt write-off but conditional promise of future transfer of central bank bond purchase profits to Athens.
* Reduction in required 2015 budget surplus.
* No unilateral changes to policies, meaning minimum wage and other spending pledges up in the air.
Reuse content