Crisis? What crisis? A Martian on a fact-finding mission landing in the Athens seaside suburb of Glyfada might wonder what all the fuss was about. Its restaurants and Italian-style cafés are full and the gleaming designer shops appeared to be doing a brisk trade yesterday morning.
Eight miles south of the city's chaotic centre, Glyfada is a world away from the gritty, working-class suburbs. Luxury apartments, walled gardens and beach clubs set the tone in what is known as the Beverly Hills of Athens.
But beneath the surface, Glyfada's wealthy citizens are worried, and they're plotting their escape. In bars and cafés, German Chancellor Angela Merkel and her finance minister Wolfgang Schäuble pop up often in conversation. With their savings at risk, and nerves further frayed by the imposition of capital controls, many people around here are thinking of packing up and leaving.
The passport-issuing office of the Greek police received a surge in applications this week from people in the wealthy Kifissia, Ekali, Filothei, and Psychiko suburbs of northern Athens.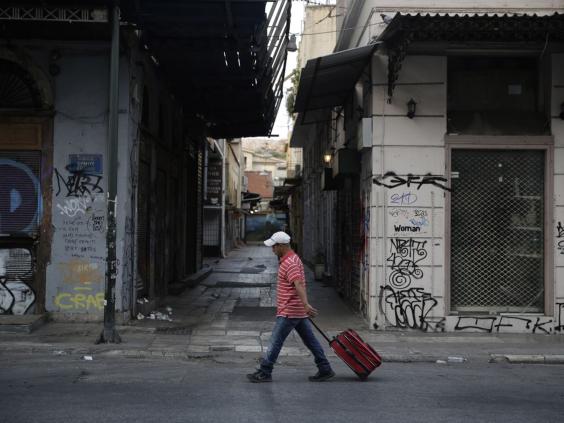 And the passport-issuing division covering the wealthy southern suburbs has experienced a 50 per cent increase in applications for new or renewed documents, compared with the same period last year, according to one Greek national newspaper.
Passport applications are so high that staff are having difficulty keeping up with demand. "The queues outside the passport offices in the northern and southern suburbs are unprecedented," one police official said. "Wealthy families want to be ready to leave, depending on the country's situation."
The report shores up an October 2014 study by the University of Macedonia that found passport applications were surging in towns with the most expensive housing markets.
At a boulangerie in Glyfada's main shopping street, Orestis Tsaglis, a 31-year-old lecturer, said well-off Greeks were rightly worried about their future. "It's not just the poor," he said. "We're also worried about the effects of Greece not getting a 'haircut' [a partial write-off of its debts]."
He voted "yes" in the recent referendum. "It was the least bad option. I don't have a passport but I will be applying for one," he said.
Platon Tinios, an economics lecturer at Piraeus University, said he sympathised with fellow citizens applying for passports in a panic. "There is a real fear of things closing in on you. There's a sense the whole country could close in on itself," he said, "and it's not so far-fetched."
In pictures: Greek referendum
In pictures: Greek referendum
1/28 Greece EU Referendum

People celebrate in Athens after the first exit-polls of the Greek referendum

Getty Images

2/28 Greece EU Referendum

A "No" supporter flashes a victory sign before a Greek flag atop the parliament in Athens, Greece July 5, 2015.Greeks voted overwhelmingly "No" on Sunday in a historic bailout referendum, partial results showed, defying warnings from across Europe that rejecting new austerity terms for fresh financial aid would set their country on a path out of the euro.

REUTERS/Yannis Behrakis

3/28 Greece EU Referendum

Supporters of the No vote react after the first results of the referendum at Syntagma square in Athens

AP

4/28 Greece EU Referendum

Supporters of the No vote wave Greek flags after the referendum's exit polls at Syntagma square in Athens

AP

5/28 Greece EU Referendum

Greece's finance minister Yanis Varoufakis casts his vote in the country's referendum

EPA

6/28 Greece EU Referendum

A ballot box is emptied by a voting official at the closing of polling stations in Athens, Greece July 5, 2015. Greece voted on Sunday on whether to accept more austerity in exchange for international aid, in a high-stakes referendum likely to determine whether it leaves the euro-currency area after seven years of economic pain.

REUTERS/Marko Djurica

7/28 Greece EU Referendum

A photographer photographs a man waiting to vote in the referendum at a school in the suburbs of Athens

Getty

8/28 Greece EU Referendum

Greek voters are being asked to choose between backing their creditor's austerity measures or rejecting them

Getty

9/28 Greece EU Referendum

Tourists walk past posters with slogans that read "OXI" (NO) and "NAI" (YES) ahead of the referendum in Athens

AFP

10/28 Greece EU Referendum

Opposition parties to Syriza, including the centre-right New Democracy, are campaigning for a 'Yes' vote in the referendum

Reuters

11/28 Greece EU Referendum

Protesters on both sides of the argument ('No' pictured here) have rallied in Athens

AP

12/28 Greece EU Referendum

Greek Prime Minister Alexis Tsipras has been branded reckless and a feckless liar by EU leaders

Reuters

13/28 Greece EU Referendum

According to polls which surveyed some 1000 people across the country, 41.5 percent of Greeks would support the new bailout measures to avoid an exit from the Eurozone

AP

14/28 Greece EU Referendum

Despite Tsipras's assurances, many Greek people are not certain whether Sunday's referendum is a vote on whether Greece will remain in the euro or not

Reuters

15/28 Greece EU Referendum

The Greek and EU flags flutter in front of the ancient Acropolis hill in Athens. The Greek people have been called upon to show "calm and national unity"

Getty

16/28 Greece EU Referendum

Greek Prime Minister Alexis Tsipras addresses a crowd of 25,000 'No' supporters in Athens' Syntagma Square

YANNIS BEHRAKIS/Reuters

17/28 Greece EU Referendum

Greece's Prime Minister Alexis Tsipras gave a televised address to the nation ahead of the vote. He has called on voters to reject creditors' proposals for more austerity in return for rescue loans

AP

18/28 Greece EU Referendum

Protesters march holding a torn European Union flag during a demonstration for the 'NO' campaign in Thessaloniki

Getty Images

19/28 Greece EU Referendum

Greek Finance minister Yanis Varoufakis has pledged to resign if his country votes "yes" to the bailout plan

Reuters

20/28 Greece EU Referendum

Pensioner wait to get their pensions outside a National Bank of Greece branch in central Athens. Banks only opened for pensioners to allow them to get their pensions, with a limit of 120 euros.

AFP/Getty Images

21/28 Greece EU Referendum

Protesters attend an anti-austerity pro-government rally in front of the parliament building

Getty

22/28 Greece EU Referendum

The possibility of Greece leaving the Eurozone is increasing by the day. Merchandise already exists to accompany the event

EPA

23/28 Greece EU Referendum

An elderly man waits to receive his pension outside the closed National Bank of Greece headquarters in Athens

AP

24/28 Greece EU Referendum

People stand in a queue to use an ATM outside a closed bank in Athens

AP

25/28 Greece EU Referendum

A banner supporting the NO vote in the upcoming referendum hangs from the offices of the Greek Finance Ministry

Getty Images

26/28 Greece EU Referendum

Greeks will be asked whether they accept the austerity terms demanded by the country's creditors

Getty

27/28 Greece EU Referendum

Eurozone finance ministers expressed disappointment at the Greek decision to hold a referendum on the bailout terms

Getty

28/28 Greece EU Referendum

Alexis Tsipras, the Greek Prime Minister, said bailout conditions had 'asphyxiated' his country

EPA
"The middle and upper classes aren't just grabbing passports because they want to flee the country. It's to do with the imposition of capital controls, too. If you can't move capital then open borders don't really apply, and people might find it harder to travel outside the country and around Europe." He said many of the upper classes were probably also concerned about the need to travel abroad for private medical treatment.
In the wealthier areas people were more likely to have voted "yes" in the referendum of two weeks ago, and therefore support some sort of financial aid-for-austerity deal.
In the northern suburb of Kifissia, where passport applications have soared 70 per cent, nearly two thirds – 64 per cent – of voters said "Yes", a reflection of the overall trend in wealthier areas. Nationally, it was the other way around with 62 per cent of voters saying "No".
But while Greece's rich might have lost the referendum, Prime Minister Alexis Tsipras's U-turn over austerity means they may yet get their way. If Greece struggles on inside the eurozone, their investments will be relatively secure and they'll be able to pop over to London or New York for a bit of shopping, when their passports arrive.
Reuse content