Greece is expected to request a six-month extension of its loan as negotiations continue over a bailout deal with the European Union.
Government officials were quoted as saying that the loan would not be an extension of the current bailout, which includes strict austerity measures. Instead the terms and conditions would be proposed by the Greek side.
These would likely include collaboration on a range of policies including clamping down on tax evasion and moving forward with privatisations.
Standing firmly on a collision course with the European Union, Greek Prime Minister Alexis Tsipras pledged to begin reversing his country's economic austerity measures soon. 
A day after talks between Greece and its 18 eurozone partners over the extension to his government's bailout package broke down acrimoniously in Brussels, Mr Tsipras raised the stakes by vowing to scrap labour market deregulation and improve workers' rights almost immediately – undoing a reform that had been insisted upon by Greece's international creditors.
Mr Tsipras accused "certain groups" within the eurozone of trying to "undermine" the Greek government and said Germany's finance minister, Wolfgang Schäuble had "lost his cool".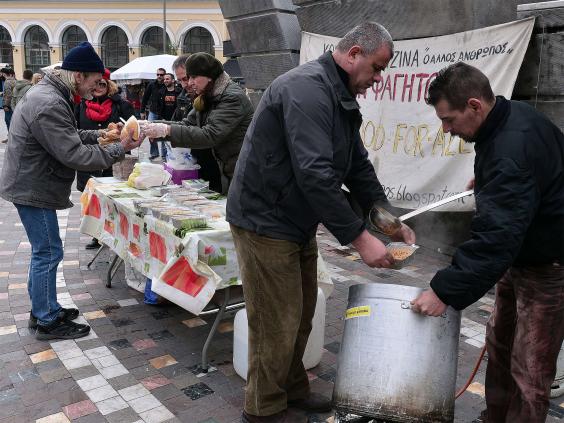 Jeroan Dijsselbloem, president of the Eurogroup finance ministers, has said Greece has until Friday to decide whether to ask for an extension of its current €240bn (£178bn) bailout package. Otherwise, Greece was warned, it would be on its own as it seeks to refinance international loans that expire later this month.
Today, Mr Tsipras reiterated comments from his finance minister that Athens had been ready to sign a joint communique on Monday until its wording was changed, 15 minutes before the meeting, in a way that had "forced us not to agree". He said his government would not back down from its pledges to end the strict austerity measures demanded by the European Union's Troika in return for the loans.
"For the first time some people are saying 'no' and they mean it," Mr Tsipras said. "We're looking for an honest agreement without the austerity and memorandum which destroyed Greece over the years, without the toxic presence of the Troika," Mr Tsipras said. 
Greece's deputy foreign affairs minister Euclid Tsakalotos, who had also been present in Brussels, said: "We did our best to achieve a reasonable compromise, but we were met with raw power and blackmail."
Earlier Mr Schäuble had renewed his verbal onslaught on Greece, insisting that Athens had to make up its mind on the issue fast. "Do they have a plan?" asked Mr Schäuble at a press conference in Brussels. "None of my colleagues so far understands what Greece wants…  Whether Greece itself knows what it wants is not clear either."
Mr Tsipras hit back at Mr Schäuble for saying he felt sorry for the Greek people, living under a government he said was "acting irresponsibly".
"German Finance Minister Schäuble lost his cool. Not because he spoke up against the Greek government because that is his right, but he spoke condescendingly towards the Greek people," Mr Tsipras said.
In pictures: Solidarity protest for Greece in London
In pictures: Solidarity protest for Greece in London
1/7 London

Campaigners hold a solidarity protest for Greece in Trafalgar Square

2/7 London

Campaigners hold a solidarity protest for Greece in Trafalgar Square

3/7 London

Campaigners hold a solidarity protest for Greece in Trafalgar Square

4/7 London

Campaigners hold a solidarity protest for Greece in Trafalgar Square

5/7 London

Supporters blow horns, chant slogans and hold various signs to show support for Greece's new anti-austerity government

6/7 London

Christos Giovanopoulos from the Greek group 'Solidarity For All' speaks against the 'regime of austerity and social barbarism' and how Greece has a chance to escape a country in crisis, now under Alexis Tsipras and the Syriza party

7/7 London

A sign reads 'Merkel Crete is here' as the Greece Solidarity Campaign, Syriza London and other organisations gathered for a mass rally in support of the people of Greece in Trafalgar Square
Germany has indicated that it is prepared for a scenario in which Greece would leave the eurozone. However German Chancellor Angela Merkel has repeated that she wants Greece to remain. Opinion polls in Greece suggest that 80 per cent of voters want to keep the euro.
But German commentators also appeared be running out of patience with the new Athens administration: "They behave like poker players who don't realise that they can lose everything with their bluffing tactics," remarked Der Spiegel, "Behaviour such as this is unfortunately not so much historic as cowardly," it added.
However, many investors believe that whatever the rhetoric, both sides will find a face-saving formula before Athens' credit lines expire in 10 days.
Despite Greece's perilous political manoeuvring, 75 per cent of Greeks back Mr Tsipras' stance, according to polls published last week.
The Greek press have largely interpreted the eurozone's deadline as an "ultimatum" and have expressed surprise at the harsh stance of much of the German media.
While commentators and politicians have warned that a spectre of an exit from the eurozone and a bank run loomed larger, many Greeks have remained unfazed. "What's the point in being in the euro when you don't have of some of them in your pocket?" asked one small businessman.
Q&A: What Greece wants
Q. Why won't Greece  just sign up for a bailout extension?
A. Because Greece's Syriza Party fought a general election only last month on a firm promise to repudiate the terms of that bailout. And it won a clear victory. They claim that the bailout, agreed in 2010 with the EU and the International Monetary Fund, has been an economic disaster for Greece, shrinking its GDP by a quarter and pushing unemployment above 25 per cent. That's an economic performance as bad as America's during the Great Depression of the 1930s.
Q. How much does  Greece owe?
A. €322bn. That's equal to 174 per cent of the country's annual GDP, up from 170 per cent in 2011. The shocking thing is that the nominal value of Greece's national debt has come down from €368bn in that time, thanks to a 2012 debt write-off agreed by the country's creditors. But the collapse of the Greek economy has meant that as a share of GDP the debt burden has actually increased. Athens points to that perverse effect as more evidence of the failure of the bailout.
Q. So what does Athens want instead of a bailout extension?
A. A bridge loan from its creditors to tide them over until the summer. Greece says it wants to use the grace period to renegotiate its support package entirely. They are demanding a reduction in the face value of the debt owed to other eurozone states and a large reduction in the budget surpluses it is compelled to run indefinitely. Greece claims that without this overhaul, the domestic economy will remain a basket case.
Q. Why are the creditors demanding an extension?
A. The rest of the eurozone feels they cannot allow Greece to repudiate the terms of its earlier bailout as this would set a disastrous precedent, encouraging other struggling eurozone members to seek debt forgiveness. They also want to keep the pressure on Athens to continue enacting painful and necessary structural economic reforms and fear that agreeing to renegotiate the financial terms of the bailout would enable Greece to renege on this aspect of  the deal too.
Ben Chu
Reuse content