The Rue des Vertbois could be a set for an eerie movie about an abandoned city. In the middle of a working day, the pavements were empty. Almost every business was derelict or had its metal shutters lowered.
From next month, the narrow street of curiously sloping 18th-century buildings in the ancient heart of Paris is supposed to become a bold adventure in urban living – La Jeune Rue, or Young Street.
It was announced in January that the street, and two adjoining ones, would be transformed into an epicurean village: a cluster of designer restaurants and specialist shops offering authentic French food at reasonable prices.
The Jeune Rue, if it goes ahead, will occupy a forgotten corner of the Sentier district, which was for many decades the fiefdom of Jewish-owned textile businesses. The Jewish businesses mostly moved out in the 1990s. The sites were taken over by Chinese clothes wholesalers, who have now also moved on.
The first shops and restaurants were originally supposed to open in spring. The deadline was pushed back to next month. With less than two weeks to go, a long-established Argentine restaurant is about to reopen. Builders were at work yesterday on a corner site that is supposed to become a high-class butcher's shop.
Of the 10 other restaurants and a score of food shops promised by a mysterious French businessman, Cédric Naudon, there is no sign. For several days, Mr Naudon, 42, has been refusing media interviews.
The French media has picked up the trail of an allegedly chequered business career in the United States and Canada but they have located no obvious source of his wealth. Le Monde suggested at the weekend that he was like a fictional man of mystery – a latter-day Great Gatsby or Jean Valjean, the central figure in Les Misérables.
Mr Naudon's representatives and backers are still buying up local leases, and he claims to have taken over 36 restaurant and shop sites. His refusal to talk to the French press, his supporters say, is a deliberate tactic to generate "an air of mystery".
Local people, mostly although not all excited by the project, point out that Mr Naudon still visits the area every day. They say that his plan to transform this down-at-heel micro-district near the Place de la République, may be running behind schedule but it is not dead.
"It can't stop now, too much money has been spent on it," said the owner of one of the surviving shirt-wholesaling businesses, who gave his name as "Monsieur Jacob". "There are rumours that he is in trouble or that he has disappeared but I saw Naudon next door just this morning. I'm in the final stages of talking to two of his backers about selling them my two sites here."
In a recent interview with The New York Times, Mr Naudon claimed that he was one of the few French businessmen trying to put money into the country rather than take it out. "Instead of saying, 'Who is this guy? He's suspicious', I wish people would support me and thank me, and say I'm doing a good thing for my country by investing in it for real," he said.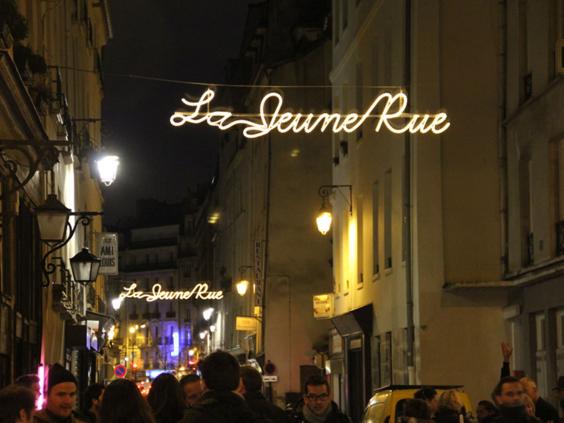 Born in Morocco of French and Italian parents, Mr Naudon says that he made his money in real estate in the United States and France. The Jeune Rue project will cost £24m, he said in January, including £8m of his own money. All the shops and restaurants would, in theory, be interlinked, using the same sources of authentic French produce and sharing orders to keep down costs.
In the original plan, there were to be around a dozen restaurants, a fishmonger, a grocery, a butcher, a patisserie, a bakery, an oyster-bar, an ice-cream parlour, a cinema and a market. The cinema plan has been dropped and the market is tied up in municipal red tape. Only the butcher and baker and one restaurant are anywhere near completion.
Mr Naudon's plans have the backing of the French government and the Paris town hall. He has announced that he has hired big-name foreign designers – Jaime Hayon, Tom Dixon, Paola Navone – to create his cluster of new shops and restaurants. Only foreign designers, it appears, can be trusted to ensure that they will remain authentically French – or what foreign visitors assume is authentically French.
Other local residents accept that the area is in desperate need of regeneration but are suspicious of Mr Naudon's vision of a foodie village in the heart of the former textile district of Paris. They fear that local people will not be able to afford his "authentic" baguettes. The whole project is, they complain, a plot to push up property prices by extending the borders of the trendy Marais district, which lies just to the south.
Forty years ago, the Marais was also a gritty, socially mixed area full of small businesses. Its streets are now lined with fashion boutiques and its apartments beyond the reach of ordinary, or even relatively well-off, Parisians.
Pierre-Yves Jourdain, a film producer who lives in the area, accused Mr Naudon of being a "monopolist who wants to create his own street, but not for those who live here".
"This neighbourhood has ethnic and class diversity, but with the arrival of La Jeune Rue, those people will be left apart," he said.
Jérôme, the young proprietor of a small café-restaurant in Rue de Notre Dame de Nazareth, sees Mr Naudon as a saviour, not a threat. "For years no one could survive here unless they were Jewish," he told The Independent.
"Then the Chinese came in and trashed the place," he claimed. "Naudon – or whoever finally sees this idea through – is on to a winner. We are in the centre of Paris, easily reached. Why not create a whole new district for lovers of food?"
"Of course people are complaining but that is France. You are not allowed to have a new idea. You are only supposed to carry on doing the same old thing."
Reuse content