French philosopher Rabelais may have considered boules a game for all ages, but since his heyday in the 16th century the sport has firmly entrenched itself as a sedate way for the country's pensioners to while away their afternoons.
But the world's oldest boules producer is warning that some distinctly unsporting behaviour is threatening this most Gallic of games.
Hervé Rofritsch, whose company, Blue Ball has provided competition equipment since 1904, said the game's local competitions are in the grips of a scandal of match-fixing and violence.
A number of teams have in recent years used knives and even guns to intimidate their opponents.
"Referees are finding it difficult to maintain order," he told The Independent, "and it's not always obvious to them what is going on.
"There are silent codes sometimes; moves or looks that make you understand you are not [supposed] to try and win."
In May, a pétanque championship in Landes, a town near Biarritz, was interrupted when a fight between a player and spectator erupted. Police arrested six members from three generations of the same family for inflicting injuries with bats, iron bars and a metal-capped walking stick.
The President of the International Federation of Pétanque and Provençal Game (FIPJP), Claude Azéma, said an increase in local clubs offering cash prizes was behind the surge in violence.
"We see this kind of violence in the local clubs because more and more they have started to offer money as prizes so people play for cash rather than for the joy of playing," he said.
He also blamed the consumption of alcohol, which is legally served at all sporting events across France, for violence in the boulodrome.
In June a court sentenced two men, aged 22 and 29, to up to 15 years in prison for killing a man in a boulodrome in Montady, a village near Montpellier, after a fight broke out over an unpaid whisky bill.
Journalist Eric Breton, who works for La Provence, one of the southern region's biggest newspapers, agreed that money was behind much of the violence.
"The reason we've seen this kind of violence increase is because the region has been hit by unemployment," he said. "Pétanque players win money through competitions – and so the stakes are particularly high.
Part of the problem, at least in the eyes of Blue Ball, may be the growing democratisation of the game, which in recent years has been attracting a wider audience, a consequence of a bid by the FIPJP to encourage younger players to the game.
"We see this kind of behaviour only in pétanque – the Provençal style of game is more traditional and difficult to play," said Mr Rofritsch, referring to the street-level game which differs in both scale and technique from the Provençal style which is played internationally.
However, he is at pains to stress that the violence and intimidation is on the fringes of the game. 
In Paris, a quick stroll along the Canal St Martin should be enough to convince even the casual observer that the game has well and truly left the village square behind. During summer evenings, the steady clatter of metal balls hitting gravel rises above Motown music playing from pop-up bars, as hundreds of Parisian 20-somethings gather to play.
"As young people living in Paris we're sort of losing our roots a bit," says Emmanuel, a 27-year-old PR manager wearing vintage wayfarers and a pair of rolled-up chinos. "Playing takes us back to the old France. It makes us relive the holidays we had in the south with our parents," he adds.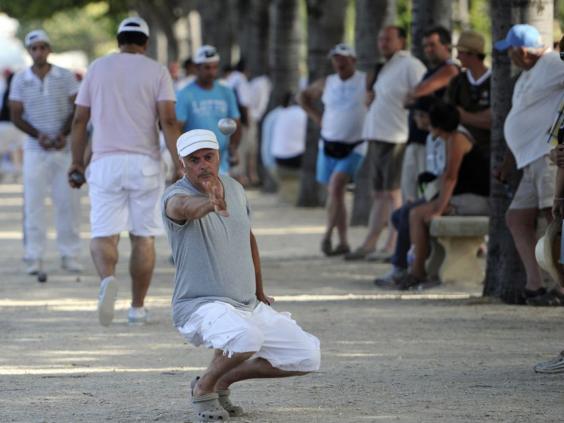 While France's hipsters, or bobos, are driving the commercial side of the boule industry, the knock-on effect of the federation's campaign to encourage the young to sign-up has seen applications from across the age groups increase for the first time in a decade. The FIPJP has now set its sights on horizons new, and is in the process of taking the game global.
"There are now between  15 and 20 million players outside of France," says Mr Azéma, "and we have exploded in Asia."  He is launching a joint bid with the International Boules Federation for "all  the different boules categories" to compete in the 2024 Olympic Games.
"That's great!" says Émilie, a trainee doctor, back at Canal St Martin. "It's funny, I never played it before this summer but now literally everyone's doing it."
Reuse content